This is a story about getting rich or dying trying...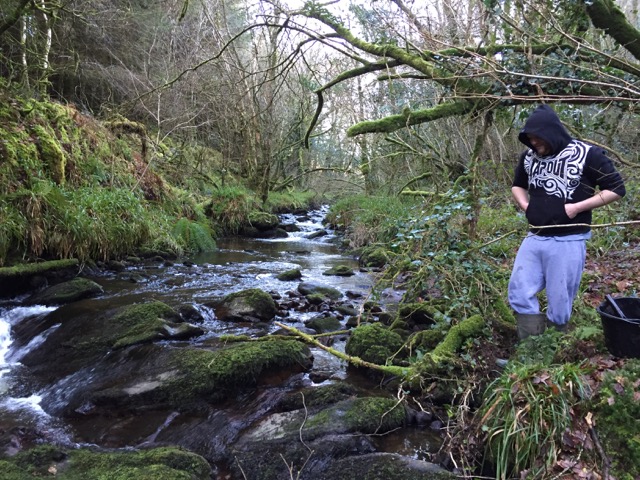 People come to London seeking their fortune. I went to Ireland seeking my salvation. In a way, I kinda found it.
My life had fallen apart. I had lost a lucrative contract with Barclays through no fault of my own (the guy who terminated my contract was then sacked because of his stupid decision) as well as breaking up with my girlfriend, being evicted from my apartment in Swiss Cottage (again, through no fault of my own) and had once again found myself homeless and unemployed. Many friends took sides during my breakup, and I ended up suddenly alone.
It was January, in the depths of a depressing British winter. No job, no money, no friends, no girlfriend, no nothing. I was fucked.
A friend who I met in the summer, when I first became homeless, had returned to the emerald isle. He had generously made an open offer that I could go and stay with him and his family if I ever needed it, and oh boy did I need it. I was suicidally depressed and a big danger to myself. Camden council had been supremely unhelpful to a resident who they owed a legal duty of care, but they didn't give a shit whether I lived or died.
I guess a lot of unimaginative runaways go to London, and a huge proportion of them will end up in Camden Town. Camden is cool, undoubtably. Camden is full of wide-eyed young people, tourists, and huge amounts of recreational drugs, casual sex and music venues. It's a great place to spend a summer on a shoestring, smoking strong cannabis and chatting up girls.
I had made a couple of similarly Peter Pan-esque pals in Camden, in their mid thirties and working dead-end jobs on low pay, forced into living in hostels and dreadful squat-like houses with several people sleeping in every room. For me, it was a hugely novel experience, having been a wealthy IT consultant working in banking since I took my first big money contract at the age of 20, for Lloyds TSB in Canary Wharf. After 17 or so years of fabulous wealth, slumming it for a summer was almost fun.
My girlfriend at the time was a waitress at an Italian restaurant. Despite having a degree in economics from the University of Bologna, she had rejected the rat race in favour of a minimum wage job and getting ridiculously stoned every day. She was fun and easy going, just so long as all you wanted to do was sit around while she chain-smoked joints, and have great sex of course.
I wouldn't say I outgrew my circle of friends, because I loved them dearly, but the stresses and demands of my contract at Barclays were not really compatible with the lifestyle of casual labour and the pursuit of recreational drugs. At some point, the worlds were going to collide.
My girlfriend and most of my friends felt that I had arrogantly snubbed them, but in fact I was desperately dependent on our social circle for my wellbeing and happiness. When things all fell apart, I did too. I was devastated by the collapse of my social life, as well as losing the structure and routine of my employment.
I ran away to Ireland, and my friend picked me up from Cork airport and took me back to the little village of Killavullen, that he and his family call home. Nestled in the hillside above the village, looking over the valley below and just at the edge of a vast forest, my friend's family home is a peaceful idyll that is completely unlike the rat race of London.
The timing was not ideal, and I arrived in the middle of various challenges facing the family, but they welcomed me and treated me with incredible warmth, kindness, care, despite the crises that they were dealing with. It's not my place to be indiscreet about the family matters that I became aware of, but suffice to say the last thing they needed was some sick burnt out heartbroken citydweller suddenly thrust into the mix.
My state of mind collapsed still further, as it became clear that there would be no reconciliation with my former friends: I was a pariah. There was nothing for me back in London, except a certain collapse in my will to live. My friend's family insisted that I should stay with them until I felt fit and well enough to return home. I missed my return flight and didn't book another.
I tried to go along with the flow of family and village life, getting to know the people that my friend grew up with, and his family.
My friend and I went panning for gold - I had bought him a kit while in England and had brought it over to Ireland for him - as well as climbing to the top of the 'mountain' that he lived on. We drove around the vast forest that covered the hillside, and explored the neighbouring villages, as well as nearby Cork city centre. Although I had visited Ireland twice before, I had missed the point about stopping to smell the shamrocks. I'm always in the mode of rush, rush, rush.
We travelled to the huge cliffs at Old Head, and I stood there on the edge, having had a haircut, a shave, a bunch of hot meals and having slept in a warm comfortable bed in a welcoming family home for some time. Instead of wanting to jump off the edge of the cliff, I was actually happy to be alive.
Tags: #friends #homeless #london #ireland #family #suicide #depression #career #banking #computing