This is a story about borderline personality disorder (BPD)...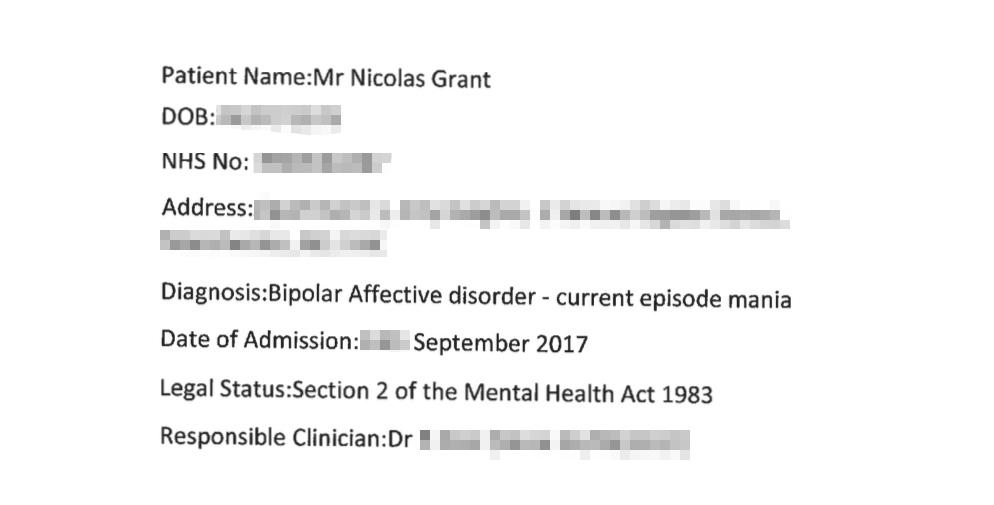 If you've ever wondered about being detained against your will in a mental hospital - on a locked psych ward - then this is how it all begins... a 'section'. Being 'sectioned' means you're being legally detained under a section of the Mental Health Act (1983). The police can section you for 24 hours under section 136 of the Mental Health Act. After an initial assessment you might be sectioned for 28 days, under section 2. If you're assessed again you might be sectioned for 6 months, which is section 3. As you can see above I was sectioned under section 2.
I've been diagnosed and treated by 13 different psychiatrists. I've spent 10 weeks under lock & key on psych wards and a total of 18 weeks as an inpatient, receiving treatment for my mental health problems.
All the psychiatrists agree: I have bipolar disorder.
One unqualified doctor has been so bold as to ignore the fact that they completely failed their psychiatric long case, and ignore the fact they're utterly incompetent when it comes to making a sound mental health diagnosis. This unqualified doctor apparently read a book about borderline personality disorder and then tried to diagnose me, despite their obvious shortcomings and prior failures in the area of mental health. That pissed me off. That idiot doctor ignored all the years of evidence and the unanimous opinion of 13 specialist highly experienced and fully qualified psychiatric doctors, because their ego is over-inflated, and frankly, they're a bit of an idiot arsehole.
So. I have bipolar disorder. That's beyond question - it's been confirmed and reconfirmed. I've had a second opinion. I've had a third, fourth, fifth, sixth, seventh, eighth, ninth, tenth, eleventh, twelfth and thirteenth opinion.
I did not ask for a fourteenth opinion.
In fact, I made it expressly clear that I DID NOT WANT another opinion... especially one from an unqualified doctor who skim-read the first few pages of a book. Especially an opinion from somebody who I think lacks empathy and compassion for vulnerable people. People with mental health problems aren't safe around that unqualified doctor, who doesn't seem to have taken on board the fact that they failed their psychiatric long-case and are therefore unqualified to be practicing psychiatric medicine.
Furthermore, when we are thinking about a borderline personality disorder diagnosis we have to consider co-morbidity.
If a person is under a great deal of stress due to housing, job, finances, relationship and other external influences, it is not possible to diagnose borderline personality disorder, because of the co-morbid adjustment disorder. Adjustment disorder is just a fancy way of saying "your life is hell right now". Naturally, it's not possible to unpick mental health problems from the stress and anxiety that anybody would be feeling when their life's in tatters.
Just as a little reminder... I'd been through a breakup with my girlfriend, had to leave my apartment in London, move to Manchester, start a new job, I broke up with another girlfriend, tried to kill myself, lost my job, lost my apartment in Manchester, moved to Wales to live with strangers, ran out of money, got another job, went to Warsaw, went back to London and ran out of money again. That is more than enough stress to give anybody adjustment disorder, making any new diagnosis impossible. There is too much co-morbidity.
Also, when alcohol and drug abuse are co-morbid, diagnosis is impossible. This does present a bit of a paradox, because alcohol and drug abuse are quite often present in cases of borderline personality disorder, but they are also very often present in bipolar disorder too. There's a specific diagnosis for that co-morbidity: dual-diagnosis.
I know a lot about dual diagnosis because I spent 4 weeks in hospital seeing the country's leading specialist almost every day, and I continued to speak to that specialist regularly for a long time after I was discharged from hospital. While substance abuse was a problem in my life, my diagnosis was quite clear: dual-diagnosis (bipolar disorder & substance abuse disorder).
Finally, we must consider loss of status.
There are excellent data showing that loss of social status causes emotional instability. If you think about it, it's pretty obvious. Imagine that you lost your wife, your kids, your job, your house, your car, all your money, the respect of your friends & family... do you think your self-esteem would be intact? Do you think you'd be fine with that and you'd be carrying on with your life like normal? Of course you'd be emotionally unstable - it's a normal human reaction to that devastating loss of social status. You can't just say "it's just stuff" because it's not - it's intrinsic to your identity and your sense of wellbeing.
It's not possible to diagnose borderline personality disorder - also known as emotionally unstable personality disorder (EUPD) - when there are concrete and undeniable external factors that would contribute to a person's loss of self-esteem, social status and consequently make them emotionally unstable. It's simply not an appropriate diagnosis for somebody whose whole life has collapsed and is in ruins.
The arrogance of Dr Death to attempt to give an unwanted and unqualified fourteenth opinion, ignoring the unanimous verdict of thirteen highly qualified and experienced specialist doctors, is highly offensive and antagonising. This opinion was aggressively thrust upon me when I made my wishes crystal clear: "do not diagnose me, Dr Death, because your opinion is worthless unqualified irritating tosh that will only upset and anger me". The fact that Dr Death proceeded to do what the f**k they wanted anyway only serves to further prove how arrogant and lacking in any compassion they are... this is a person who's not even my doctor.
So, please don't play pretend-psychiatrist and give me your amateur diagnosis... I've spent 10 years in and out of the mental health system, and I've done extensive research of my own. Shove your crackpot theories about me up your ass.
I dearly wanted to get to the point where I've been symptom-free and medication-free for long enough to declare I'm 'cured' but for now I reluctantly accept the opinion of 13 very experienced and qualified specialist psychiatrists, who are experts in their field and highly respected. I accept their opinion - that I have bipolar disorder - and I reject f**king idiots who skim-read a few pages of a book and hardly know me. F**k off Dr Death.
I was disappointed to learn that I probably have type 1 bipolar disorder, not the milder type 2 that I thought I had, but I've had 6 months without medication and without an episode, so I seem to be managing the illness very well, especially considering the fact that I've moved 4 times, been in hospital twice, attempted suicide once, had 3 jobs, been through 3 countries, bought a car, narrowly escaped bankruptcy three times and finally managed to rent a new apartment and have a healthy happy relationship with a lovely girl. I mean... sheesh... that level of stress would send anybody insane, wouldn't it?
So...
I have bipolar disorder. That's it.
Tags: #bipolar