This is a story about primary care...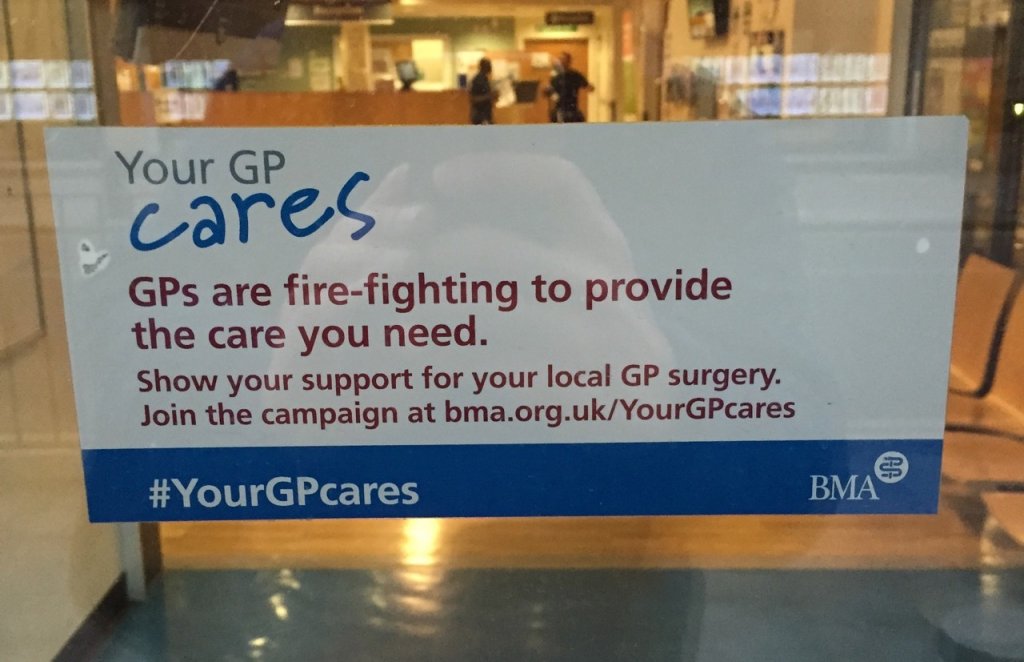 Primum non nocere is in and of itself a non sequitur because the use of Latin and other languages of classical antiquity is primarily intended to deter the hoi polloi from becoming educated. The number of doctors who are able to train, qualify and practice, is something that is tightly controlled in order to maintain high salaries - artificial scarcity - as opposed to allowing the unrestricted proliferation of medical knowledge which might improve the health of the nation.
Those who profess the Hippocratic Oath might be able to stay true to the vow they have sworn if they practice the treatment of acute illness in a hospital - dealing with curable disease and injury - but in the treatment of chronic illness in the community, as General Practitioners (GPs), can we say the same?
If we look at a few obvious statistics, we can see that medicine is failing. Average life expectancies have started to fall and chronic illness has seen a dramatic rise. There is an epidemic of mental health problems, and suicide is the biggest killer of men under the age of 45.
Of course, one might say that the root causes of these conditions are non-medical.
It occurred to me that a significant piece of the NHS has already been privatised, in that many general practice surgeries are owned and operated as private profit-making enterprises. This seemed to present a significant conflict of interest, so I decided to conduct an experiment.
I asked a GP a simple question: when you're treating a patient, do you think about their healthcare needs, or do you think about other things? The reply was shocking.
"It's not about [the patient] it's about everybody else"
I'd had my suspicions for a while - gathering plenty of evidence - that those who profess to do no harm might actually have been corrupted into serving other purposes; into betraying their profession and failing in their duty of care. This was the final confirmation that my worst fears were realised, and there are powerful actors within the healthcare system who place other things above the health of their patients.
By co-opting doctors into the capitalist profit-driven sector of the economy, and by co-opting them into the welfare system, we are asking doctors to choose between their luxury cars, the private school fees for their children, and other trimmings associated with their high social status, versus increased taxes to pay for the welfare state. By placing the most vulnerable people in society in front of the doctors, when seeking incapacity benefit, the government is pitting one group against another.
If the study of economics has taught us anything, it's that people respond to financial incentives. While a GP might argue that they're saving valuable taxpayer money, which might be spent on the NHS, by denying incapacity benefit to a vulnerable member of society, one must also admit that the GP acts in rational self-interest. Less money spent supporting society's most vulnerable means a lower tax burden and more money in the pockets of the profiteers, which include GPs who are partners in their practice.
The first principle of do no harm forbids a doctor from weeding out malingerers based on their best guess. To cut off somebody's incapacity benefit is definitely harmful, and there is no diagnostic test which could decide with a high degree of accuracy who is the malingerer and who is genuinely unable to work. If the doctor in question truly cares about their patients, they would have no option but to choose the option which gives most benefit and inflicts least harm.
We see so many suicides because patients are fobbed off with inferior treatment options, because it's a cheaper alternative to give somebody pills than to give them psychological therapy. While I understand that being cost-conscious might be seen as being pragmatic, it again violates the principle of do no harm. To fob a desperate and vulnerable person off with ineffective medication, when better treatment options are available, is tantamount to negligence. If a doctor has a consultation with a man under the age of 45, they must surely be well aware that suicide is the thing that is most likely to cause their death, and they should therefore treat it as a serious threat to their life. To call people's bluff and knowingly prescribe ineffective treatment is obviously the reason why suicide rates are so scandalously high.
I imagine that some doctors - although egotistical and in love with themselves - have a tiny piece of them that wants to make a difference and save lives. I think that exhaustion and the pressures that are felt by ordinary people are imposing themselves on doctors now, who are struggling to send their children to the best private schools (boo hoo) and are feeling compassion fatigued because of burnout. If we can relieve the pressure on GPs, they may become more willing and able to work in support of their patients' needs, as opposed to "everybody else" (read: being the government's job police).
I strongly believe that we have an urgent need to change primary care, so that it becomes not-for-profit, and patient healthcare can become the primary objective. Perhaps profits are not the primary motivator, but money has a corrupting influence which can be clearly seen when you speak to a GP who is/was a partner of a practice. Co-opting healthcare professionals into the job of coercing vulnerable people into bullshit McJobs, where they are exploited by the capitalists, has absolutely nothing to do with healthcare and is most certainly harmful.
I've witnessed first-hand how this care for "everybody else" - instead of patients - has become shorthand for the compassionless, sympathy-lacking, bullying, hectoring and suicide-inducing grotesquely twisted vision of so-called medicine, inflicted on society's most vulnerable people.
If you want to be the job police, and you think that suicides are an acceptable price to pay, so you can feel superior and send your kids to private school, perhaps medicine is not for you.
Tags: #nhs