This is a story about being bloody minded...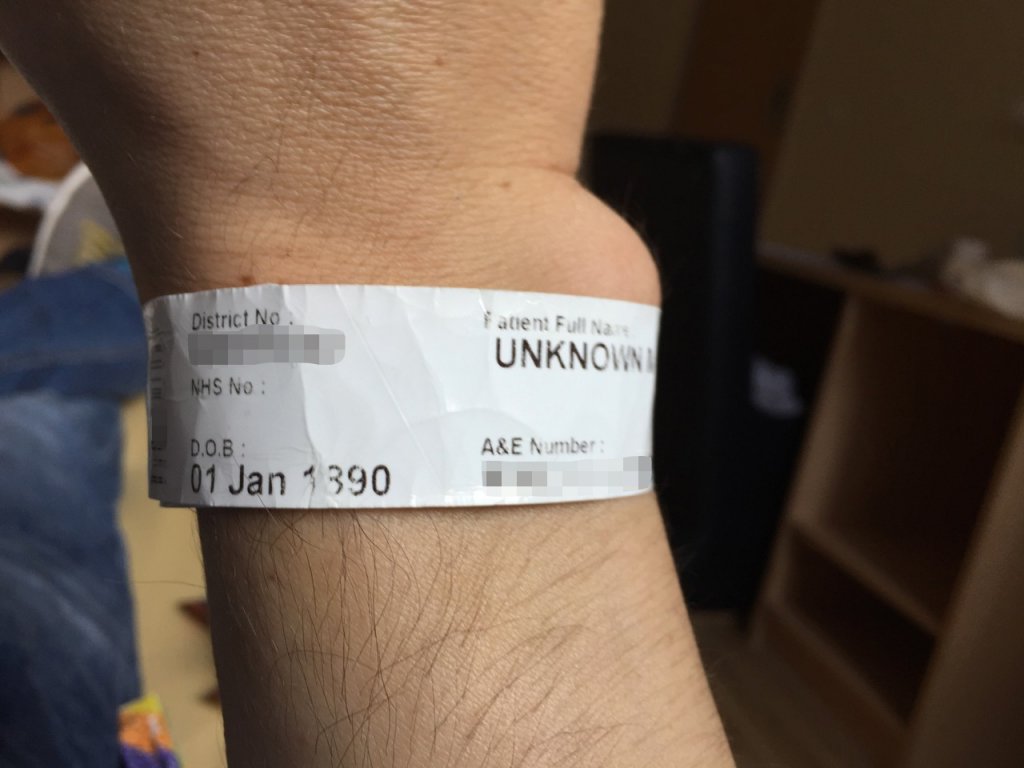 I've been subjected to the most bizarre accusation: That I can "get better" anytime I want; that I enjoy being depressed or somehow need to have a mental illness because it's part of my identity; that I want to be unwell. Part of the accusation hinges on my Twitter following - I'm accused of being two-faced: Writing blog posts and tweets which don't somehow manage to convey that sometimes I'm not suicidal.
I'm a bit confused to be honest. I don't think I could be any more authentic. I don't think it would be possible for me to be any more candid and open. My blog isn't supposed to be a diary, accurately recording the day's events. My blog is therapy for me - I write about the things that are upsetting me the most; the things that are causing the most pain and anguish.
Perhaps I'm being given credit where no credit is due. Perhaps I'm perceived as intelligent enough to be able to rationalise away my problems and force my moods to bend to my will. Perhaps the decisions I've taken out of desperation have been mistaken for choices. Perhaps my determination to stick with a plan which will boost my finances and continue to give me a lucrative career, is seen as deliberate self-sabotage: I'm purposefully making myself sick, in the eyes of my accuser.
I can see the positives and the negatives of different "choices" without assistance from somebody else to help me 'see'. I'm not so cognitively impaired that I need somebody to point out the bleedin' obvious to me. For everything that I moan about because it's making me ill, there are many benefits which make my choices worthwhile. My work, travel and living arrangements are not conducive to good mental health, but neither is poverty and hinderances that would make me less employable. The playing field is not level. I do not get to make unbiased choices - I've got to do what I've got to do, even if it's unpleasant.
I'm accused of being the problem. It's not the job, it's me. It's not the commute, it's me. It's not the lonely AirBnBs, it's me. Apparently, everything's all my own fault and I can choose to be healthy and happy any time I want, according to my accuser. Personally, I think that life's a lot easier when you've got money behind you and you've got a stable home life. Personally, I think that we are healthier and happier when we get the pieces of the puzzle in place: friends, family, a home, an income, financial security and something we're passionate about. Let's leave aside the blame game of how I ended up in the present situation. We can even assume that everything's all my fault if you want to, but that doesn't change the fact of the matter: I am where I am and I need to get back on my feet. Blame doesn't change my needs. Blame doesn't change my situation or my mood. To accuse me of fucking up my life AND deliberately keeping it fucked up is dumb. One of the big reasons why I'm suicidal is because I've tried so hard to fix the things that are broken, but it's been a miserable exhausting experience and my life's still pretty messed up. I really am trying very hard to get things sorted out. It's a lot easier said than done, I'm afraid. Sorry about that.
I think there's a lot of ego involved. People want to be helpful, but then they start thinking like they've understood me and I can be 'cured' with simple solutions. When the simple solutions to an oversimplification of my problems don't work, then the 'helpful' people get annoyed with me... like I'm deliberately messing up their useless suggestions. I seem to have really frustrated my accuser, that I'm so determined to be a real living person, with a real life, instead of some simple little thing that can easily be fixed. "Oh I'm so silly! How brilliant of you to point out the completely obvious solution to an easy-to-solve problem that I don't have! Thank you!" I'm expected to say all the time, on top of dealing with real life.
There aren't any quick fixes. Things take time and effort to get better, and it's exhausting. Things have to be done in the right sequence. Sometimes, it costs a lot of money to make changes. Sometimes we have to wait for the things we want and need, because we can't get them immediately. I can't - for example - switch jobs until I have a financial cushion to give me some runway to make the change. Every change I make brings with it a whole new set of problems, so I need to deal with things in a step-by-step way. There's a plan, even if somebody thinks that I can just teleport straight to the end goal. Sadly, life doesn't work like that - we have to suffer in the short and medium term, to achieve our long term objectives. You have to pay to play.
I'm not short of ideas for what to do when I have surplus time and money. I'm not short of ideas of what I'd do if I could do anything, because money's no object, but it's bullshit to suggest I'm able to just abandon my current source of income and go off and do something else. I can't be a student again. I can't be a poet or a dog walker or a sculptor or a circus clown. Life doesn't work like that. Even if I took a shitty McJob, I would still need to afford to travel to work every day for a month or so until I get paid. How do you think capitalist society even works? I'm making smart economic choices which are painful at the moment, but will give me the financial means to pursue something more rewarding and better for my health. I'm giving myself the working capital to be able to pick and choose my next options.
I might have spent some of today playing like a big kid and enjoying myself, but that doesn't mean that my mood can't be plunged dangerously low when reality bites: Monday morning will come around, along with the realisation that almost nothing in my life is quite where I want and need it to be. There's so much unpleasant hard work ahead, and so little reward in the short term, that it's quite understandable that I'd get worn down and decide to reject life altogether. What looks like a few short months of hard work to you, is somewhat of an insurmountable obstacle for me, because of the journey I've been on. I've fought my way back from nothing, and I'm still fighting, but yet it feels like I'm getting nowhere. Where's the reward for my effort? Why is life still so miserable, most of the time?
In the company of my friends, or going on a date with a girl - for example - life can briefly seem wonderful, but the bulk of my existence feels like packing and unpacking bags, moving from place to place, sitting at a desk and hating every second... unsettled and unpleasant. The dread of the rat race - the treadmill - is enough to cast a dark shadow over other times. When I should be enjoying the last few hours of my weekend, I'm already depressed about another week shackled to the job I do out of economic necessity. I make a fuss, but it's not over nothing and it's not me. I'd pick up dog shit if it paid as well as my current job... at least it would feel like I was making a real tangible difference to my local community, if I was doing something like that.
There are a whole raft of issues at play, including my desire to be free from medications. It might seem obvious that my depression could be 'cured' with pills, but it wouldn't be a cure - my depression is a reaction to my toxic circumstances. I don't want to become medication dependent, when I've worked so hard to wean myself off so many different pills. I'm quite close to being 100% substance free.
I want to plan a holiday. I want to buy a car. I want to dream, but dreams require money. The dreaming part is the easy bit. Life's a lot more complicated than it seems for a casual observer. It's easy to come up with a million "you should do..." ideas, but they're infeasible if you don't have the time, money, company, energy, motivation and a million other things that are the product of getting some building blocks in place: a home, a girlfriend, some friends, a tolerable job, some money in the bank, disposable income etc. etc.
There are myriad broken things in my life, and no quick fixes. If I haven't fixed something yet, it's not because I want it to be broken. I'm not choosing to be depressed. I don't want to be sick. I'm perfectly capable of imagining a life that would be healthier and happier, but it takes time, money and energy to make it happen.
Moaning on my blog is what I do for therapy. Moaning on my blog is what I do, because it's cheap and it helps me to limp along while I'm getting the cash together to be able to do whatever I want to do next. Moaning on my blog is not my identity - it's my outlet because there isn't any other healthy way to cope. I'm trapped by circumstances and there's no escape, except through the path I've "chosen". I do not choose to be depressed, miserable and suicidal.
I don't know why I'm accused of being the architect of my own depression, when I'm working so hard to fix my life. The accusations don't even make any sense - they just seem to be an egotistical version of "have you tried being more simple so that I can solve the problems that you don't have?" and "have you tried being me instead of you, because I think I'm great?".
I've exhaustively documented the challenges that I'm facing. It upsets me that somebody would want to oversimplify things, just because of their own ego and a desire that I should blame myself and generally feel like I'm lazy and stupid, despite the fact that I HAVE TO LIVE 24 HOURS A DAY WITH SUICIDAL DEPRESSION and I'm the one who does all the actual hard work fixing my life. Pointing out the blatantly obvious is not a hard thing to do. Leaping to incorrect conclusions is not a hard thing to do.
There is a prerequisite condition for having an opinion on "what's wrong with me" which is to have read what I've written. If you want to know what's wrong with me, I've exhaustively documented everything I'm going through right here. If you want to tell me what I should and shouldn't do with my life, it needs to take into account the reality of my day-to-day existence, which I have accurately explained the most challenging parts of on this blog. If you want to give me "you should..." type instructions, then they need to be grounded in reality or else I'm just going to ignore them. Please don't get upset when I ignore your unhelpful suggestions. Please don't accuse me of wanting to be miserable and depressed.
I've written more than I intended to. I'm wondering why I'm writing. What's the point? But, that's what this blog is. It's not an attempt to manipulate sympathy out of my audience. This is a living document that records my distress in unflinching detail. This is where I pour out all the stuff that's really upsetting me. Here's where I work things out that are going round and round in my head. This is therapy for me.
One other accusation that I've faced is that my blog is making me sick - my blog is causing me to get stuck, ruminating on things that I'd otherwise let go. I think that's bullshit. My blog is where I've been able to finally let go of things that have been upsetting me. It's taken a long time, and I've repeated myself A LOT but that doesn't mean it's not working. If you take a lazy glance, you might think that I always write about the same stuff and that I'm therefore stuck in a rut, but if you look at the full story, you must surely see that I've been through some pretty traumatic stuff and this blog has helped me to cope. Writing is my healthy coping mechanism. People don't often pull through the things I've been through, and go back to being healthy happy productive members of society. I give credit to this blog for allowing me to deal with things that would otherwise have caused me to lose my mind.
I could probably edit this down, or just delete it and rewrite it, but I'm going to publish it because I want the public scrutiny. I want to document what I'm going through. I want to capture a piece of my consciousness, without censorship.
Yes, I'm lashing out, but I don't deserve to be accused of not helping myself, when I'm working so hard.
Tags: #writing #suicide #depression #mentalhealth #bipolar #friends #family