This is a story about hopelessness...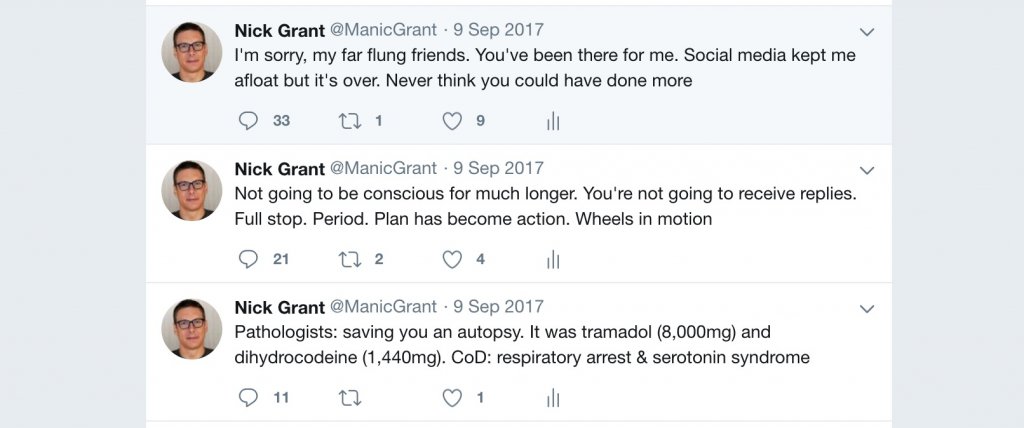 2017 was an annus horriblis like no other that I've experienced. I can't imagine as many issues conspiring to swamp me ever again. Despite being extremely mentally unwell, my rational analysis was correct: there was no hope of me escaping my dreadful circumstances.
There are many inescapable traps in life. Addictive drugs and medications, debts, social isolation, abandonment, stigma and suchlike exert such a powerful gravitational pull that no person - dumped by society - would ever be able to escape their fate without a miracle.
I don't believe in miracles.
That I had become hooked on prescription painkillers, sleeping pills and tranquillisers, due to nerve damage, kidney failure, lengthy hospitalisation and job loss, was something I had no hope of dealing with on my own, especially when then compounded by financial distress and having to leave my home city for the first job I could find, which didn't pay enough to deal with my financial woes. I wasn't even managing to tread water - I was drowning.
I'd had some help from crisis teams and home treatment teams - care in the community - but all they could do was bring me medication. My problems were more to do with hopelessness in the face of insurmountable odds. I was haemorrhaging cash and in danger of being evicted; losing everything. I was too sick to work. However, the home treatment team at least managed to force me to hand over some of my stockpile of prescription opiates, which I was planning to use for an overdose - that one small thing probably saved my life.
To expect me to put all my possessions into storage, move to a city I'd never foot in before, live in an apartment I'd never seen inside and work a demanding job, was too much pressure to place on a sick person in crisis. To expect me to deal with all my problems on my own and with inadequate support, was signing my death warrant. I was set up to fail.
I managed to withstand a few setbacks, such as a new relationship not working out. However, a second breakup - and the loss of the social group which came with it - was the straw that broke the camel's back. I knew I wouldn't have the energy to pick myself up and try again. I was too lonely and isolated. I was too vulnerable. I was to stressed and exhausted. I knew deep down that the numbers just didn't add up: I wasn't earning enough and I was working too hard. There was no escape. Suicide was the only option.
Of course, suicide was one of two options. I could have become homeless. I could have allowed myself to be abandoned by society and marginalised; demonised. I could have allowed myself to be ejected from the mainstream, never to be allowed to return because the stench of poverty would have seeped into my clothes and coated my skin. I could have accepted the labels which people were quick to slap on me: loser; unemployable; waste-of-space; unreliable; shady; untrustworthy. I could have lived out the rest of my days in a shop doorway, sleeping on a piece of cardboard in a dirty sleeping bag, begging.
I'm a realist. I'm pragmatic. I knew that I'd had my chances but they hadn't worked out, and I was highly unlikely to get any more. Time to die.
I got a pint glass from the kitchen and a box of white wine. I emptied out hundreds of strong opiate painkillers into a makeshift tumbler and tipped the capsules and tablets into my mouth, washing them down with alcohol. There was no hesitation; no regret; no self-doubt.
I set a countdown timer on my phone. I knew that the medications would hit my bloodstream in roughly 40 minutes time and I would soon begin to have seizures and lose consciousness. I presumed that the blood-plasma concentration levels of the medications would peak after 60 to 90 minutes and no amount of activated charcoal or gastric lavage would be sufficient to save my life. I thought that provided the alarm wasn't raised during that brief window, I would definitely die. I'd calculated the lethal dosages and I'd amplified the effects by combining with alcohol.
When the timer went off I was feeling very dizzy and disoriented, but I was able to find my phone and send 3 tweets. An old schoolfriend saw one of my tweets and replied. I replied back:
"I'm sorry Ben. I was looking forward for seeing you in November"
Those were my last words.
We lead lives of quiet desperation and we've been scattered to the four corners of the earth. I have school-friends from Oxford and Dorset, but I've spent most of my working life in London. What was I doing in Manchester? There were no friends or family anywhere for hundreds of miles. I'm cared for by people all over the world, but what can anybody do when we're only connected through cyberspace?
I thought nobody who cared about me knew where I lived.
Online friends raised the alarm. Emergency services got to me and took me to hospital in enough time to save me. I regained consciousness in intensive care on life support. It's quite miraculous that I'm alive today, writing this - the prognosis was not good at all.
The things which pushed me to suicide had eminently practical solutions: housing, employment, finances, social, intimate. There was no reason I had to die, except for the way that our society has become an "every man for himself" barbaric struggle. Our communities have collapsed and we live lives of isolated quiet desperation, where we don't feel like we have the time, the money, the energy, the space, the resources or other very practical things, in order to help the needy.
In the absence of a stable and secure life in the so-called "real world" I've maintained relationships which aren't disrupted by moving around geographically. I maintain relationships which follow-the-sun: I talk to people in all different timezones at different times of the day. My online presence has allowed me to keep a toe-hold in the world of the living, thanks to others' willingness to be part of an online community too.
My "real world" life is not much different today than how it was a year ago, but my situation is much improved. The suicide attempt brought the help I needed - albeit seemingly too late - and I've been able to break free from addictive prescription medications, stabilise my mental health and get myself into a financial situation where there's light at the end of the tunnel. I'm able to work, sleep, eat and generally function with independence - a life which is mostly tolerable. My lack of "real world" social life and romantic relationship is made more bearable by the vast amount of care and support I receive from my many friends who I'm in regular contact with online.
Things are far from perfect, but they're vastly improved versus a year ago, and at least I feel like I've got a fighting chance. I at least have the dignity of being able to work my way through recovery and get back on my feet.
To those who took an interest during that fateful night of September 9, 2017 - thank you.
Tags: #suicide