This is a story about role models...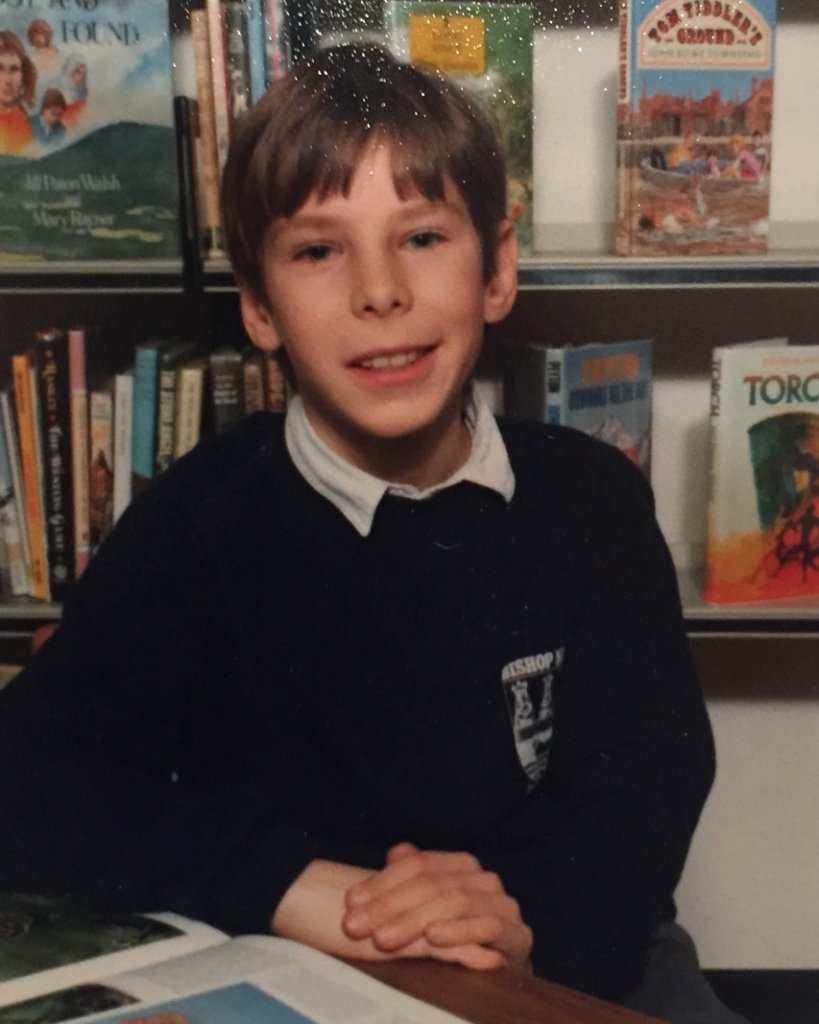 Many people might ask themselves "what would my mother think?" before saying or doing something stupid. My druggie loser parents - who I'm now estranged from - were not inspiring role models for me growing up. Instead, I can pinpoint the things which have given me everything good in my adult life, and I attribute those things to three friends' families, and one family in particular.
The seed of my initial interest in computers was sown by my friends Joe and Ben, whose father had an Apple Mac and whose mother was a systems analyst. Without that introduction to the pure joy of using a computer with a graphical interface and a mouse, I would not have become hooked.
With my neighbour, Julian, we used to use his dad's Apple Mac, which maintained my interest in computers and allowed me to see their practical applications beyond computer games. Julian's dad was a heart surgeon, and we played around with a heart surgery simulation game. Julian's dad also showed us a piece of software he'd developed to diagnose angina based on a set of questions the patients answered.
Then, Ben - a different Ben - taught me how to program a computer. Ben and his mum ran a computer club one evening a week at a place which compiled Oxford's most well-known "what's on" guide. Ben's dad took a group of us to the E3 computer games exhibition. Also, Ben's family encouraged creativity beyond the screen - the children were encouraged to be artistic and musical in a way that was fun, as opposed to simply an academic exercise in the interests of appearing to be a more well-rounded person when attending university interviews. Ben's dad took a bunch of us not-so-athletic geeks to play a game of basketball once.
Because I got moved around so much as a kid, I only got to spend 3 years with Ben - the second Ben - during childhood. I went back to Oxford for a visit as soon as I got a car that was reliable enough to complete the journey, but then the visits became more and more infrequent. I've only seen Ben 4 times in my adult life.
So, you'd think that it'd be pretty weird to have somebody I've seen so infrequently as a kind of role model, but that's what's happened.
My childhood had 8 different schools and 6 house moves. If I was taught anything during childhood by my parents, it was that I shouldn't get attached to my friends, my school, my room... anything. I was taught not to get attached, because the rug would keep getting pulled out from beneath my feet.
The beauty of the internet is that your friends are your friends, wherever they are in the world. I've worked for 15 different organisations all over the UK and abroad, and I've moved around an unimaginable amount - I've been quite nomadic. The only friends I've managed to hang onto are those who have an online presence, because - as I've learned the hard and painful way - when you're out of sight you're out of mind.
Ben was an early adopter of everything online, which inspired me to get into similar things. While he was building websites and a classified ads system for the aforementioned Oxford "what's on?" company, I found a similar local company and started building similar stuff. Through the internet, I always stayed roughly abreast of what Ben was doing.
A common childhood friend of ours crossed my path in Winchester, and tragically I was probably the last person in our friendship group to see him alive. Through the internet I was aware of the funeral, but it felt strange, being this lurker... this outsider. My friends had done their GCSEs, their A-levels and then had all gone off to their various universities, but I'd missed out on that - I'd been taken away from all that, as had so often happened, by my druggie loser parents.
When I did a tech startup and I was lost without a co-founder I asked Ben for advice and invited him to join me on the venture. Ben was going to be a mentor on the Springboard technology accelerator program in Cambridge, and he suggested that I apply, which I did. Ben had to go back to California to be with his family, so he didn't end up being a mentor on the program, but it often makes me think about whether I'm a bad son, because I feel like my parents can rot in hell when they get sick. I feel like I'd be there for my mum if she was on her own, but I can't deal with my parents - I had enough of dealing with them on my own from age 0 to 10; I'm too bitter about them ruining my childhood.
I think a lot about how angry and bitter I've been with my writing. I think about how Ben would never write stuff like I do; Ben would never say or do anything regrettable.
I think about how I became a complete sociopathic psycho towards my lovely co-founder, while I was on the Springboard program in Cambridge. I made my co-founder cry in front of a Google exec. Perhaps, in some ironic twist of fate, I could've made my co-founder cry in front of Ben. Ben would never make his co-founder cry. Who am I? What have I become? I feel terribly ashamed about the way I spoke to and treated my co-founder.
I read stuff that Ben writes and I get inspired. This whole blog is inspired by the fact that Ben founded the platform on which I write this - it's another one of his startups. I read Ben's blog and it often inspires me to write my own opinions on similar topics. It's a bit weird, but it's mostly harmless.
Then, there's the bitterness, resentment and pent-up anger that seems to come out of nowhere. Some really vicious, mean, angry stuff pours out of me and onto the page. Ben would never write like I do. Ben would never get mad and say really horrible things. Ben just wouldn't rip into people like I do.
I think about all the tirades I've launched on my useless druggie loser parents, and I think that I must be a big disappointment to Ben.
I hate that I disappoint Ben.
I hate that I'm letting him down.
I hate that I'm this person.
I hate that I act like this and that I say this stuff.
I wrote loads of stuff and some of it was OK. I was super pleased that I was writing regularly. I was happy to have a creative outlet and I was proud of my blog. Then, out came a lot of stuff about my mental health, addiction, recovery, detox, rehab. The stuff I was writing was OKish but I was on dodgy ground. I was ashamed to admit that stuff in case Ben read it. I didn't want to admit my failures and shortcomings.
The most recent time I saw Ben I was really unwell, but my girlfriend encouraged me to go and see him while he was in London. It was a rare opportunity to catch up. Even though I was feeling terrible, my lovely girlfriend managed to get me to go and meet up as planned. She met Ben.
But, I got more and more sick. I started being a dick on Facebook. I broke up with my amazing lovely girlfriend, and I wasn't very nice about it. In fact, I was a total dick. I was awful. I was the worst. All my friends surely must have seen what a terrible person I am, including - of course - Ben.
I started dating another girl. Then I left London and went to Manchester, stopped seeing the other girl and got another girlfriend.
Things went badly wrong in Manchester.
On Twitter I wrote "I'm sorry, my far flung friends" after I believed I was beyond the point of saving - I had ingested a massive overdose and was about to lose consciousness. Ben responded right away. I replied. I thought it was probably the last thing I'd ever do: responding to a tweet from Ben.
What have I done since then?
I feel like I've made a fool of myself. I feel like I've failed to capitalise on the opportunity to do some good. I feel like I haven't turned my good fortune - not dying - into something more meaningful. What have I done with my blog and my Twitter followers? What have I managed to do which Ben might think is a useful contribution to humanity?
I've continued to write so many things which are quite cringeworthy. I've continued to grind my axe. I've continued to act in a way that makes me think that Ben must be quite certain that I'm an unpleasant, vicious, mean, nasty, horrible piece of work. I feel like I've disappointed my role model; disappointed the person who I idolise and look up to.
I've very much lost my way. I want to have a positive role model and to act in more positive ways, but I've gone wrong somewhere, or maybe I'm a totally shitty person.
It's weird to idolise a friend from childhood, who I've hardly seen; hardly know, frankly, except what can be gleaned from his creative output on the web.
Like Ben, I've written a novel during National Novel Writing Month, and I've poured my heart and soul into my blog and my Twitter account; my online community. I've attempted to emulate his online achievements, but yet I've somehow failed, because of my lack of dignity and my sheer nastiness... I've made a fool of myself and I'm a disappointment; an embarrassment.
This is, quite possibly, one of the most cringey and weird things I've ever written, but it's my wont to write whatever's on my mind without filter, and this is what's been brewing for a few days now.
I'm sorry Ben, but I think you can take it given the fact you're a public figure who's lived your life online as much as I have, writing under your own name rather than a pseudonym. Only our closest childhood friends would have any idea who I'm talking about. I hope you don't feel that this brings you any shame, in being connected with a shoddy person like me.
The other thing to address is the pressure of knowing that somebody idolises you. It's a bit weird and creepy to know that somebody reads your stuff and also credits so many of their positive life decisions as having been inspired by you. All I can say to that is: my income as a computer programmer has given me every opportunity I ever wished for, and the inspiration to do creative writing has saved my life. Living an online life as an active contributor to various social networks has given me an identity I'm proud of and has brought me numerous lifelong friendships which I treasure dearly. In short, you did a good thing, even if I take some of those gifts and abuse them sometimes... sorry about that; not your fault.
What would Ben do? Probably not write some bizarre stream-of-consciousness thing like this, but I'm glad he's there as an inspiration in my life to be a better person.
Tags: #friends #writing #socialmedia