This is a story about life falling apart...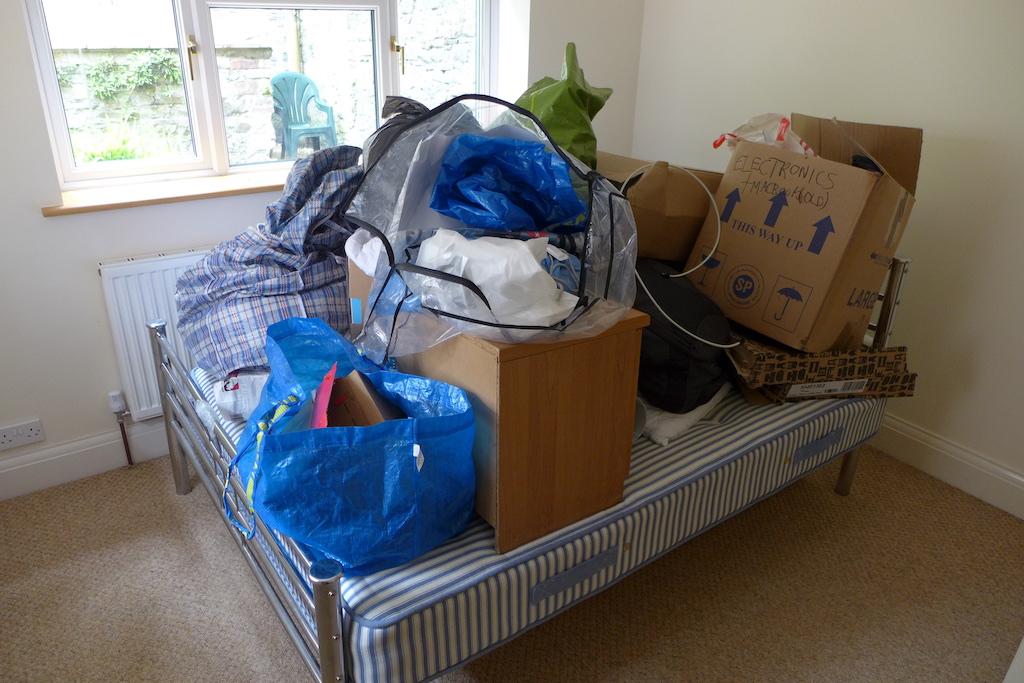 I've started to put my life back in good order, but I still have to get well enough to go back into the office sometime soon. I look like a tramp at the moment. A very tired tramp.
My bedroom carpet has been deep cleaned. The walls really need a wipe down and there's a bit of decorating touching-up to do. Considering I barricaded myself in there for days in very unsanitary conditions, it's not too bad. I need to buy a new bed, but I hated the old creaky one anyway. It's alright, but has a very ugly repair to one of the bars, which I decided I needed for my barricade, so I bent it in half until it broke.
As you can see, my temporary window coverings have been taken down. The low-tack masking tape I used hasn't left any marks or pulled off any paint. However, in the very worst case scenario, I could replace the underlay and carpet, replaster and repaint all the walls, and re-do all the caulking, which'd cost me about £1,000, plus the cost of replacing the bed. Frankly, if I stay for a couple of years and do a bit of touching up with roughly colour matched paint, nobody'll really notice - there's a huge patch where the paint is a whole shade darker, because I moved the wardrobe out of my bedroom and into my dressing room.
As for me, I'm exhausted. I had to get up and tidy my bedroom before the carpet cleaner arrived at 10am. I slept on the sofa. I probably didn't fall asleep until about 3am, even though I had sleeping pills and tranquillisers.
I have a mountain of towels and bedding to wash. The bathroom needs a good clean.
I need to re-stack up all that crap that's on my bed behind my second, superfluous, bedroom door. Perhaps I could get things a bit more organised while I'm at it, but I'm too tired.
During all this craziness, there's been a Royal wedding and apparently there's a big local music thing that all the locals are going on about, like it's not just some random concert. So many people have told me that "the place will be gridlock". London can put on a marathon all round the centre of a city of 10 million people. I think the Billy Ray Cyrus cover act playing "Achy Breaky Heart" headlining Wales' "Big Weekend" isn't going to cause too much of a problem for a city which is about 1-2% as big as London.
So, I've dropped out at the moment. I'm not going to the office. I'm not seeing anybody. I'm not leaving the house. I'm not leaving my apartment. Sometimes, I'm not even leaving the same room for days.
Problem is, in London you can pretty much shove your thumb up the Queen's arse and get away with a slapped wrist, but here it's a proper community and people stick together. You can't misbehave without getting in serious trouble. People gossip. Messages and emails get forwarded again and again and again. Faces get remembered. You bump into people you know.
If all else fails, try Wales, but I still need to be careful not to shit on my own doorstep cos what I got away with in London FOR YEARS just will not fly round here. I wanted a clean break, a fresh start, but I've already fallen out with a GP who was partially responsible for a young man's suicide, and a girlfriend who seemed to think the worst of me, despite evidence to the contrary. I've been accused of writing stuff on my blog about people and their families and generally sharing private stuff. Bullshit.
I need to act a bit differently now I live in this tiny city, so that I don't fall out with any more friends and break up with any more girlfriends, but you know EXACTLY who I am and EXACTLY what I think, without naming names or sharing private things... of my friends. If you're not my friend, you're fair game, except I'm not nasty and vindictive.
I'm feeling a bit sad that I've only got 2 non-work friends in the city, and that a great opportunity to socialise is currently a bit difficult because I don't want people from work seeing me when I'm looking so unhealthy.
I went on a site to find drinking buddies, and meetup.com. Jesus, that's depressing. My ex-girlfriend was always worried that I was "downdating" because the pool of available hotties in this tiny town is nothing like London, where Tinder brings an endless stream of stunning intelligent and cultured women.
If the work dries up here and I fail to find a social group I like, I think I could end up going back to London, now that I have the money to do it in style. Being able to drive to work is brilliant, but I'm so worried that I'm not going to find friends and a girlfriend who have similar values, goals and ambitions.
You know what I really miss? My cat and my girlfriend's cats.
It's amazing how quickly I went from viewing a yacht, drinking in the sun at a food festival, having a picnic in the sunshine, and finally getting a bit of a tan... to losing my girlfriend, risking my job, wrecking my bedroom, losing my mind.
I think I just want to drop out completely. I'll empty my bank accounts to pay back my guardian angel, and the taxman and the banks can go fuck themselves. I'll leave the country and go live and work somewhere you don't have some god-awful experience every time you just want to get a bit of money or a place to live, somewhere laid back. It's stressing me out too much, the pressure of staying in the rat race and keeping squeaky clean - one black mark and you're f**ked.
My ex-flatmate who owes me about £6,000 in unpaid rent and bills, also owes thousands to basically anybody who would give him any kind of credit agreement. The red bills - final demands - and debt collectors started appearing soon after I threw him out (I gave him SO MANY chances, but he kept lying and the debt kept getting bigger). Now, if his Instagram is to be believed, he's living the high life, so maybe there's a lot to be said for being a thoroughly disreputable and immoral piece of shit.
Personally, I've contributed the best part of a million quid to the economy, and I've worked my arse off to never default on a debt and always honour my commitments. Maybe that's where I'm going wrong. I need to just be a flakey drop-out. I think it'd be more fun. It'd certainly be a lot less stressful.
Tags: #apartment #relationships #flatmate #debt #friends #sailing