This is a story about being functional...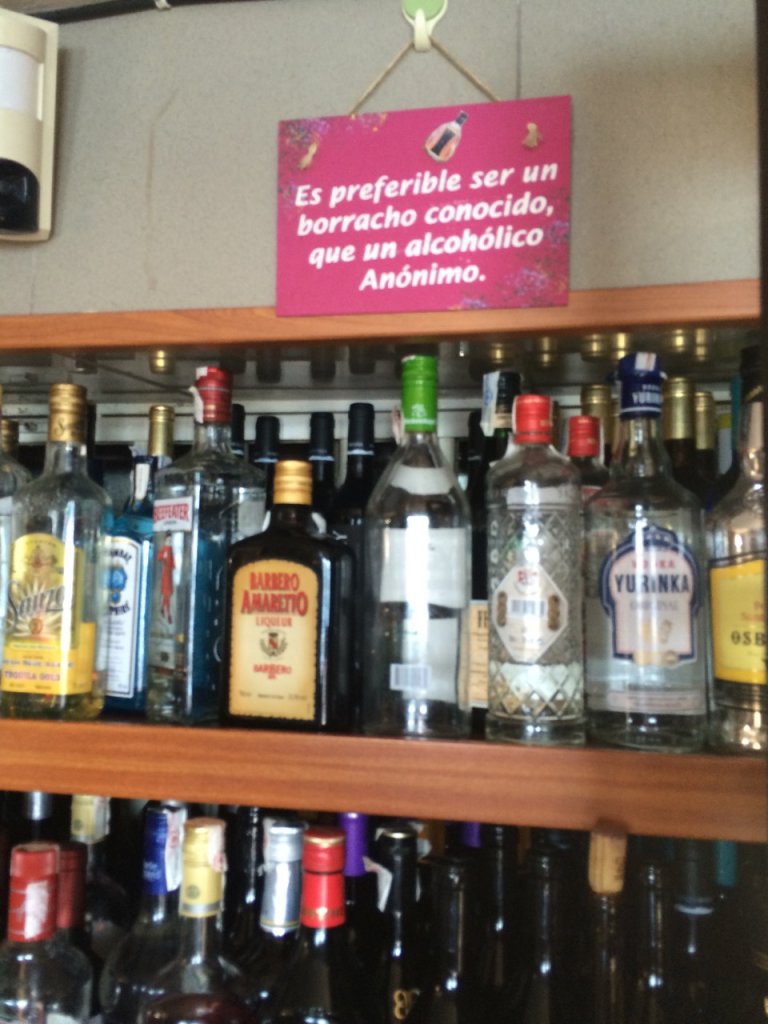 In every supermarket, corner shop, convenience store, licensed café, restaurant and in vast numbers of bars, pubs, clubs and other establishments where people gather to spend money and socialise, there is always alcohol on sale. Alcohol is ubiquitous. It's always possible to get cheap booze quickly, wherever you are - you're never further than a short walk and a couple of quid away from intoxication.
The weather in the UK is pretty miserable. We get hardly any snow, and there's only a couple of mountains that have a ski lift - it's quicker and easier for me to fly to France, Austria, Switzerland or Italy, than it is for me to drive all the way to Scotland, where the mountains aren't very high and the snow's really poor. The pleasant months of weather in the UK are May through to September, and the rest of the time it's grey and overcast; drizzly and thoroughly miserable. Our summers are often plagued by rain, although the weather is at least pleasantly warm by British standards, but don't forget your brolly even in August. It's enough to drive anybody to drink.
Our little island is quite overcrowded. The industrial revolution led us to abandon our rural lifestyle and move to the cities, seeking our fortune. Our cramped towns and cities have rows and rows of terraced worker cottages, which are too small to comfortably accomodate a family. As our social fabric disintegrated in the 1960s and 1970s, we built brutalist concrete monstrosities, very similar to Soviet-era blocks, which could house vast numbers of people who serve no useful economic purpose in the age of robotics, technology, automation, IT and the boom of the service industries. The vast majority of Britons are struggling to just-about-manage on god-awful estates, some of which were built by councils as social housing, and others were built by a handful of massive property developers. Estates comprise huge numbers of cheap and nasty houses built on the outskirts of dismal towns, which were already struggling to provide the necessary infrastructure to educate, transport, entertain and look after the health of local residents. We have not scaled well.
Overcrowding has reached such problematic levels, that cities such as London, Bristol and Manchester have no-go areas, where drugs, guns, knives and prostitution are the backbone of their black-market economies. In those areas predominantly populated by people who are considered economically redundant, there is little hope of escaping poverty, except by selling drugs or selling your body. Gangs compete for their turf, and violence is rife.
Meanwhile, we have seen the rise and rise of the bullshit job. While the economically redundant are given a pitiful state handout and left to rot on their council estates, the 'cream of the crop' will be able to study at university and obtain the necessary academic credentials to get a job that's completely unrelated to their field of study, which will mostly involve pointless boring meetings, Excel spreadsheets and a ridiculous volume of emails about absolutely nothing. The service industries produce nothing - no real value to the economy, no productive output - but they account for 85% or more of the so-called economy. Paper gets shuffled around in increasingly elaborate ways of obfuscating the fact that nothing of any importance is being done. Our smartest people are very busy doing nothing... and the smarter ones quickly figure this out and become quite disillusioned with the whole sham.
All of these things contributes to a toxic environment which makes people depressed, demotivated, stressed, anxious, but horribly trapped by their mortgages, car loan repayments. Despite stress and exhaustion, there persists a futile and flawed belief that if we only work hard enough, we'll be able to elevate ourselves from our dismal situation and build a better life for us and our family. When the workers eventually realise that life in the UK is a massive con, and we're going to be stuck in our dead-end job that we hate until the day we die - and our children are going to struggle just as much, if not more - then we need vast quantities of antidepressants, anxiety pills, tranquillisers, sedatives - and alcohol - in order to allow us to ignore the horrible situation and carry on functioning. Our nation is packed full of functional addicts.
Alcohol is used because of its ubiquity. It's self-medication that's available on every street corner. The proportion of the average family budget that gets spent on alcohol, versus food, is quite staggering - alcohol is the glue between the pooh... the only thing that's allowing people to carry on being functional in such a toxic environment; under such a hostile conditions.
Alcohol is the cause of so much obesity, as well as the other health-damage that accompanies its chronic consumption. If we really cared about people's health, we wouldn't bully and hector them to give up their crutches, but we would instead improve the quality of people's lives. If we make the world a less depressing and stressful place, we'll see alcohol consumption levels naturally drop.
I hate that I have to drink, just to get through the working week. I hate that I'm using a really fattening and health-damaging drug to salve my stress, and to help me to cope, but it's freely and readily available without having to see a condescending, patronising and unhelpful doctor, who has no sympathy and compassion for the day-to-day struggles of the proletariat. Doctors enjoy a position of high social status and an income that is many times greater than the average wage - they have no idea what life's like in the real world, for ordinary people - and while my overall experience with doctors has been a mostly positive one, the elites completely fail to grasp the awfulness of life for ordinary people, and fail to sympathise with the plight of the just-about-managing struggling masses.
Our doctors are trained in acute medicine - disease and injury - and are not succeeding at treating the chronic conditions that arise from the current economic climate, which is so toxic to mental health. Instead of lecturing, hectoring and bullying people because they use alcohol, cigarettes, coffee and drugs to be able to cope, our medical community needs to recognise that people are driven to use substances because of their intolerable living conditions. The mental health epidemic and scandalous suicide rates are all the proof we need that the model of medicine which dished out bucketloads of antibiotics is not succeeding in saving lives, when it dishes out bucketloads of antidepressants - clearly it's not working and suicide and mental health problems are the number one public health issue we're facing.
Having access to a fast-acting drug which can help when the stress levels become unbearable - when life becomes unliveable - is vitally important for a society that wishes to treat its people with some degree of sympathy and compassion for their plight... people need something to ease their suffering.
I think alcohol is a terrible drug, and I pity those who have become addicted to it, but it's plain to see the reasons why people drink too much, and it's not that they've got 'addictive personalities' or they lack willpower - it's that their lives are fucking shit and they've got to find a way to cope.
I wish I could quit alcohol, but how would I cope without it?
Tags: #alcohol #addiction