This is a story about triggers...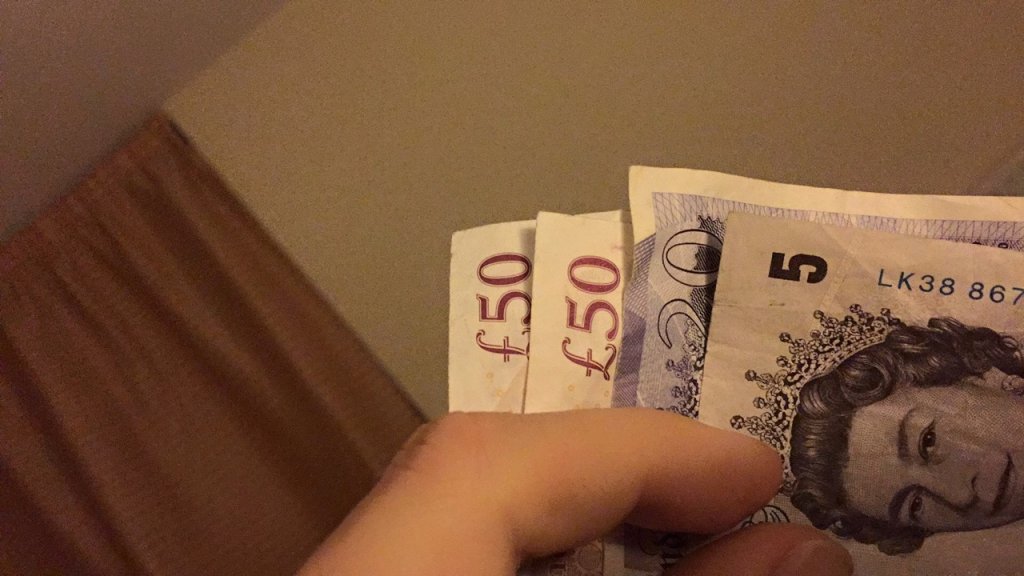 Having money burning a hole in your pocket is thought to trigger relapses, but I think it's the period of poverty that precedes it that causes the problems. Flush with cash after such a long struggle trying to make ends meet and not go bankrupt, who wouldn't be flooded with relief and be significantly affected by such a rollercoaster ride? Our boom and bust, feast and famine world is highly destabilising to our mental health.
Back in September I found myself jobless, homeless and without enough cash to afford to rent a place to live and support myself for long enough to get to payday. Mercifully a friend managed to get me a job in Warsaw in the nick of time, and I was just barely able to afford to be able to live in AirBnBs until I got paid - I escaped bankruptcy with just £23 left in my bank account the day before my pay finally started to arrive.
Back in February I had to buy a car so that I could get to my new job, tax it and insure it. That nearly wiped me out.
Back in March I had to rent a place to live, and paying the first month's rent, deposit and letting agent fees again nearly wiped me out.
I've spent April praying that nothing goes wrong - that I don't lose my job and that my car doesn't break down. I couldn't afford any unexpected bills - I've been running on fumes, although it wasn't quite as bad as when I got down to my final £23.
My financial distress dates back to December 2016, when the Christmas and New Year period delayed me from getting back into work, and by the time January arrived I was very unwell - I spent 3 weeks in hospital on dialysis and promptly lost the job I'd just managed to get. Things got worse and worse, peaking in July when I had a very large tax bill to pay and I had to leave my apartment in London because I could no longer afford the rent. Out of desperation I took a job in Manchester, which turned out to be disastrous - I didn't know anybody in Manchester and my entire life was in the hands of a company which ended up treating me very badly indeed. I tried to commit suicide.
Working in Warsaw and London during December, January and February, meant I was incurring a lot of expenses, with flights, hotels, train travel, AirBnBs and the other costs of living out of a suitcase. I tried to live off pot noodles and other things that can be prepared without a kitchen, but economising can become impossible when you have to travel around from place to place - I had to re-buy all the things you generally keep in the kitchen cupboards, or carry food around with me without the contents of the open containers leaking and turning everything into a horrible mess.
Finally, I managed to rent an apartment but it didn't have a single saucepan, plate, glass, mug, utensil or cutlery item, let alone all the other myriad things which make a house a home, such as toilet brushes and a million other things you take for granted.
To go on the journey from having less than nothing, to re-entering civilised society and having enough money to keep the wolf from the door, has been extremely stressful and exhausting. I'm still in the process of setting up my standing orders and direct debits so that the council tax, TV license, gas, electric, water, sewerage, broadband and all the other various utilities can be paid regularly every month. I'm still in the process of re-stocking the cupboards with all the things that are needed for daily living.
Yes, my situation seems to be rapidly improving, but there's still so much work to do and I'm still a long way from being comfortable and having a financial cushion in case there are any unexpected problems - there are many more sleepless nights ahead.
I don't mean to moan, because I'm very lucky - things have gone my way and finally getting paid some of the money I'm owed today has a big positive impact on my life. I can loosen the purse strings a little, although I still have to be very careful.
There is of course an impulse to go mad now that I'm a bit more financially comfortable, but that's a reaction to the relief I'm feeling, after so many months of having the threat of bankruptcy, homelessness and destitution hanging over me. My main impulse is to draw the curtains and not get out of bed for a month, because I'm so exhausted and emotionally drained after such a horrible rollercoaster ride.
Because of the way I get paid, I'm not expecting another payday for another couple of months. If I can make it to the next payday it'll be a huge milestone and I'll very definitely be on the road to recovery, but I still have a very challenging time ahead of me.
I hope you don't think I'm moaning. It's always a good day when you get paid.