This is a story about slipping through the safety net...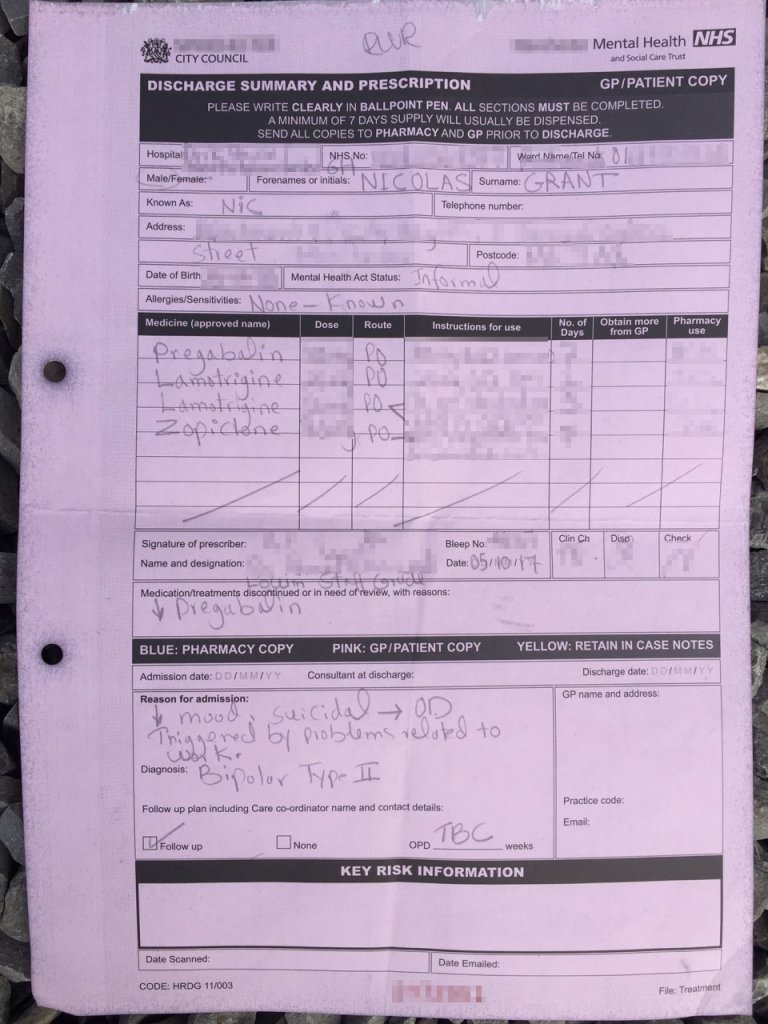 Exactly one month ago was World Suicide Prevention Day and exactly one month ago I was in a critical condition, on life support in intensive care. I was given a 50/50 chance of living or dying, following an overdose the night before. It seems sickeningly ironic that if the emergency services had reached me just a little bit later, I wouldn't be writing this. If I didn't live in the United Kingdom, where we have the best healthcare system in the world, I would probably not be writing this.
It was 9 years ago that I first sought help for my mental health. "Have you heard of fluoxetine?" asked my doctor, within 30 seconds of me explaining my symptoms: suicidal thoughts, low mood, low energy and an inability to get out of bed and go to work like normal. I was disappointed to be offered patent-expired generic medication, without a moment's hesitation. I walked away empty handed.
Clinical depression was where I started my mental health journey. Having the label "clinical" made a huge difference. To add that word - clinical - onto how I was feeling, was necessary to defend myself from anybody who might say "just snap out of it" or "pull yourself together". In my case, having a label was desirable - it wasn't an excuse; it was a diagnosis.
Every time I've gone to my doctor, I've been hoping to receive some counselling, but instead I got referred into psychiatric services as an outpatient in 2010. I was referred for Cognitive-Behavioural Therapy (CBT) treatment, but by the time I was assessed, my mood disorder had been diagnosed as type II bipolar disorder. The assessment concluded that my mood disorder was too severe to be treated with CBT. I was left with no psychological treatment. "What am I supposed to do?" I asked. "Go back to your doctor" came the reply. It was a devastating disappointment.
By 2011 I was so unwell that I was assessed under the Mental Health Act, to see if I needed to be detained in hospital - what is colloquially referred to as a "section". I begged to be hospitalised as I was suicidal. I repeatedly said the classic cliché that so many people will say when they are desperate for help: "I'm going to kill myself". Community Mental Health Teams (CMHTs), crisis teams and home treatment teams must hear those words so often.
With a shortage of psychiatric beds, there's a huge reluctance to "section" anybody. At the time of my first section assessment, my girlfriend and my dad were present, so the assessment concluded that I could be kept safe at home. In fact, I sawed a hole in the back of my shed, climbed over a neighbour's fence and ran away. The police were called to look for me because I was a danger to myself.
Soon after that, I was seen by a private psychiatrist, referred and admitted for 4 weeks of inpatient treatment at a private hospital. The cost was over £12,000.
There was some debate with my medical insurance company as to whether my bipolar disorder was acute or chronic. The insurance company said it was a chronic condition, and therefore not covered by the policy. The consultant whose care I was under, managed to argue - over the course of a couple of nail-biting weeks - that my presentation was acute.
Having to resort to the private sector; having disputes with an insurance company - none of this was conducive to getting better. In fact, having to find my own psychiatrist, get approval from the insurance company to even speak to the doctor and then having the stress of thinking that I might need to spend £12,000 of my dwindling savings, was an awful ordeal when I was clearly very unwell.
At the end of 2012 I got married and 8 months later I separated from my wife. She didn't care about the incredible stress that divorce and selling our house would put me under. I moved to London to live with supportive friends while my life was ripped to pieces. I lost my job.
By 2014, I completely slipped through the safety net. I took an overdose and lay dying of multiple organ failure on the floor. I managed to phone a friend who got me to hospital. After a week, the hospital discharged me to a hotel. I had two weeks to organise my own accommodation because no bed on a psychiatric ward could be found for me. My muscles were horribly damaged by the overdose and I was in agony. With a bundle of documents to prove that I was a priority case for emergency housing, I visited the local council housing department. The officer I saw promptly disappeared on holiday, abandoning my case. I became homeless.
After living in cheap backpackers' hostel, I reached my two week limit, which is a rule that most hostels have. I then started living in a bush in Kensington Palace Gardens. When it became apparent that living in a bush was not a long-term solution, I stumbled into nearby Paddington - St Mary's Hospital - and presented myself at Accident & Emergency. 12 hours later, I was given two weeks respite in a "crisis house". I tracked down the housing officer who I'd spoken to before. At the end of two weeks, I received a one-line email: I wasn't eligible for any help from the local council. Why? What now?
I was homeless on Hampstead Heath. It was very beautiful, but it was still summer. What was I supposed to do when the weather turned bad?
How had this situation come to be? I'd been a highly functional, productive and fine upstanding member of society: I'd had a successful career, paid taxes all my working life, bought a house, gotten married and done all the things we're supposed to do. What the heck was I doing homeless and abandoned by the state when I was obviously a vulnerable adult? My doctor had written a letter saying I was a vulnerable adult, and my psychiatrist had done the same. These letters had been presented to the local council housing officer, but yet it had made no difference. What have you got to do to get help in this country?
Eventually, I came to be living in the North of England, in an apartment which was a perk of a job I'd taken out of desperation. The apartment was miserable, dark and dingy, and I was terribly lonely. On the 9th of September 2017, I took a massive overdose, which I had researched on the internet to make sure it was likely to be fatal. I regained consciousness after having been in a coma, in hospital, on the 11th of September 2017 - I had completely missed World Suicide Prevention Day. A machine was breathing for me and I was put back to sleep. I didn't leave the intensive care and high dependency wards until the 12th of September 2017.
On the 13th of September 2017, I found myself discharged from hospital and left to flounder all on my own. I didn't want to go back to the apartment where I'd tried to kill myself. I've not been back there. I'll never go back there.
I was sectioned - a section 136 - after being taken to hospital by police. I had to make a massive public nuisance of myself in order to get help. The hospital upgraded me to a section 2, which meant I was going to be kept on a psychiatric ward for up to 28 days. Why now? I'd had two near-fatal overdoses, which had hospitalised me in a critically ill condition, but yet I hadn't been considered enough of a risk to myself to receive inpatient psychiatric treatment. Why did it take so long to finally get the treatment I'd been begging to get for 6 years?
The psychiatric ward discharged me from my section after 12 days, and another week later I was discharged from hospital - a good samaritan has taken me into their home. Again I wonder why no temporary housing was forthcoming, given the fact I am so vulnerable - I lost my job and my apartment due to mental health discrimination. I'm being victimised again & again.
I'm in a safe place now, but my food & accommodation comes from a charitable family who have taken pity on me, after reading my story on my blog - we clearly don't have a system that works for the whole of society. We can't all turn to Twitter every time we're having a mental health crisis.
My Twitter followers brought the emergency services to my door, saving my life. Through my blogging and social media presence, a stranger read about my desperate plight, and kindly offered to take me into the family home.
Today, I feel OK, but why have I been subjected to such a horrific ordeal? I very nearly succeeded in ending my own life, because no help was forthcoming when I really needed it - we're locking the stable door after the horse has bolted.
Using myself as a case study, the safeguards we have in place to prevent suicides are woefully inadequate. My first-hand experience of NHS mental health services, is that they're desperately underfunded and overstretched.
There will be so many tragic preventable deaths if we allow the current situation to persist.
Tags: #suicide #mentalhealth #bipolar #depression #nhs #hospital