This is a story about having too much to lose...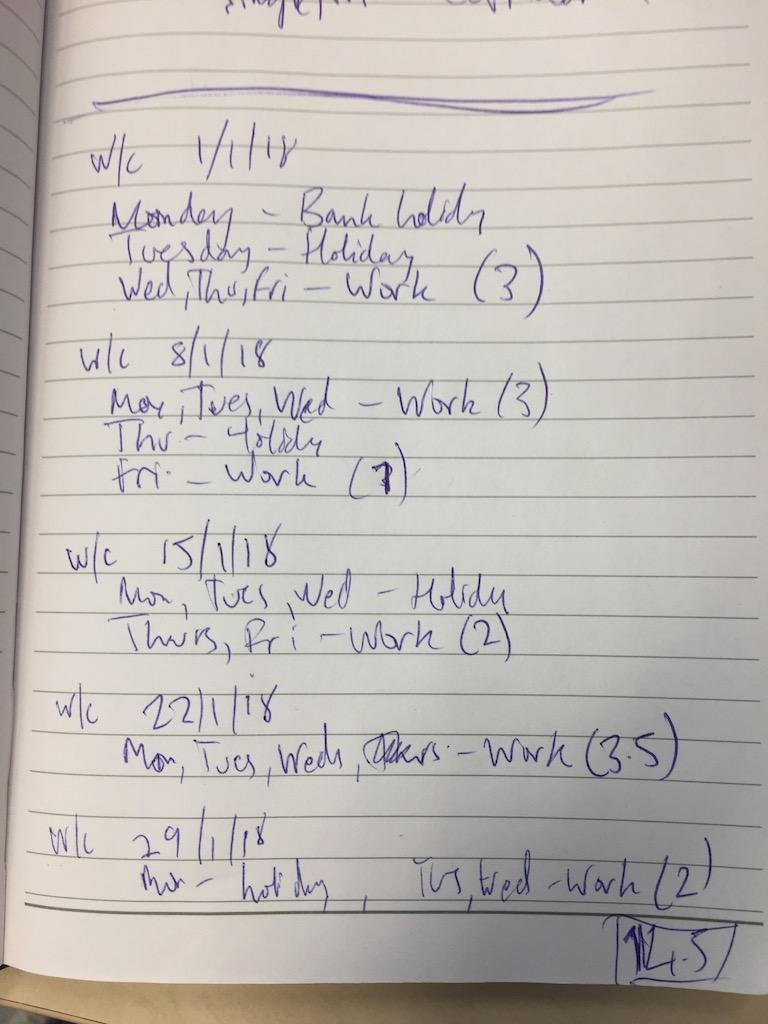 I offer to you, the reader, a specimen of my handwriting which I liken to a form of shorthand. Having spent my adolescence and adult years in front of a keyboard, my brain forms words more quickly than my hand can move a pen on a page. I never learned the technique of neat, fast, legible handwriting, because it was always very clear to me that the skill was being made obsolete by technology.
It might surprise you that I can write at all, when my handwriting is so bad.
I'm genuinely mortified at my own incompetence at something which most grown adults managed to master as children. I'm a little hesitant to publish this unflattering piece of evidence.
I have no idea how many words I write per day. I'm a professional writer, in that I'm paid to write, but what I write is very technical so perhaps it doesn't count. Certainly I need a creative outlet during all those times when I'm not able to cut loose and let rip, in my rather drab beige corporate world, where artistic types could never survive and thrive.
I've almost fully abandoned my creative writing endeavours recently, because my time is neatly divided between my career and my attempts to fall in love. 8 hours sleep, 8 hours work, 8 hours romance.
My blog is the lynchpin of my identity. Of course, my highly paid employment affords me the luxury of being able to plough vast amounts of time and energy into a project which generates zero income - pure art - but my chosen daytime profession brings back so many memories of being labelled a geek, nerd or bookworm, and subsequently bullied, that I take no pleasure nor derive any self-esteem from my paid job.
It occurs to me that if I cease to write every day, I will lose my regular readers. I could easily melt away like snow in the sun, and be forgotten. I've often written about how the internet is littered with abandoned blogs, where the authors were initially filled with incredible enthusiasm, only to quickly get bored and wander off to find something more instantly gratifying.
I persevered through a very difficult period where pretty much nobody was reading, which was tough going. I persevered and then I popped out the other side and felt like I was getting somewhere. I started to feel like I was letting readers down if I didn't write every day.
Not writing for a few days - or more - was usually symptomatic of me coming unstuck. If I disappeared off the grid it was usually sensible to start ringing round the various hospitals to see if I could be located, or failing that the morgues. I really needed my readers, because ultimately they saved my life last year, quite literally.
I now find myself in very different circumstances.
I like the people who I'm working with - I think they're smart - and I like the stuff I'm doing at the office. I'm challenged and entertained. I'm finding that my days in gainful employment are passing increasingly effortlessly and that I'm taking a great deal of pride in the work that I do.
I like the special person I've recently met - I think she's amazing - and I like spending time with her. I'm finding it very easy to swap out the very many hours I spent in a pit of despair, for hours spent kissing and cuddling. I derive an enormous amount of enjoyment from abandoning all self-preservation instincts; allowing my emotions to run riot; my heart and soul completely laid open and vulnerable in a very childish and immature way, as I'm carried along with the initial excitement of a new relationship.
A more calculating and shrewd fellow would not write this.
My writing could be the undoing of both my job and my girlfriend. My writing could easily cause me to find myself unemployed and single. My writing could get me into big trouble.
I write tonight, because writing came first. There was madness and sadness, then came writing. I had so much to say. I've still got a lot to say.
I'm predisposed to short-lived obsessions. I'm predisposed to boom and bust. I'm predisposed towards highs and lows.
I could very easily decide tomorrow that I hate my job and the organisation I'm involved with, because of the vagaries of my mood. I could very easily decide tomorrow that I'm horribly heartbroken and that I'm irreparably damaged. I live my life to the very most extreme that it's possible to do.
I write because it would be foolish to make any sudden changes. I write because it's a very healthy and useful part of my routine. I write because of the enormously valuable connection it gives me to people all around the world, to whom I owe my life, quite literally.
It's regrettable that I haven't been able to keep up my daily blogging. I regret every single time that somebody came to visit this website, hoping to find something new, but they didn't find the latest instalment in my egotistical escapades, because I was too busy wooing my new love interest; too busy courting.
I had hoped that I would be able to squeeze some writing into my working day, but the perfect storm arrived - as it does so often - such that I haven't been bored at work for a long while. It would be churlish of me to abuse my privileged position, having spent so long complaining about being bored out of my mind and unfulfilled during office hours.
As has been the case for most of my blog posts recently, I'm writing more quickly than ever, in a desperate attempt to decant the contents of my mind onto the page during a snatched moment when it feels like an opportune time to write. I'm writing with an urgency that exceeds even my completer-finisher obsession with reaching my million-word milestone. Nobody is stopping me from writing - I have plenty of spare time - but it would be very easy for me to abandon my good habits.
I know that I will ruefully regret ever skipping even a single day of writing, should disaster befall me. I know that I will be doubly sad about abandoning my readers if there are any hiccups or bumps in the road which ruin my present twin obsessions: work and love. My blog is my backup plan. My blog is the thing that's always there - the steady constant in my life; the thing that loves me unconditionally; my loyal friend.
I appreciate that I lazily aggregate together all the many people whose lives I've touched, by egotistically broadcasting myself in this mostly one-way stream. I appreciate that I have innumerable very real friends who I'm neglecting, by interacting with people in this very strange way.
I can imagine some future point in time - when it all ends in tears - when I might perhaps find myself feeling suddenly very alone and realising that it was a mistake to hurl myself so completely from one thing into another. It does concern me that I only tend to think about what I'm gaining and never about what I'm losing.
I was accused of wanting to please everybody; wanting to be loved by everybody. That accusation is pretty fair and reasonable to be honest. Why not chuck in wanting to be the centre of attention too, while we're at it?
I don't feel very sorry about anything, it has to be said. If I'm a show-off narcissist, so fucking what? If it's all about me me me then do you think I really care? Do you think I haven't noticed that most of my sentences have started with "I" in this blog post?
Does it make me a bad person? Does it make me a bad friend?
I don't know and I can't answer every question all at once, even though I very much want to try. I've written at least twice as much as I wanted to. I wanted to be short and succinct, to give my friends a flavour of what's going on in my world; to give a little peek behind the curtain. However, as per usual I've launched into an all-out egocentric monologue about nothing in particular, except my total self-absorption.
In short, I'm scared of losing my job and my girlfriend, but I'm also scared of losing whatever the fuck this is... this blog... this website... this digital anchor in a physical world. What is this? Why is it important? Why bother?
If I had to choose - and there's no reason to suggest that I have to - then I choose to connect with the maximum number of people. I choose the stable thing over the unstable and unreliable thing. It's a brutal thing to say, but jobs and girlfriends have come and gone, but my writing has been a constant companion, delivering continuous improvement to my self-esteem and sense of identity.
I need to be a little careful, because I don't want my colleagues or my girlfriend to feel like I'm not crazy about them, and totally obsessed, but I also want to protect something I've worked really hard to build - my digital identity and the relationships which it has enabled me to build and maintain.
I've written more than I intended. I've poked and prodded at things which could very well have been left alone.
I'm going to intentionally hold my tongue now, because if I keep writing I'm going to keep digging a deeper hole.
Tags: #writing #career #relationships