This is a story about biting the hand that feeds me...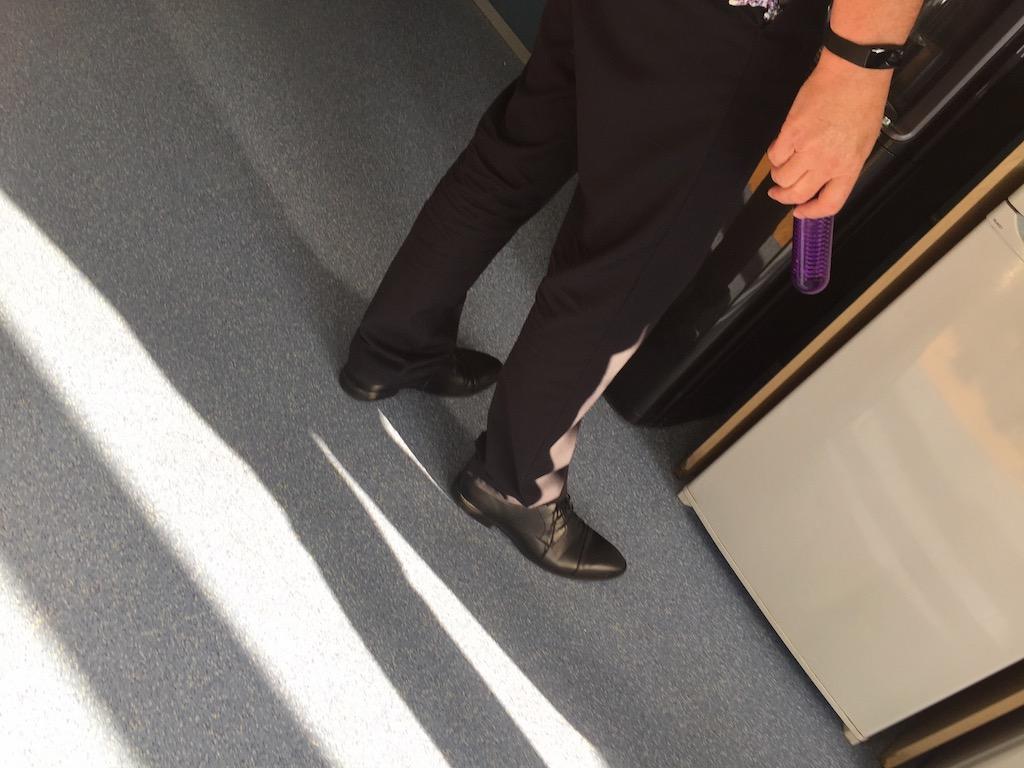 This colleague of mine was holding an object which looked so much like a sex toy that I was compelled to take a sly snapshot. Trying to be as subtle as possible and not arouse any suspicion, meant that I did not compose my photograph as well as I could have done, but I offer you the cropped image below so that you're better able to imagine what I saw.
Is that any better? Attempting to photograph a colleague waving around a dildo-like object while filling a bottle from the water-cooler in my office, was somewhat hampered by the fact I spend my days on a secure campus with high fences and guards manning the gates, in a building which you can't gain entrance to until you've been through various in-depth background checks, to ensure you're the right sort of chap.
I'm sure there's something somewhere written in a contract or a code of conduct I've signed, which could be twisted and misinterpreted to mean that I shouldn't irreverently make light of my privileged position in the world.
People tell me I have a "good job".
People tell me to watch my step and button my lip, because "they" are monitoring my electronic communications and every word I speak and write.
We are well aware that GCHQ's mass-surveillance invades millions of law-abiding UK citizens' presumed automatic right to privacy, in the name of national security. We are all well aware that the police are using undercover officers to infiltrate groups of UK citizens who intend to exercise their right to unionise, strike and demand better pay and conditions. We are all well aware that the police share dossiers of intelligence with private companies, black-balling individuals, preventing them from being able to work in certain industries, because they are labelled as 'agitators' who are likely to attempt to turn the tide of worker exploitation by wealthy capitalists in favour of a fairer society. The oppression of the 98% by the 2% is state-sponsored, as proven by an overwhelming number documents compiled and paid for by the UK taxpayer.
This is paternalism in action.
Don't be distracted by the "patriarchy" BS - that's a clumsy, flimsy, pathetically obvious attempt to divide and rule. If there's one thing that the Brits are good at - empire builders - it's dividing people up into groups using arbitrary and imaginary lines. The British civil servant who drew the borders of Iraq and Kuwait had never visited the Middle East in his life.
Civil servants have decided that you're not allowed to privately own a snowplough; they've decided that an ambulance is not allowed to have an electric engine. Why?
Why the fuck are civil servants making these rules?
The Great Game.
It's all a great big game for a highly educated bunch of toffs who've had their egos massaged their whole lives and been told they're destined for greatness, but ultimately what they're left doing is creating a massive and impenetrable rulebook of totally arbitrary made-up regulations, which exist for no other reason than justifying the existence of a bunch of paper-pushing desk-jockeys, meddling in the affairs of every citizen of the kingdom.
I actually think the civil service is somewhat of a benevolent dictator for life; mostly harmless and well-intentioned.
I'd be a bit gutted if I was kicked out.
[Please note, that this is not an admission of where I work, who I work for, what I do, or any other overt statement which might tie me to my employer or client]
Even though it's not a real job, making up rules for other people to follow, enforcing those rules and generally policing other people's behaviour - perhaps even on spying on private law-abiding citizens - it's a little bit hard to argue the contrary position, that we don't need the organisations and the huge number of people who keep the country running. I'm not as much of an anarchist as I claim to be. I live a very happy sheltered secure wealthy life because I'm the right sort of chap and they tend to see me as one of their own and assume I'm on their side. Everyone assumes I'm a well-behaved conformist patriotic stand-for-the-national-anthem Queen-saluting fully-indoctrinated and sufficiently economically incentivised member of the paternalistic guardian class, such that I'd never be so insane as to step out of line and bite the hand that feeds me.
Do I plan to make mischief? Do I plan to commit sabotage? Do I have treasonous intent?
No.
You got me there.
I am a humble servant of Her Maj.
To connect my name with search terms such as "civil service" and "government" is recklessly stupid, one might say, but on careful inspection - by reading what I've written more closely - you can see that I have not revealed for a single instant who I work for and what I do for a living, specifically.
Meanwhile, I promise you that every single day I give dedicated service, to the very best of my professional abilities. I care about what I do. I want to make a difference.
For Queen and country. Ich dien.
Tags: #career #computing #work #capitalism #privacy #socialmedia