This is a story about re-relapse...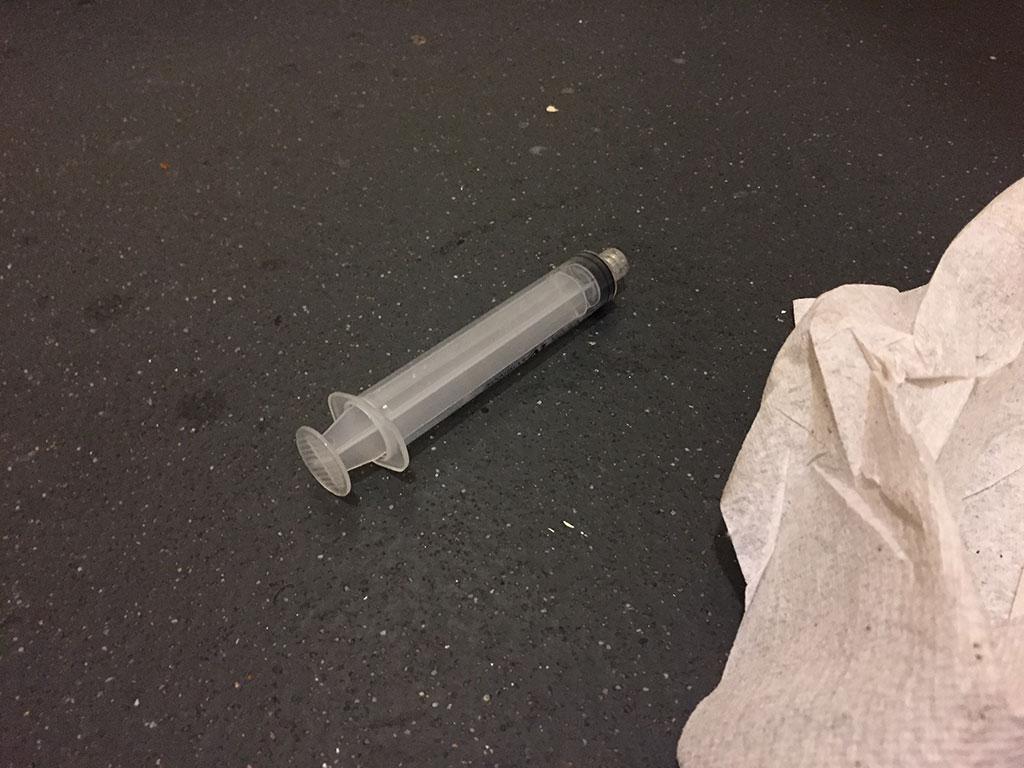 The title of this blog post, the hyphenated nonsensical word "re-relapse" and the image of an oral syringe which I happened to spot lying on the floor of a hospital, are all intended to set the tone of this piece: Everything you think you know about drug addicts is probably wrong, especially when referring to "drug addicts" as a collective group of mostly identical people.
I could easily wander into the territory of blathering on about "we're not all the same, you know" and other such clichés, but instead I thought I'd simply tell you the story of my re-relapse.
I guess how I became a drug addict again is far less interesting and important than why, so I'm actually going to explain some of the who and the what which means my story makes sense, I hope.
Back in November 2018 - less than 3 months ago - I was a drug addict. I also booked some flights to Mexico for my girlfriend and I, so that we could spend Christmas and New Year on the beach. This presented a problem: How does a drug addict go on holiday?
When I went on holiday to Turkey for a week in October 2018, I literally went cold turkey, which I thought was really funny because I had travelled to Turkey for a hot holiday during the cold UK autumn. The irony of it had a kind of poetic deliciousness, which I couldn't resist. Besides, I wasn't that much of a drug addict at the time.
During that week in Turkey, I struggled to sleep at first, without the drugs which I had become addicted to. Then I became incredibly tired and lethargic due to lack of sleep, and I didn't leave my hotel room for 3 days. However, by the end of the holiday I was able to enjoy some sunshine and I was also 'clean' - I was no longer a drug addict.
Now we must ask: If I had managed to get 'clean' and beat my drug addiction, why would I relapse? The answer is quite simple and straightforward really: Because I am using drugs as a coping mechanism for my ordinary day-to-day circumstances.
What about Mexico?
I had planned a 2-week holiday with my girlfriend, to Mexico, which would have been far more enjoyable than the holiday to Turkey, except for the fact that my drug addiction had escalated. I'm not sure what was so particularly awful about November, except that the UK weather was getting even colder and more miserable, but I found it necessary to augment my existing drug addiction with additional substances.
I did not want to travel through two international airports carrying controlled substances, for which I did not have a prescription. In the UK, it's a criminal offence to be in possession of certain medicines, unless you have a prescription. I did not have a prescription. One of the medicines which I needed to transport with me to Mexico via transatlantic flight, in order to maintain my drug addiction, was unfortunately illegal to possess in the UK without a prescription.
What was I going to do?
I procrastinated for a long while, and then with 3 weeks until the scheduled departure of our flight to Mexico, I decided to start reducing my dose a little bit every day. I tapered myself off one of the medications I was addicted to - Xanax - until I was no longer addicted to it, so I was then able to travel without being at risk of prosecution for trafficking narcotics across international borders.
Essentially, I got 'clean' again. Yet again. I've gotten 'clean' so many times.
Oh, did I mention that I also quit drinking?
Yeah. Don't try to quit Xanax in the space of 3 weeks if you're addicted to it. If you're addicted to Xanax, you need to taper down your dose really slowly or else you'll have problems.
I had problems.
I drank 9 pints (5 litres) of very strong beer and I don't remember many of the details, except that I went bat shit crazy and smashed some stuff up. I was pretty much blackout drunk, so my memory is very patchy. I was out of control. I was a mess. The worrying thing is how little of it I remember.
So, I quit drinking soon after I started trying to quit Xanax. Mixing alcohol and Xanax is a bad idea, but drinking alcohol while quitting Xanax is a disastrous idea.
However, quitting alcohol and Xanax, when you're addicted to both... that's hell.
I had 3 weeks where I felt like the world was about to end and life was not worth living. I had 3 weeks where I was absolutely convinced that every conceivable disaster was lurking just around the corner. I had 3 weeks of the most unbearably awful anxiety.
Then I went to Mexico.
Turns out you can just buy Xanax over-the-counter in a pharmacy in Mexico if you smile nicely and pay in cash. Obviously, I was well aware that it's illegal to sell Xanax in Mexico, but I was also well aware that it wasn't illegal for me to buy it or possess it. So, I bought a bottle of Xanax from a Mexican pharmacy, and I resumed my drug addiction. Xanax is branded Tafil in Mexico by the way... if you ever need to get some.
Then, at the end of my holiday in Mexico, which was awesome by the way, I threw the leftover tablets in the bottle into the trash, at the airport.
Since my holiday, my life has continued pretty much as normal. I don't drink - I've managed to remain almost completely sober since I quit alcohol back in December. My life is also normal, insofar as I'm a drug addict.
Every night I take a sleeping pill and a tranquilliser, and I do so because I need sleep and I need to be tranquil. My life circumstances dictate my need for the substances I use.
I imagine that I will become completely 'clean' and 'sober' again one day, but for the time being, I need to endure some pretty horrible life circumstances, and I find that the drugs I'm addicted to are helping me to cope, even though it's commonly thought that all drug addiction is automatically a bad thing.
What I wish for is not to be 'clean' and 'sober' but for the circumstances of my life to be more pleasant and favourable to a life without the 'crutches' of drugs, but what I wish for seems mostly impossible, at the moment. I can't achieve the impossible. I have to work within the limits which I'm constrained by. I have no control over most things in my life, which cause me a great deal of discomfort and unhappiness, but I've found my coping mechanisms which work.
The end.
Tags: #addiction #medication