This is a story about dying with dignity...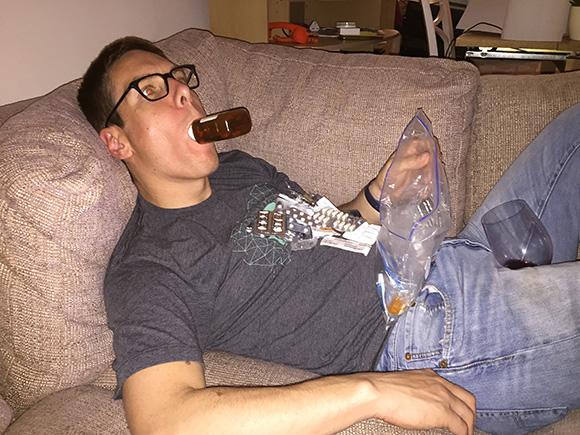 Continuing on with the theme of giving my readers what they want, I've decided to write about the most searched for thing which brings visitors to my website.
I lied.
I'm not going to write about the easiest way to kill yourself but instead, I'm going to write a detailed account of when, why and how I'm going to kill myself.
***
If you came here looking for suicide methods, I wrote about that at length here.
If you still want more detail, have a read of this.
***
Firstly, we need to acknowledge that life can be pretty damn abysmal, if luck doesn't go your way. Sure, if you're reading this then you're lucky enough to have access to a computer, tablet and/or a smartphone, and you're able to read. For many, that would be considered a privilege, but in reality it's a curse: it would have been far better to remain stupid and ignorant, and not be troubled with existential angst.
Secondly, we need to acknowledge that there's no legal or moral requirement to continue living, if life is hell. There's no reason why we have to die of 'natural causes' in old age, which pretty much means dying in agony from cancer or some other dreadful disease, or otherwise dying when your body parts become completely worn out. Why would anybody go through life with uncertainty - a surprise death hanging over them at some unpredictable future date - and the inability to plan ahead?
Thirdly, we need to acknowledge that the freedom to choose is what makes us different from the beasts - the animals - who are driven by instinct; driven to survive at all costs. Why would we choose to act in a bestial way - barbaric and primitive; animalistic - when we are blessed with a huge brain and the tools of cognition and reason; advanced thought and language. We are able to plan, so why do we not plan our lives to include a predictable and known date of death?
Of course, my ideas are not original. There are plenty of dystopian novels, films and other art forms which depict fantasy worlds where euthanasia is part of those imagined societies. Of course, I'm not talking about euthanasia for you I'm talking about euthanasia for me.
If we recognise that the world is overpopulated, overcrowded, over-competitive, and that the natural resources of the planet are being over-utilised, then it seems like a very selfless and generous act, to quit living before becoming a burden on the healthcare sector. Of course, I'm talking about me and me alone here. I very much wish any older people who want to live as long as humanly possible, a long and healthy life. If you want to live, good for you... but I very much think that if you came to this website then you're not 100% sure that living is for you. Anyway, this is about what's right for me, and me alone.
As soon as I'm dead, my estate can be given to my sister and niece. My death frees up the resources that I possess, such as housing and a job, that could be utilised by a younger person. The money I hoard - arguably to protect myself from any period of unemployment, and for my retirement - can go into the hands of the living, instead of being hoarded in the hands of the dying. I can much more accurately plan for how much money I need if I know when I'm going to die.
I've decided that it's too expensive to buy a house and have a pension. I had a series of major setbacks in my life, which wrecked my finances, and now it doesn't make financial sense to plough all the money I need today into things which I might need tomorrow. If I'm going to live until I die of natural causes, I might need a lot of money, and in order to ensure my pension pot goes as far as possible, it'd be better if I owned my house and wasn't paying a mortgage or rent anymore. Having a pension and a mortgage-free house would rob me of money which I need now while I still have my health. Why do I want to have housing security and financial security during a period of my life when I'm old and senile, in pain and discomfort; dying?
Also, suicide is a form of protest. Why should my parents enjoy dying before me, when they ruined my childhood, and consequently my later life? Why should my parents' generation die without seeing the horrors they have inflicted upon the younger generation? Why should the capitalists continue to delude themselves that capitalism is a good system, when clearly it exploits people and the natural resources of the earth, to the point of irreversible devastation and destruction of our only habitable planet?
There's nothing worse than playing by the rules of the game, when everybody else is cheating. Being an honest player in a rigged game is torture.
I've done the calculations. There's no way I can keep playing this stupid game. I quit.
Did I mention dignity?
Dignity is important.
If your parents and the wider world have not given you the opportunity to have dignity - to live as an independent adult with an acceptable quality of life - then personally, life is not worth living. Sure, if your parents are neglectful, abusive, selfish, narcissistic shits who took no interest in helping you achieve an acceptable quality of life - helping you to live independently - then you might still have the opportunity to pull yourself up by the bootstraps; you might have the opportunity to work hard and get yourself to where you deserve to be, through sheer force and determination. However, you need to do the calculations. If your calculations tell you that you'd need to work 25 hours a day, 8 days a week, 13 months a year, for the next 250 years, in order to achieve financial security, housing security and other basic human needs, then you are playing a rigged game. This is not a case of petulantly blaming everything on our parents, although it's undeniable that they deserve the lion's share of the blame. No, this is not about expecting that the world owes you a living. This is simply saying that no matter how hard you work you have to run just to stand still; the game is rigged and you won't accept it; you won't play a rigged game anymore.
So that's the why.
When is easy: my career spans four decades. It'll soon be time for me to have a long-overdue career break. In the absence of any new route to earn money, which is not part of the capitalist society which I refuse to prop up any longer, I refuse to continue to play the game. Therefore, I just need to do the calculation to work out how long I can maintain an acceptable quality of life; how much does my minimum standard of living cost? With that number calculated, I can then set a very precise date for when I need to be dead by.
What about the how?
How is probably easiest of all. I often thought about cutting a carotid artery or jugular vein, but it seems far easier to simply swallow a deadly poison, such as cyanide, which is easily obtained. The how is really the most boring part of it all. Swallow something highly toxic, and it's done... easy!
It gives me a great deal of comfort knowing that the remaining period of my life will not fall below a minimum acceptable quality. It's greatly comforting to know that no poverty or destitution awaits me in old age. It's great to know that pain, discomfort, illness, senility, incontinence and other dignity-robbing ailments of old age, will be completely avoided.
I know that some people want to live as long as possible, in order to see their children and grandchildren growing up and experiencing major life events - births and marriages - but not living so long that they see their houses get destroyed by rising sea levels and hurricane force winds, and other destructive effects of man-made climate change. I know that some people want to live as long as possible, but not so long that they see their grandchildren selling their bodies in order to fund their education, and killing themselves because their zero-hours contract McJob doesn't even pay enough money for them to feed themselves, let alone live with any dignity.
Nobody's ever going to look me in the eye and ask "why the fuck did you decide to have kids, when you knew that the old people fucked up the planet good and proper, and robbed all the money and property, and expected to sit idle in their massive houses while all the young people killed themselves because they have no prospect of ever living independently with any dignity and an acceptable quality of life?". I'll just be dead.
Of course, suicide's not for everyone. My essay is only about why I - personally - am planning on committing suicide. I absolutely - and without exception - discourage anybody and everybody from doing what I'm planning on doing.
That's all about me, me, ME! I wrote some other stuff about suicide methods and how to kill yourself. if you're in the mood to keep reading. Please keep reading or get in contact if you're in crisis... or do something to pass the time. I find it incredibly therapeutic to write: it's kept me alive (by a whisker) for many years.
Tags: #suicide