This is a story about information overload...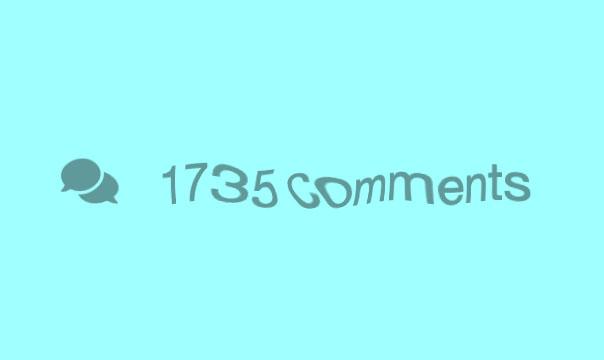 This is why we can't have nice things. I've written more than 1,100 high quality essays, most of which have undergone some kind of proofreading, and some light editing, amounting to an aggregate total well in excess of 1.3 million words. Those words were not written by a machine-learning algorithm at the click of a button. No. They were written by me, by hand. Every. Single. One.
Some of my readers were kind enough to leave comments.
A lot of my readers were kind enough to leave comments.
There was a time, before I got beaten by the spammers, when I was able to read all of those comments, and reply to most of them. The battle is lost. The spammers have won.
I have removed the ability for members of the public to comment, although you can still reply to my content on Twitter or Facebook if you want your comment to be public, otherwise email me or direct message me. I promise, I do read everything that reaches me, but it was very hard to see the real comments, lost in amongst the vast quantity of spammy rubbish.
I find it regrettable that I've had to disable public commenting, because in just a few short months some half a million people - many of them in crisis - have been brought to my website looking for information relating to suicide. Many of my readers write to me and tell me one very important common thing: my writing is honest and authentic, and relatable, in a way which so much of the "stop! don't do it! you've got so much to live for!" clichéd stuff out there, causes a bunch of suicidal people to immediately ditch that site and move onto the next.
I'm not so big-headed, egotistical and suffering from delusions of grandeur, to claim that I'm offering anything other than what it says in big bold letters on the carton: I have a mental illness and I'm plagued by suicidal thoughts, which I write about; I have attempted suicide several times, which I write about. If you came here looking to be saved, you should try crisis counselling. The number for suicide crisis counselling appeared when you searched on Google. It was literally the top hit. If you didn't phone them or click the number one Google suggested website, that means that you know what you're looking for, and it is not somebody saying "don't do it!" over and over and over and over again, ad nauseam.
You've heard it all before.
Anyway.
Sorry. I had to turn off comments. I had to hide all the spammers comments. I had to get rid of that horrible load of spammy crap. I should have done it sooner, but I was putting it off. I put it off for too long and the situation got out of hand.
I know which posts were the spammers favourites, and it really makes no sense.
I seriously don't advise you read these, but I'm going to list them here, because I need Google to realise that they should re-index the pages, and they should hopefully see that all the horrible spam is now gone.
The kind of stuff that they were spamming with was mostly harmless, but there was a lot of illegal stuff, and immoral stuff too. Basically, it was a bunch of bad people, trying to leverage my 1.3 million word artwork for their own financial reward, which sucks.
The posts, which I really don't advise you read were:
Day nine of my attempt to write a novel in a month, while publishing the draft manuscript live.
The fourteenth day of that novel writing attempt.
Something I wrote while I was on secure psychiatric ward, five years ago.
Lesbian Gay Bisexual Transgender and other parts of the well known acronym.
My profile... although people are probably just clicking that. I have no idea if it's the spammers or not.
Some stuff about being a sensitive soul... who'd have thunk it?
Day thirteen of that same half-finished novel.
Some weird rantings from five years ago... the day before I lost my job
Typical political dross as you might expect to find anywhere on the internet.
Some stuff about burnout. I write a lot about burnout.
... etc etc ...
There are about 500 of these, which have been spammed in the last week alone. I should painstakingly go through all 400 of them, and link to them somehow, so that our friends at a well known and popular search engine know to go take a look: the spam has gone now. The horrid people trying to peddle their illegal, life-wrecking wares are gone from my website now. The horrid people who profit from human misery are banished forever, at least from this little island in the swamp of excrement.
I don't know what else to say or do.
To give you an idea of how bad the problem appears to have gotten, it seems like the average number of comments on my 1,100+ essays is somewhere in the region of 2,000, which is a total of 2.2 million spammy comments. I presume that when my 1.3 million words, lovingly crafted by a prose-smith (me) were vastly exceeded by a tsunami of spam, our chums at the well-known tech giant decided - algorithmically - that enough was enough and they shouldn't send me any more readers. For sure, there are very good reasons not to send people to a den of nothing but spammy illegal crap. For sure, I understand why it happened. For sure, I blame myself for being too lazy, tired, depressed and otherwise consumed with my chaotic and often suicidal life, to deal with some spammers.
This website is a lifeline for me. Writing is a lifeline for me. If I hadn't started writing then I wouldn't have had friends from all over the world, frantically contacting emergency services, which saved my life... in which case, you wouldn't be reading this. I'm not saying I'm glad I'm alive because I'm not, but I'm glad that I have my friends, my readers, my writing, my website and many things. Spammers robbed me of a whole load of readers, which I'm frustrated and really upset about, but I'm working as hard as I can on rectifying the problem.
Please, if you came here feeling suicidal, check out everything I wrote about #suicide by clicking on the tag, or check out the previous thing I wrote on the homepage, and follow links from there. I guess that's what a spammer would say, but I promise you that a spammer would not spend 5+ years of their life pouring their heart and soul into a writing project, as a not-for-profit venture and half-assed attempt at creating a work of art.
Thank you, readers, for persevering.
Normal service has resumed.
Tags: #suicide