This is a story about self-medicating for anxiety with wine...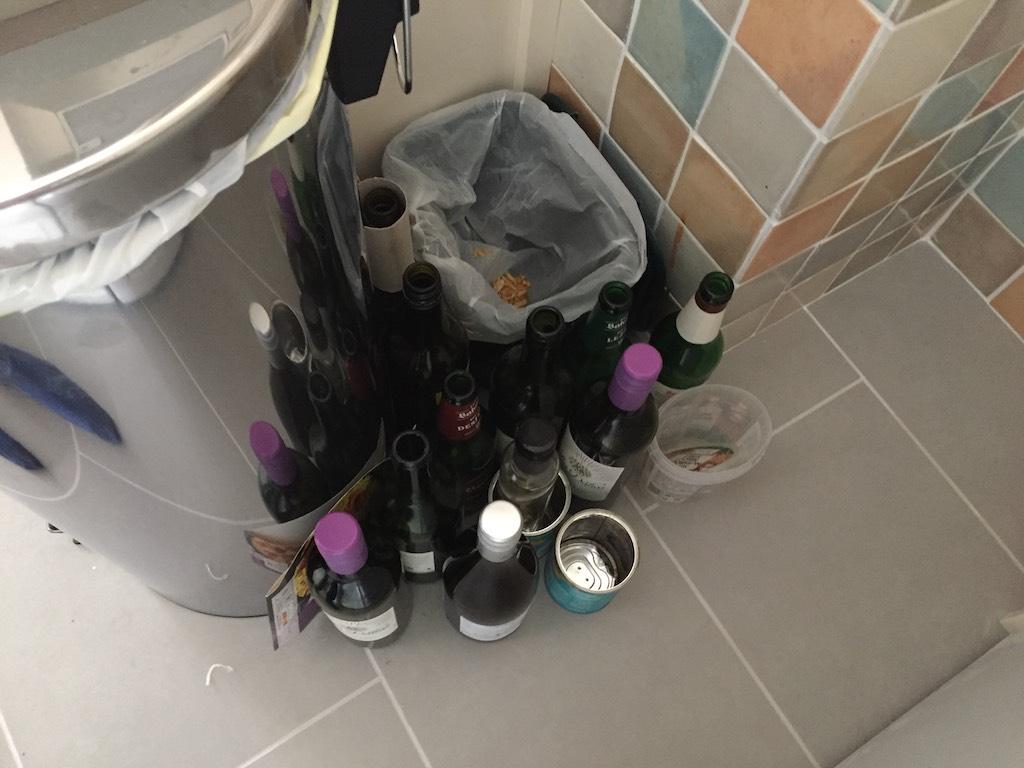 I keep my empty wine bottles behind the kitchen dustbin. The collection of bottles waiting to be recycled has grown very quickly, given that I've been polishing off at least a bottle of wine every day for months. Wine has been my unhealthy coping mechanism. Wine has helped me to get through 4 solid months of work, living out of a suitcase, dating, courting, buying a car, renting an apartment, moving home, two different jobs, three different countries, 12 AirBnBs and countless other anxiety-creating things.
It should be noted that during the last 4 months, I also quit a neuropathic painkiller called pregabalin, and a sleeping pill called zopiclone. The net result of quitting those medications was a vicious rise in my anxiety levels, as a result of the rebound from stopping taking them: withdrawal syndrome. It's hard enough to get off pregabalin and zopiclone under normal circumstances, let alone when you have huge upheaval and stress in your life.
A little over 6 months ago, I quit diazepam and alprazolam, which are both anxiety medications. They're better known as Valium and Xanax. They're highly addictive, and stopping them can cause a discontinuation (withdrawal) syndrome that can last for months and create unbearable anxiety levels.
So, the circumstances have created a hell of a lot of anxiety... a ridiculous amount of anxiety.
Alcohol has helped me to wean off the addictive medications and become medication-free. Alcohol has helped me to cope during incredibly stressful times. Alcohol has been my anxiety medication, during a time when my stress and anxiety levels would be unbearable for even the toughest person.
The ubiquity of alcohol is about the only good thing that can be said of it. Alcohol's effects are short-lived. Alcohol is a poor sleep aid. Alcohol is very unhealthy. However, it's not desirable to take benzodiazepines, Z-drugs and painkillers on a long-term basis, because they all quickly build tolerance and require a bigger and bigger dose to be effective. Valium also has a very long half-life, so you are affected by it 24 hours a day once it reaches a steady concentration in your bloodstream. At least with alcohol, you sober up pretty fast when you stop drinking.
The body's ability to eliminate alcohol is very impressive. Tonight is my third night without a drink and I've suffered no ill effects from abruptly stopping my daily boozing. It would be expected that I might get the shakes or something, given my chronic self-administration of large quantities of alcohol over a long period, but that's simply not the case - I just stopped and I'm fine.
My sleep was a little disturbed last night. My body and brain are re-adjusting to life without copious amounts of wine being tipped down my throat. I'm not feeling the benefits, and if anything I'm feeling a little worse than I was when I was drinking every day. That's to be expected: my body's repairing itself. The booze has been very hard on my body.
I've gained weight and I just feel unhealthy from a winter of misery, where I drank vast quantities of wine. I really need a mini-detox. I thought about having a sober April, but I don't see the point. Drinking in moderation is what I'm aiming to do, so I'll have a little break and then I'll try to drink less.
Having a break from drinking is important, because I need to get into better drinking habits now that the shitstorm of stress has passed. There was no way that I was going to be able to do anything healthy while I was still heavily dependent on alcohol as a crutch, during a really horrible period of my life, but now things are improving and my life is a lot more manageable.
Perhaps I'm one of the lucky ones who can take it or leave it. Perhaps I'm just normal - I'll use whatever's available and my behaviour is dictated by my environment. During stressful times of course I'm going to hit the bottle. During happier times, of course I'm able to make healthier lifestyle choices. Seems obvious, doesn't it?
So, alcohol's not great, but it's not all bad either. It helped me get to where I've got to today.