This is a story about shame...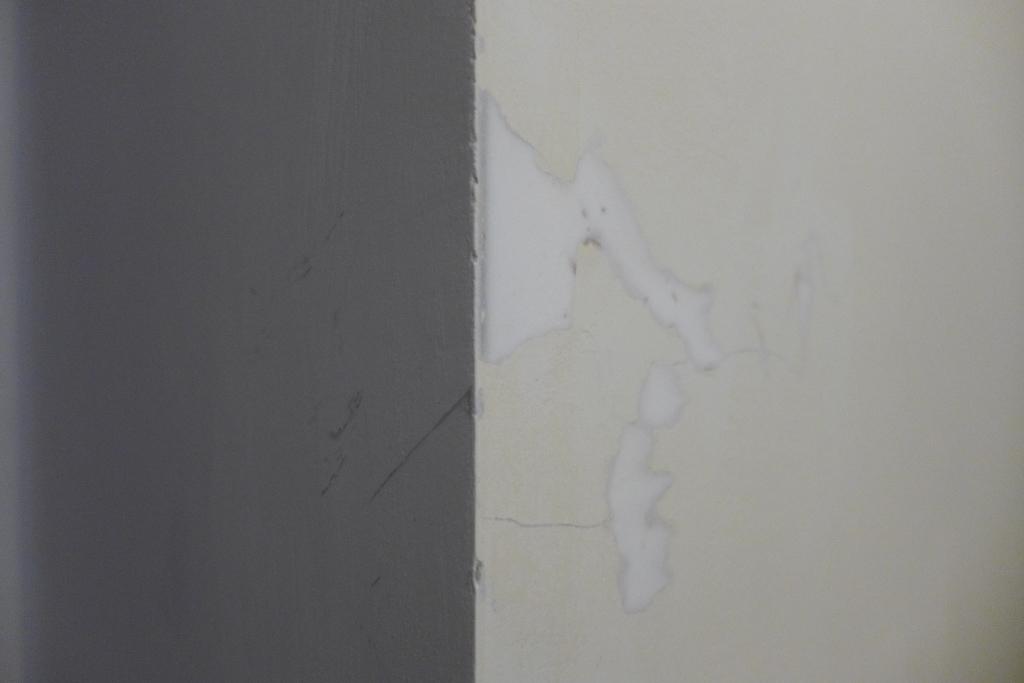 The holes in my wall tell a story. I picked up a massive wardrobe and moved it to block the entrance to my bedroom in an attempt to barricade myself in, because I wanted privacy so badly; I so desperately wanted the certainty of knowing that nobody would barge in on me unexpectedly. In fact, I spent the best part of two days and nights without sleep, attempting to secure my bedroom against would-be perverts hoping to barge in and catch a glimpse of me in my nest of shame.
Obviously, it's somewhat of a self-fulfilling prophecy. When somebody spends a couple of days dismantling beds, bookcases, chests of drawers and heaving heavy pieces of furniture into their barricade, it's pretty noisy and the work is exhausting. As a person gets more physically tired and sleep deprived, they gey clumsy and they make mistakes, such as toppling a massive heavy thing with sharp corners into a wall, gouging out plaster and leaving an ugly hole.
My body is covered with battle scars from my efforts to keep my shame private. I have an enormous scar on my left calf and another one on my right thigh. I have a broken nose from where I was balancing a piece of furniture above my head in an attempt to cover a window.
My paranoia stems from my childhood, when I was constantly bullied, at home and at school. Nobody respected my privacy or my right to live a dignified life. My paranoia stems from an abusive relationship, where I was punched in the face, screamed at and generally verbally abused, and regularly had to put a door in-between my ex and I, which she would spend hours aggressively kicking while I was trapped in a room with no toilet, food drink, or exit other than to face the violent abusive woman on the other side of the door. My paranoia stems from not having a space of my own where I can lock the door and feel confident that I'm the only one with the key; feeling like I have no right to privacy and that I can expect somebody to barge in at any moment. Being a guest in somebody's home is not the same as having your own safe space. Being a prisoner in your own home is truly traumatic.
I built myself a summerhouse in 2009 and then insulated and carpeted it in 2013. I finally had my own miniature house with a front door I could lock, although it had no running water or toilet. I improvised a water supply using the garden hose and locked myself in there until my ex-wife moved out. I would have starved to death if she hadn't, but I didn't care... I wanted to escape from that abusive relationship.
I could have had a clean break, but my ex-wife put me through hell with the divorce. I arranged a quick and easy house sale, which would have allowed us both to get on with our lives, but she sabotaged me at every opportunity. She ruined my chance of escape and recovery. She sabotaged my efforts to rebuild my life.
London is not a good place to be sick and poor.
London is not a good place to be paranoid.
London is not private.
However, at least London is anonymous. I completely lost my mind on the streets of London and nobody paid me the blindest bit of attention. Nobody would remember my face. I'm never going to see anybody who remembers me when I was insane, penniless, homeless, destitute and in a very shameful sorry state indeed. London was the perfect place to recover from the trauma, without getting paranoid about my neighbours witnessing what should be a private affair.
Privacy is important when you're struggling. Privacy is important when your life is filled with shame.
Invasion of privacy sows the seeds of paranoia, leading to psychosis and schizophrenia. Human interest is a powerful force, which is the reason why fly-on-the wall documentaries and reality TV shows are so enthralling, and why we love to read people's blogs, diaries and journals. It's impossible to tear your eyes away from the spectacle of somebody struggling. People will line up like it's a fucking spectator sport, watching somebody suffer and not doing the slightest thing to intervene or otherwise fucking off and minding their own business. People know when they're being watched. Knowing that you're being watched makes everything a million times worse. "Why don't they do something or just fuck off?" you think to yourself, and soon it's all you can think about; the audience is spellbound and they'll literally spend hours watching and talking amongst themselves: "ooh it's awful isn't it?" and "yes I know. it's been going on for ages" ... but they never get bored.
I've recovered a remarkable amount since those dark days of 2013/4. In fact, I've made a miraculous recovery, but it's very far from complete.
I've gone from owning my own home and a summerhouse, to now renting an apartment. I've gone from financial security to mountainous debts. I've gone from having every right to privacy, to the situation where I have to show my bank statements to letting agents and allow my landlord to come into my home. Instead of being my own boss, I have to submit myself to security vetting and allow people to pore over the details of my private life. I've been poked, prodded and generally put into a goldfish bowl to be gawped at by numerous doctors, consultants, psychiatrists, social workers and a whole heap of wannabe amateur psychiatrists, who think they've got me all figured out, but who fail to recognise that it's grossly insulting and patronising for them to take a lazy glance and think they know me.
Things are very difficult.
I've had so many years and months of shame and swallowing my pride, and it fucking sucks.
I've had so many people judge me who I really didn't invite to pass judgement, and who really have no place, prying into my private affairs. I'm doing a good job of living a normal life within society's rules. I don't deserve to have people sitting in judgement of who I am, what I am, and whether my thoughts, feelings, actions, intentions, character and other attributes of me and my personality, are somehow acceptable to the self-appointed nosy busybodies.
Where is my space where I can feel safe? Where can I be free from the tyranny of the judgement of puffed-up pompous twats who think they know best and they have a right to barge in on me in my private shame; to embarrass me.
That's why I work so damn hard. I'm trying to earn enough to buy a place which is mine and nobody has the right to come barging into. I'm trying to get my little slice of privacy and free myself of the tyranny of having to kowtow to other people's judgement... most often other people's inferior judgement.
Please, give me some space. Have I not always used it wisely? Have I not proven myself to be very capable of doing amazing things, when given the space; the trust?
I have my shame, which I'm attempting to de-fuse by making everything about myself as public as possible, but it's a slow process. I feel like I'm only halfway there.
I have my flaws. I have things I want to keep private.
I need dignity.
Tags: #privacy #paranoia #divorce #house #debt #apartment #injury #hospital #london