This is a story about looking after living organisms...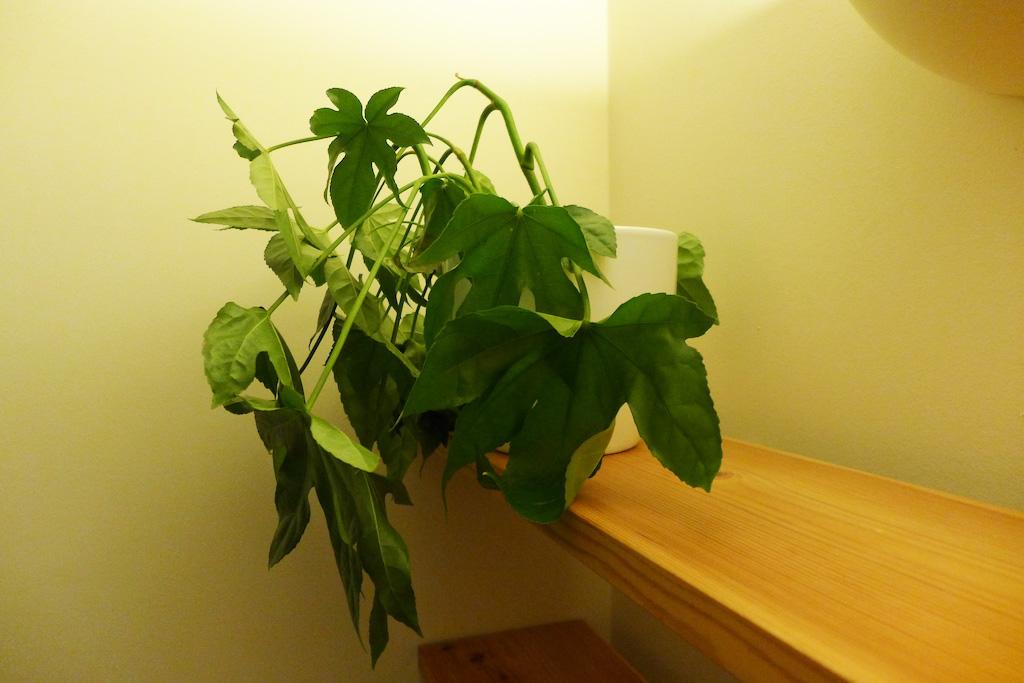 My drooping castor oil plant is the perfect visual metaphor for what's happened to both of us in the best part of a week - we've been dying.
I can be a little paranoid, even in perfect health. I wouldn't - for example - walk around naked without the curtains or blinds fully closed, even though there's a fairly small chance that somebody might get an eyeful of full frontal nudity, unless I was stood right by the window for ages. My ex-girlfriend throws open her bedroom shutters, often times much improving the day of the workmen retiling the roof of the house opposite. Something like that would change my behaviour, but not her - even with hard concrete evidence that a little paranoia is justified, she continues to flash her knockers at strangers every morning. There's also a school opposite her house too, so it'd be just my luck to end up on some kind of police register because an eagle-eyed kid caught a glimpse of my willy as I darted past the window to get my garments and cover up.
The blinds in my bedroom are shit - as I've said before - and one thing that's really bad is that they offer even less privacy at night, when it's light inside and dark outside. I'm not exactly thrilled at the thought of putting on a light and shadow show, which would unmistakably advertise to my neighbours that I'm having a wank to pornography. It's bad enough being single again, but most of us reserved Brits are a bit ashamed of our masturbation and porn habits.
Just ask somebody to show you the history of everything they searched for on a porn site, and you'll see that it's not just me who's the paranoid prudish freak: there's something so personal and confidential about the porn that you like and the words you use to find it. When you're searching in the privacy of your own home, with nobody looking over your shoulder, you assume that nobody will ever see those words other than you. It's one of the most unpleasant experiences to have somebody judge those words you typed, especially as nobody else was ever supposed to see them.
So, I can be paranoid, even at the best of times.
Sleep deprivation, dehydration and hunger can take a little seed of paranoia and turn it into fully-blown bat-shit insanity.
My windows were taped up so nobody could see in. Then my doorbell started ringing and ringing. I could hear my landlord hanging around. I could hear footsteps right by my bedroom windows. I could see silhouettes of people standing right by my bedroom windows. "Fuck!" I thought "what am I going to say if he knocks on the door and asks why I taped up the windows?". So, I stayed awake all night, watching shadows and not wanting to use the rest of my apartment or turn on a light. So far as anybody could've guessed, I wasn't in.
If you're "not in" you can't flush your toilet and you can't run the taps, and you have to rely on night vision and tiptoeing around, feeling your way as you go. If you're "not in" you can't be spotted through your absolutely massive windows in the living areas, which you can't draw the curtains of, because that makes it look more like you're at home, just not answering the door.
If you're "not in" and you can't flush the loo - which is right by the communal hallway - because you're paranoid somebody'll hear it, then you can't drink too much. Besides, you can't be seen filling up a glass or a bottle, through the massive window right by the sink, especially when the landlord's main hobby is hanging around by people's windows.
If you're "not in" you can't go and prepare yourself a delicious hot meal - again because you don't want to be seen or heard.
Eventually, you get like my wilted plant. Your body starts to eat itself, which would be OK ish if you were drinking to get rid of the excess creatinine by pissing it out, but you're not pissing because you can't and you're not drinking much. All that shit in your blood which your kidneys would ordinarily filter out hasn't got any carrier fluid to push it though the filter and into the bladder, so your blood gets really toxic. Your muscles start getting damaged, and the bits of damaged muscle block the tiny 'filter holes' in your kidneys, and then you couldn't piss even if you wanted to - you're blocked up; kidney failure
Once you end up in urinary retention, your body will get waterlogged, but the most worrying thing is that your potassium levels will keep rising until your heart stops, because there's no way to get rid of it and it's hard to have a potassium-free diet. Anything over 5ml of potassium in a litre of your blood means you're at pretty imminent risk of a sudden cardiac arrest. You've only got 5 litres of blood in your body, so that's 25ml of potassium. And yes, this is potassium not potassium cyanide. Bananas would be a bit of a shit way to kill yourself - you'd have to eat 51 plus extras because your body is not 100% metabolically efficient. Avocados could be a good novel suicide method though - you'd only have to eat 23 of them to reach hyperkalemia. Ironically, replacing your salt with "healthy" low sodium salt could be a fatal mistake, and it'd certainly be a lot easier to swallow a few of spoonfuls of salt than eat more than 50 bananas.
So, anyway, I started pissing blood, but at least I was pissing. It's when you stop pissing, you've really gotta worry.
I got brave and went on a raiding mission to my fridge where my friend had left me with two bottles of fizzy drink. I treated it like my ex-girlfriend's lack of paranoia about people seeing her tits when she opens the shutters - I was so quick, that I minimised the chance of being seen.
I then had to shake up the drinks and really really slowly let the gas escape, because I can't stand the bloated burping they cause... but, my body had a sugar boost and much needed fluids.
I hadn't slept for two nights at this point, and I was too paranoid to rummage for food which could be eaten cold - I knew everything in the fridge had gone off, and there simply wasn't anything that I could eat without cooking.
I passed out for a couple of hours and when I came to, I had no idea where I was. I was uncontrollably shivering: my body just hadn't had the calories it needed to power my cells and keep my blood at a toasty 37 degrees centigrade.
I wrapped myself in my duvet and warmed myself up as best as I could, but I'd ripped though the soft drinks. In my boldest and most daring feat of anti-paranoia bravery - perhaps with that time unconscious giving me a 'rest' and a sugar boost from the fizzy drinks - I grabbed two bottles of squash and a can of baked beans. I made 3.5 litres of very weak squash in the bath, where I couldn't be seen, although the noise of running water was a concern... but the bathroom is at least a door further away from the front door than the toilet.
As I guzzled a seemingly inexhaustible supply of weak squash, I told myself "this is the best lime cordial I've ever tasted". I greedily scooped cold beans in tomato sauce out of the can I'd grabbed, and I had to pace myself, because my stomach had shrunk so much after 4 days not eating. Also, I had to remember to chew - I was so desperate to fill my stomach that I think I could've just gulped the can down, like lumpy soup.
The food and drink started to vanquish my paranoia, and I moved away from the bedroom door, where I had been a sentry for 5 nights. I lay in bed snuggled under the covers, and my exhaustion finally revealed itself to me - I was trying to write a few messages to say I was OK, and I probably didn't need to go to hospital cos I'd sorted myself out, but I'd keep falling asleep and being woken up by the sound of my phone dropping onto the floor.
I had a longer, warmer, more comfortable sleep in an actual bed, and when I woke up my paranoia was vastly diminished. I felt brave enough to turn lights on, have a shower, use the kitchen and generally no longer have to pretend I was "not in". I was also famished and I desperately wanted to eat a hot meal and use a spoon or a fork, and a plate or a bowl, instead of a laminated business card as a makeshift way of getting beans out of the can and into my mouth.
My bedroom looks every bit like it's been lived in for 5 days by a person who's too paranoid to leave, turn on a light or flush a toilet, but that's a problem for tomorrow. Being well enough to go into the office on Monday looks dubious, but I don't look as bad as I thought I did. I'm overwhelmed by the prospect of sorting out my bedroom, but perhaps I can get a pro-cleaning team to give it a proper deep clean and a decorator to tidy up the marks on the paintwork, where I stumbled into a wall in the pitch black, while sleep deprived, dehydrated and hungry.
I'm so sad that my life was so close to almost perfect - a holiday booked, plans to go sailing and a girlfriend who was alright when she was being nice, rather than trying to unmask me as some kind of god-knows-what, by asking the same rude, impertinent questions that insinuated and alleged that I'm Hitler, Stalin, Osama-bin-Ladin and every serial killer who ever lived, all rolled into one. I would've got away with it, if it wasn't for her pesky asking the same identical question over and over again. Actually, I dumped her - you can't treat a person like they raped, tortured and murdered their whole family, by constantly making untrue horrible allegations about past and future. I really see no justification for being horrible, assuming the worst and treating a person like they'd smash up all your stuff and burn your house down unless you told them not to and supervised them at all times.
So: situation vacant. I'm looking for a girlfriend who doesn't say "don't murder anybody today" instead of goodbye in the morning. I'm looking for a girlfriend who sees my potential, trusts me, respects me and imagines me at my best, not some over-active imagination version of me at my worst. I value loyalty and tactility - somebody who likes hugging and snuggling and spooning - and I have a very strict 3-strike rule if you use withholding of affection, silent treatment, sulking and other negative behaviours which are abusive, instead of a combination of physical reassurance of the bond, and non-aggressive communication.
I'm gutted, because I'd almost taken my 'conversion project' and turned her into somebody who wanted the same kind of secure, loving relationship, packed full of affection. 99% of the time we had a nice time, and when she was being shit with me, we never had an argument... I taught her how to use affection to produce a more effective and quicker resolution, instead of passive-aggressiveness, open hostility, arguing and withholding of affection.
I'm gutted, because I'd been generous and attentive and taken my time in the bedroom and turned her into a little sex addict. We had a good sex life. Not every girl can relax enough and forget the lazy and incompetent lovers of the past, so she really wants sex and initiates it, because of the months and months of investment, making sure she's super satisfied every time and spending lots of time on the pre/post affection aspect, which is arguably the most important thing... way more than a rushed bit of foreplay, ram it in dry, two pumps and a squirt and then immediately roll over and go to sleep.
I'm actually angry I had to dump her, because rules are rules and the last couple of times I didn't stick to my rules, I got domestically abused. I'm a sensitive guy; vulnerable; I'm emotionally unguarded and I leave myself exposed, because it creates a much more bonded happy relationship than two people who just make smalltalk and never really know each other and what they want.
I feel so much more upset about the breakup, because it's a really small city I live in, and it's hard to find somebody who'd love nothing more than to watch an arthouse movie, or eat something really exotic. It's really hard to find somebody who's cultured and well travelled enough to feel like a good match. Damn, I'm fussy, aren't I?
I also feel 100x more alone, even though it's just one person, and I still have local friends Gail and Liam, plus my sailing buddies (only met one - and I work with him) and all the people I work with, some of whom are proper friends too.
It's kinda 'final straw' stuff though. Life's so hard on your own. Everything's easier with two of you, backing each other up.
I haven't got the energy to woo another girl and go through that super intense bit at the start again. She's really pissed me off, that I wasted so much effort, only for her to make yet another horrible allegation, and crossed the threshold - I spent 8 years in a relationship where somebody spoke to me like shit, and it was hell on earth. Walk away. Walk away. Walk away.
I really think I'm going to suffer without regular hugs and cuddles, and reliable companionship. It's a bit like plant food - they don't need it, but it does make them thrive.
Anyway, that was most of the past week. Please look out for me; I'm super fragile.
Tags: #paranoia #relationships #sex