This is a story about prejudice...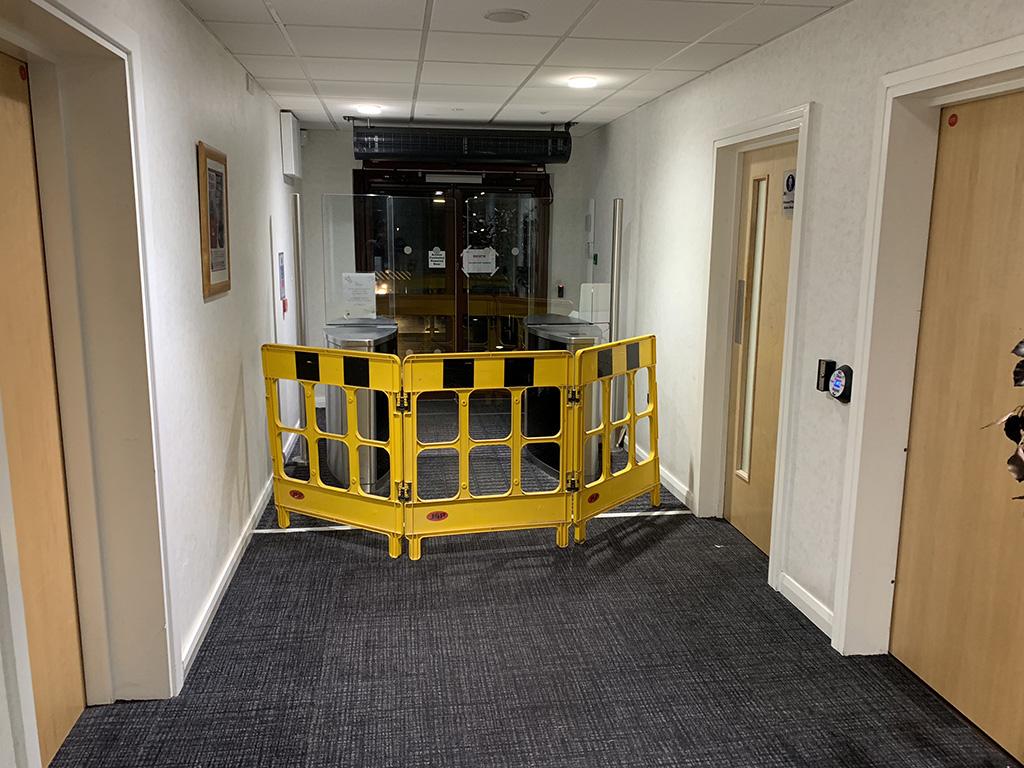 If somebody has decided they don't like you because something has invoked their prejudices, then almost anything you say or do will be twisted negatively. There's no way to win somebody over once you're seen in a bad light, because it's possible to create a monster out of a saint if your mind is that way inclined.
I photographed the exit from my office.
I shouldn't have done it.
I knew it was wrong.
Nobody's told me off yet. Nobody's caught me. My wrongdoing has been entirely unnoticed by the universe.
This. Does. Not. Matter.
I'm not supposed to put photographs of an entrance into a secure building up on the public internet. In fact I'm probably expressly forbidden from doing such a thing depending on the interpretation of deliberately nebulous bullshit.
Provided I'm the golden boy and I'm making myself valuable around the place, nobody really gives a damn who I am and what I do. I could write about the specifics of what I do for a day job - which is all public anyway - and I wouldn't suffer any consequences, so long as I retain the aura of a person who's desirable to have around; so long as I'm wanted.
The moment that the sands shift and I'm viewed as an undesirable scumbag then I'll suddenly come under much closer scrutiny. Those who are looking for reasons to reject me are sure to find many things which they can twist to their advantage.
"Aha!" they will exclaim. "We've rumbled you!"
Of course, the joke is on those who seek to act with prejudice, because this identity existed all along. Everything has been on open public display. I was welcomed in with open arms when you wanted something from me and you thought you were getting the better end of the deal.
"You mean to say I hired a junkie alcoholic homeless bankrupt tramp with mental health problems!" they exclaim.
The indignation is palpable.
The prejudiced are always unreasonably angry and upset to discover that their trusted and valued colleague who has successfully delivered their large and complex IT project is nothing more than a low-life loser.
"I could have paid you peanuts!" seems to be the thing that's most upsetting to these people who'd think nothing of kicking a homeless person to death and urinating on the corpse.
It's not true.
You cannot pay me peanuts.
I cut my day rate by over 50% when I was utterly desperate last year, and I was taken advantage of worse than I've ever been in my 21 year career. I was treated disgustingly. I will never do that again.
Do you think you're getting a bargain every time you beat somebody down on the price they've quoted you? Do you think you're succeeding when you ask somebody to do more work for less money?
Wrong.
Pay less. Get less.
Do you think you're making the world a better place by refusing to work with vast swathes of society? Do you think you're more likely to succeed if you surround yourself with people who are just like you: A-grade achieving, 2:1 degree holding, compliant and conformant worker-bee drones who've got manicured CVs?
I should not be allowed onto the hallowed turf.
My face does not fit.
I'm an intruder.
I'm an interloper.
However, I'm not a fraud.
Stuff comes out of my mouth and even I'm surprised. People wander over to my desk and they want to talk to me. They want to ask me questions. Somehow I know the answers. Believe me... I'm more surprised than anybody.
I'm acutely aware that when people are having a tough time and living in a precarious situation they are more inclined to accept less money. People who are going through economic difficulties are easier to bully and exploit. It's relatively straightforward to fuck the poor.
In a poker game you have to have your chips on the table. Everyone can see the size of your stack.
I seem to have gained a somewhat posh accent, although I'm not entirely sure where I got it from because my parents are Northern and I was born in Wales. My cut-glass accent is apparently a close enough approximation to that of a privately educated and privileged member of the set who are destined for greatness, such that I haven't had to suffer the indignity of being offered insultingly low wages by the exploitative rentier class. They assume I'm one of them.
I'm racked with guilt that I enjoy privileges conferred by social status - when the people who I interact with in a work environment mistakenly think I've had a fine and expensive education - but yet I've rubbed shoulders with enough rough sleepers, junkies and alcoholics on the streets of London to know that intellect doesn't magically happen to restrict itself to upper-middle-class white families in the Home Counties.
Nobody knows that I should be stacking shelves in a supermarket for minimum wage. That's my so-called place in society, and I should be grateful to lick the boots of the capitalist pigs. (Caveat: I know that our supermarket shelves need stacking - it's a vital role - and I'm grateful to those who do the job).
I'm careening towards a collision with those who believe it's their rôle in life to police the social strata. They will find this document interesting reading. There is much ammunition here to construct a fabricated reason for my dismissal, on the flimsy and patently absurd basis that I might be exposing the country to terrorist attack by publicising confidential details about the entrance to our impregnable fortress. Perhaps I'm bringing my profession into disrepute and otherwise stepping out of line; conducting myself in a manner unbecoming of my position of responsibility. Bullshit.
Of course I might feel a pang of regret if I succeed in raising my profile sufficiently that the powers-that-be feel they have to take some action and eject me from the world I'm not supposed to belong to. "This isn't for the likes of you" they'll say as they boot me out of the door.
"What have I done?" I'll momentarily ask myself.
It seems two-faced to sit on the fence. It seems awful to take the big bucks and not impoverish myself as a charity worker. What the hell am I doing trying to change the world without first making myself poor and destitute?
Actually, I did make myself poor and destitute.
Am I now turning my back on the struggling masses?
I like to think that I'm doing the very opposite. I'm a bridge in-between two worlds which would never normally meet. There isn't much more I could do to challenge the prejudices of those who live in sheltered worlds, inaccessible to ordinary people and especially those who are tainted by the stench of poverty. I have specifically set out to become liked and respected, while also maintaining an open secret of my chequered past. My situation is no accident.
Three years ago I grew impatient. Three years ago my project was in its infancy and I was rushing things. Three years ago I was too tired, stressed and destabilised by the traumatic experiences I'd been through. Three years ago I had a plan but I was too unwell to execute it with any finesse. Three years ago I tried to force things to happen, which was "contrived" to put it in the words of the BBC journalist I was dating. She was right.
What I'm doing right now is still somewhat contrived, but it's not easy.
You'll find plenty of writers who'll have spent a single night sleeping rough, or perhaps in a psychiatric institution, in order to provide material for them to write about.
You won't find many people on the right side of the tracks who can write with any depth of experience and knowledge about the afflictions of modern life.
Life is a one-way street.
I feel quite unique in having been able to resume a life to which my entry should be completely barred. A great deal of effort goes into stopping people just like me from being able to enter the realm in which I inhabit. A vast system exists to thoroughly exclude ordinary mortals from getting anywhere near the restricted areas where I tread.
Instead of thanking my lucky stars and being wowed by the privilege, such that I become afraid of being ejected, I try to keep doing the brave thing of being honest and open. I refuse to hide my true identity.
For the avoidance of doubt, I'm careful to blur portions of images which show things which are confidential. I'm careful to never mention anything which is sensitive or classified. I never say where exactly I work and who I work for. I never divulge any details which realistically could be ever used for nefarious purposes, or expose anything which should be secure.
Of couse... my real name and my face are public property.
But.
How would you go about blackmailing or otherwise manipulating me, if I've already made everything about me fully public?
What do you think I'd say if you said you knew my boss' name and were going to send them the link to my blog?
You're failing to appreciate the value of living an open life.
You're failing to see that secrecy and privacy are illusional.
You're failing to accept that the pressure of maintaining your spotless CV and so-called reputation is an instrument of tyranny, which makes you easily manipulated and exploited by the capitalists.
The most rebellious thing you can do is to create a public identity you're proud of; refuse to sanitise and hide your true self and your mistakes.
Never hide.
Tags: #writing #socialmedia #privacy #secrecy