This is a story about life on the wagon...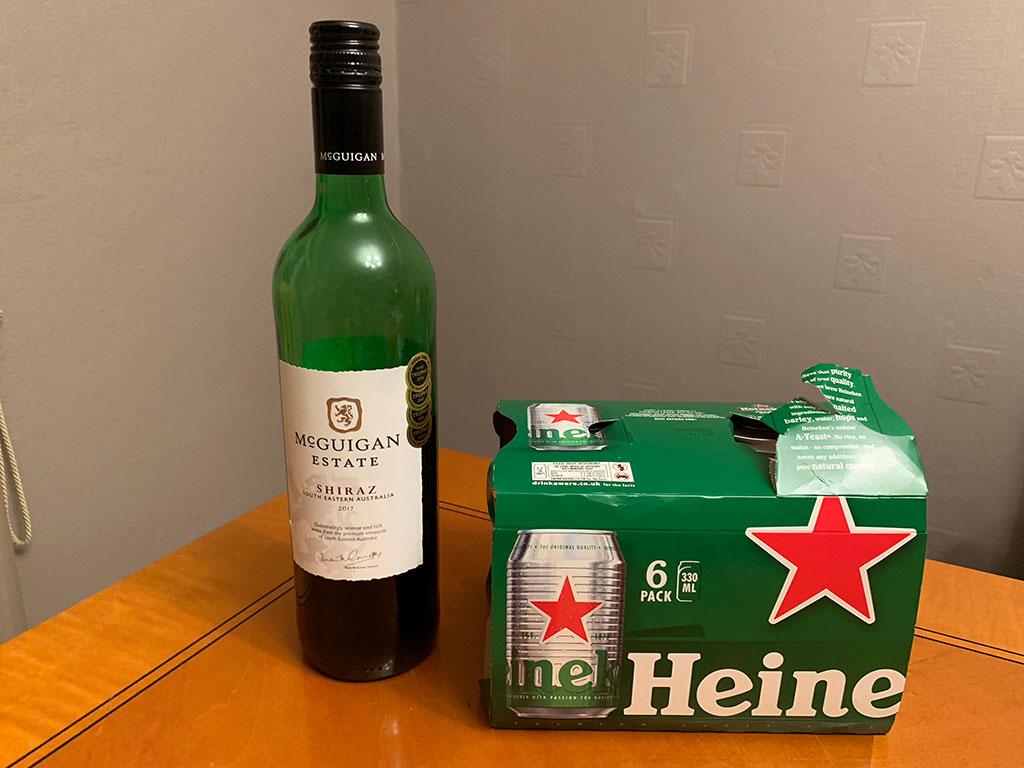 At more-or-less the same time as one of my best friends drank himself to death, I stopped drinking. I'd like to say that I decided to stop drinking because it seemed like the right thing to do, given how alcoholism had destroyed the health of my friend and pretty much killed him, but it was actually due to more complicated, and much less noble reasons.
Alcohol comes in 'portions' more or less: Beer comes in cans or bottles and wine comes in a bottle. Portion control with beer seems like it should be easy enough, because one or two beers don't contain very much alcohol. Portion control with wine is a little harder, because a bottle of wine contains the same amount of alcohol as six and a half cans, as pictured.
The calculations, if you're interested, are based on the 750ml bottle of red wine, which has 14.5% alcohol by volume (ABV) and the 330ml cans of beer, which have 5% ABV.
I bought all this alcohol, even though I don't drink.
I bought the red wine, because it's an ingredient in a dish I make with red cabbage. The alcohol is evaporated during the cooking process.
I bought the beers, because I needed to replace some that I had 'borrowed' from somebody, back when I was drinking. The reason why the carton is open and some of the cans have gone is because my girlfriend also 'borrowed' some cans - she drinks whenever she wants, unlike me.
I want to drink.
I get home and I see this bottle of wine and these cans of beer, and it's very difficult not to allow myself a single glass or a single can, at the end of a long working day, or perhaps as a weekend treat. It's very difficult to justify my sobriety to myself.
I must remind myself of why I stopped drinking.
I stopped drinking because I couldn't stop drinking. One evening I drank all the beer I had bought for myself, then I drank all the beer I had bought for my girlfriend, then I drank some of the beer that didn't even belong to either of us. Then I smashed some stuff up and passed out. Apparently I did other stuff too, but I don't remember many of the details. I was blackout drunk. My memory has holes in it, although I do remember that it was enough for me to decide that I shouldn't drink anymore.
I didn't drink at all, except Christmas Day and New Year's Eve, and then I went on an outing to the beautiful Georgian spa town of Bath. In this picturesque setting, a group of us proceeded to embark upon an all-day drinking session. I was careful to only have one alcoholic drink for every three that they had, but later on in the evening they stopped drinking, while I carried on. I didn't drink much, but I was a little hung-over.
It's probably no co-incidence that I had little patience and a short temper following that drinking session, and while I was nursing my hangover I lost my cool and broke up with my girlfriend. I struggled to emotionally regulate and stay calm, while being somewhat provoked. I completely failed to defuse and de-escalate the situation, and instead I found myself packing my bags and storming off into the night.
I'd like to say that I've felt the benefits of sobriety, but I don't think I have. I've lost weight and I feel better about my appearance because of that weight loss, but I don't feel much healthier or that I have more energy and enthusiasm to be fit and active. I don't feel like my mood is improved. I don't feel like my sleep is improved. However, if I had continued to drink heavily every day, I expect that I would have continued to put on a lot of weight, and that my health would have slowly deteriorated.
It's the middle of winter, so it's hard to measure the benefit of being sober. Perhaps come the summertime, I will feel my mood lift and my energy levels will be elevated, such that I feel like getting out and about. Certainly, if I was drinking heavily, I would be in no mood to make any travel plans or spend any time doing anything except watching TV and films, with a steady supply of alcoholic drinks.
Another thing to consider is that I heavily sedate myself with Xanax and use sleeping pills, so that I can remain functional and cope with the demands of my job, while also dealing with a mood disorder and a hatred for my profession which dates back as far as the very beginning of my life in corporate hell, over 20 years ago.
Perhaps when my debts are paid off, my housing is more secure, I'm more financially comfortable and I feel more settled at work and in the place where I'm living, then I'll be able to give up my chemical crutches and feel a lot healthier and happier. However, for the time being, I am getting what I need to cope in the form of a handful of calorie-free pills, which do far less health damage than the gallons of toxic alcoholic liquid which I used to guzzle.
Temptation is less of a problem than you'd think it would be, having realised that my body's natural thirst could be quenched with non-alcoholic fluids. I had programmed myself to associate wanting a drink, with wanting an alcoholic drink.
I successfully de-programmed my brain, so that I no longer craved hot drinks, which was surprisingly difficult but I managed it.
I suppose if I was very strict and disciplined I could completely de-program my craving for alcoholic beverages, but I know that it was a very long and hard process to eliminate tea and coffee from my life, as well as energy drinks and even coca-cola, which all contain caffeine.
I've even been slightly tempted to try fasting, allowing myself only water to drink for a period of a few days, because I often eat when I'm not really hungry, and I'd like to lose even more weight.
Ultimately, it might be vanity which provides the motivation for healthy living. I don't want to be fat with red-wine stained teeth and lips. I don't want to have a beer belly.
I'm happy knowing that I've "stopped the rot" to some extent, but I must admit that it's very hard to resist allowing myself to have a glass of red wine or a can of beer, after a long hard working week, on a Friday night. Would I be able to stop after just one though? Historically, I've never been able to drink in moderation.
As an epilogue, it should be noted that at my friend's funeral, a group of us, who used to drink heavily with the deceased, all got absolutely blind drunk until the hotel we were staying in refused to serve us any more alcohol. It's what my friend would have wanted.
Tags: #alcohol