This is a story about correlation and causation...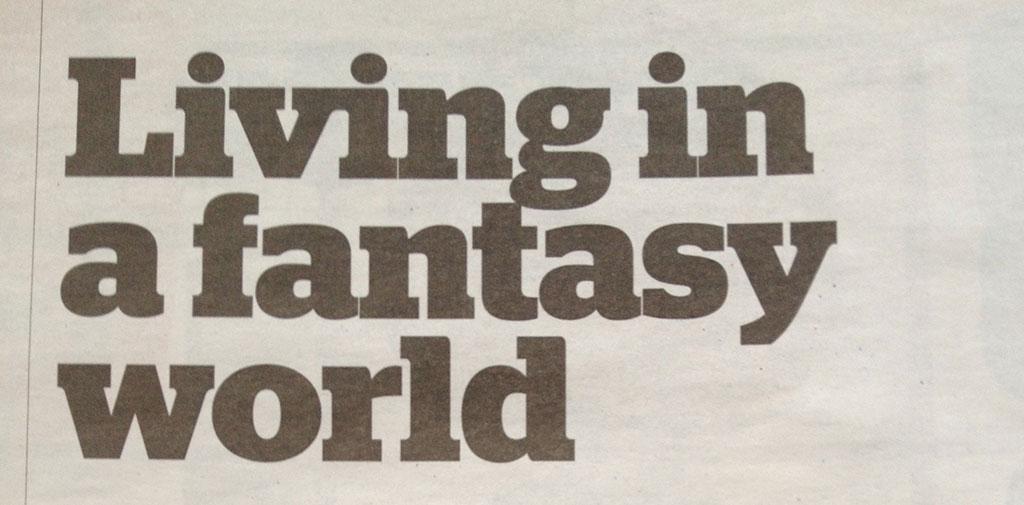 I read with interest that the number of prescriptions for antidepressants had skyrocketed to an all-time high in the United Kingdom. 70 million prescriptions were written for 65 million people, meaning that for the first time, there were more packets of pills dished out than there are men, women and children in the entire nation. Unlike Sweden where national records are held, which allow statisticians to understand what percentage of the population are taking medications for anxiety and depression, the UK has to guess based on the number of prescriptions, but it would appear that it is undoubtably normal to be swallowing pills to correct for serious psychiatric conditions.
I read with dismay that doctors believe that the surge in prescriptions is believed to be due to bad things in the news. This is faulty thinking, because we are the news. It's impossible to separate ourselves from the events of the world - the media simply holds up a mirror. The media reflects what we can see around us with our own eyes: the destruction of the natural world, overcrowding and poverty. We know that we live in a very different world than the Baby Boomers grew up in. The many cushy things that previous generations took for granted - free university education, affordable housing, secure jobs - are now so hard to obtain that tiny children are coerced into studying hard from the moment that they can form words, in the hope that their sharp-elbowed parents can barge them to the front of the long queue.
If we look at suicide statistics, we can see that the "it's the news' fault" argument doesn't hold water. The number one cause of death of men age 20 to 40 is suicide, and those deaths are preventable, yet medicine's answer is to blame the newspapers. This is a scandalous situation, that those who are tasked with responsibility for public health would shrug their shoulders and point to the symptoms, not the cause of the disease.
To use myself as a case study, it seems unethical to start a family when the prospects for those children are so dire. What a dreadful thing to do - to bequeath a child a planet which has been irreparably wrecked; to so knowingly and wickedly create new life when the existing life is already having such a miserable existence and is so doomed to meet a horrible end. Life seems very pointless and purposeless, when there is very little hope of living a life which doesn't compound the errors of generations, and hasten the demise of the human race.
For many generations, they were content to build houses, grow crops, keep livestock and have food in their bellies. For many generations, it was a lifetime's work to meet your own basic human needs, and the needs of the children who were born in the absence of contraception and abortion. Today we have a virtually unlimited supply of high-calorie foods and almost none of us build our own homes, grow our own food, or have any dealings with farm animals. We do not know hunger, but we do know boredom, purposelessness, apathy, angst and learned helplessness.
I see people who become obsessed with fitness and toughening themselves up to seemingly cope with a disaster which never comes. Nobody is ever going to need to outrun a wild animal. Nobody is ever going to need to carry rocks or toil in the fields or forest to get enough food for their family. There are a huge number of people who are "prepping" for doomsday scenarios, even though their efforts are futile in the face of the enormously violent events which smite us.
It seems obvious that anxiety and depression are natural reactions to a world that is devoid of any opportunity to use our enormous brain for the ingenious problem-solving which would have been very useful 100,000 years ago, when humans had to continuously adapt to the ever-changing seasons.
I can think back to a time when I was obsessed with the wind and the waves, not in any negative way, but in fact I would relish the arrival of a large North Atlantic depression. I studied the weather forecast on an almost hourly basis and I would drive to parts of the country specifically to seek out storms which would cause trees to topple and buildings to be damaged. I had no control over these violent events of nature, but being part of the storm made me happy. I harnessed the wind - quite literally - and I revelled in the awesome power of nature.
Today, I have a ghoulish morbid obsession with the news, half-hoping that some catastrophe strikes and civilisation is plunged into chaos. I find the waiting to be quite intolerable. I find that my anxiety and depression levels are highly correlated to my boredom and lack of stimulation. My life is very stable and secure, but it's also unbearable. I yearn to be freed from the crowds of people who trudge co-operatively from place to place - why do they not scream and throw their briefcases away, and run off to live in the woods? Why does nobody flee from the concrete jungles and seek out a life which has more uncertainty, hunger and threat to life, but also provides some challenges and obstacles for the brain to tackle?
It strikes me that the source of my anxiety and depression is rooted in the restrictive nature of modern society, where I am unable to build anything or do anything, without considerable restrictions. My forebears were able to build their own houses, fence off some territory, cultivate their crops and rear their livestock - all of these things required a combination of physical and mental effort. For me to get a house and some food, I don't have to do anything - I'm just required to sit in a comfortable seat for a certain amount of hours every day, keeping my mouth shut.
Of course it's seemingly childish to romanticise simpler times, when disease and hunger were rife, but as anybody who's suffered anxiety and depression will tell you: these things are so bad that you want to kill yourself.
Living a life where you want to kill yourself is not great, and I don't think that refusing to read newspapers or watch TV is the answer, just as much as I think that pills are not the answer either. The solution lies in living a different kind of life altogether.
You tell me that I wouldn't be happy if I was cold and hungry, but you're wrong. I've been plenty cold and hungry, and I can tell you that I was vastly happier than I am today in a warm house with plenty of food in the fridge and cupboards. I was happy because I was free to do something about my situation. If I was cold, I could shelter. If I was hungry I could seek food. As I am presently, I can do nothing except sit at my desk, mute, waiting to die. I have no available options to improve my situation. I have nothing to challenge my brain and body. I have no purpose, except as a decorative lump of flesh and bone sat in an office chair.
Of course I follow the news avidly, but the news does not depress me or make me anxious. My lack of participation makes me depressed and anxious. Why am I just a spectator? Why am I passive in everything? If I was caught in a rainstorm I would look for some object to shelter beneath, but as a member of modern society I am expected to let everything lash down upon my head without flinching. The food and the housing which I enjoy are a byproduct of my inaction not my actions. If I was to act instinctively, I would only make things worse for myself and end up sleeping rough on the streets, hungry and cold. The situation is absurd.
Not taking antidepressants is a political statement, as much as anything. It's not me who needs to be adjusted to fit into society, but instead it is society which is unbearable to live within - there's not enough space for me to do anything other than keep my mouth shut in an attempt to fit in. I refuse to be medicated into a state of glassy-eyed passivity, like a cow chewing mindlessly on the cud.
Of course, if I spawned an infant by accident, then I woud surely be glad of every amenity available in modern society. I'd be cramming high-calorie foods into my child's face and indoctrinating them in the ways and means of staying in the top-half of humanity. However, as a thoughtful, considerate and ethical person who's considered the prospects for any theoretical child, I have decided that it would be cruel to the child and wickedly selfish to not avail myself of reproductive choices, choosing to avoid creating any more miserable mortal souls.
The stability and security of modern life are at the root of our unhappiness, not the state of utopia that we thought it would be. We are hard-wired for adverse conditions, and without that adversity we are nervous and twitchy. Without any route to gaining contentedness that is not morally wrong, we are depressed. The logical conclusion is that we should kill ourselves.
Tags: #suicide #depression #anxiety