This is a story about workload...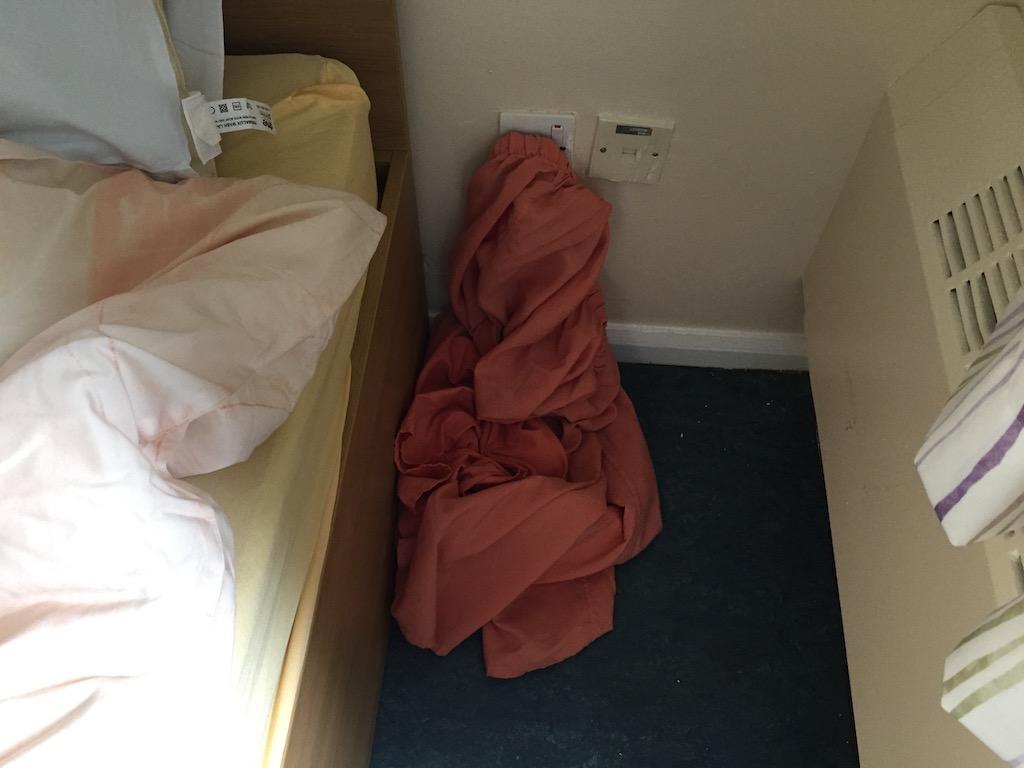 Pictured above is part of the puzzle about how I was able to keep writing, even when I was sectioned and locked up on a psych ward. Underneath the NHS-provided pyjamas is a mobile broadband router, which was smuggled into hospital by my guardian angel. It was a lot easier to write when I was kept under lock and key, because I wasn't expected to do anything other than eat, sleep and take pills twice a day. Now I have a full-time job and I'm very reluctant to risk writing when I'm supposed to be working.
In November I'm going to write another novel.
My first novel pretty much wrote itself. I did what all wannabe authors are supposed to do, by writing about what I knew. I had a very good idea of the plot and the structure of the book. It was surprisingly easy, although I did struggle briefly at around the 40,000 word mark, when I realised I hadn't made enough notes and I was risking tripping myself up. In the end, my 52,000 word debut novel was completed in under a month and I was pleased wit my achievement.
I thought my second novel would be easy too. I picked my favourite style of story: a utopia/dystopia. I had some characters in mind and a vague plot idea. I had done a little research. I was woefully under-prepared, but I thought I'd probably be able to wing it - I believe the term is "pantster"... doing things by the seat of my pants. Arrogantly and perhaps still touched with a little madness - 2017 was a very rough year - I thought my second novel was going to be good but it really wasn't. My style was inconsistent and I made some decisions which made writing the book very difficult. I wasn't well enough practiced at writing dialogue and fleshing out my characters. I took pleasure in very technical descriptions of scenes and a lot of factual aspects of what I was writing about, but it certainly wasn't good storytelling, in a lot of the chapters. Eventually, I abandoned the effort, having written 42,000 words in a month. I do have the remaining chapters planned out, but I think I'd like to rewrite the whole thing. I like the concept of the book, but as I progressed with it, I started to deeply regret mistakes I'd made. I started to hate the project. It became a real chore.
A big mistake I made was stopping blogging while I was writing my novels. Also, live-publishing the draft manuscript created a huge amount of pressure. I missed blogging soooo much. My heart ached to be blogging again. I wanted to experiment with the medium dot com platform, where there's a big community of writers, but I really regretted neglecting my own website and my regular readers.
So, I need to keep writing my blog every day, no matter what.
But, it's a huge workload.
Working a full time job. Writing a blog post every day. Writing a novel.
That's a lot of work.
I do want to write another novel. I want to give myself total freedom this time. I want to take the pressure of making my draft manuscript public off myself. This time, I'm going to let the creative juices flow and write about whatever I'm motivated to write about. This time, I'm going to keep my blog going at the same time, because it's hard for me to get through daily life without having a public journal/diary type thing, to keep me connected to the world.
I've created a lot of work for myself. Perhaps it seems like a good use of my time, to spend an hour or two writing every day, instead of watching mindless entertainment. Perhaps it's a good thing to connect with people all over the world, and to have built a personal brand which brings me a lot of pride in my achievement. However, I spend as much time thinking "what am I going to write today?" as I do thinking "what am I going to do at work today?" which has both upsides and downsides. When work isn't going well, at least I have an outlet for my creativity and energy. When I'm very tired and perhaps I really should be taking it easy, I feel somewhat obliged to write something, even when I'm not in the mood, because I don't want to interrupt the routine.
I'm getting nervous about the workload of a full-time job, a blog and a novel, all at once.
I'm a completer-finisher.
I was gutted that I didn't finish my second novel.
So many wannabe novelists will work on a manuscript for years and years, but they'll never actually finish. If you don't produce a finished draft, you'll never be able to publish. If you never complete a novel, you're not really a novelist at all. So many wannabe writers will start blogs and then abandon them, or write them very sporadically. Most blogs have a big burst of energy at the start, before the novelty quickly wears off.
If I start novel number three, I'm damn well going to finish it.
It might not be good. It might be silly. It might be downright bad, but I'd love to complete a second novel, because I learned so much writing the first and I'm so proud of the achievement. I also think I might really enjoy myself, if I'm writing mostly in private for once, without the pressure of any expectations I've built, that I can actually tell a half-decent story. My first novel really is a half-decent story, but that actually ended up contributing even more pressure, especially when it dawned on me that I was going to either fail, or produce something pretty bad, having been expecting to sail through and bash out another half-decent effort without too much difficulty.
I worry that I'm going to get lost in my imaginary world and so engrossed in writing that I might be tempted to write while I'm at work, and be irritated by bothersome interruptions, like my colleagues expecting me to do my damn job. I worry that I'm burning myself out, living a double-life. It's surprisingly time and energy consuming, just writing my blog and staying on top of social media, as well as working my full-time job.
Obviously, this stream-of-consciousness-y type stuff pretty much writes itself. I connect my thoughts and feelings directly to the keyboard and the words just tumble out of me and onto the page. I'm well practiced at doing blog posts just like this.
Writing fiction is a whole different kettle of fish. Sometimes the words come easily and sometimes it's like pulling teeth.
So... my challenge for November is to write another novel, but this time I have complete freedom and indeed I'm encouraging myself to be as fantastical as possible, and not artificially constrain myself with arbitrary rules about having to create an ultra-realistic fictional world, restricted by real-world limitations. It seems ridiculous that a geek like me hasn't written any sci-fi up until now, but I'm always loathe to behave as anybody might expect me to.
It's time to have some fun and do whatever I want in my fictional world, and the draft manuscript is going to be kept under wraps this time, so that I'm not constantly worrying about what other people think about my writing and my story.
That's the plan.