This is a story about the generation who want to die...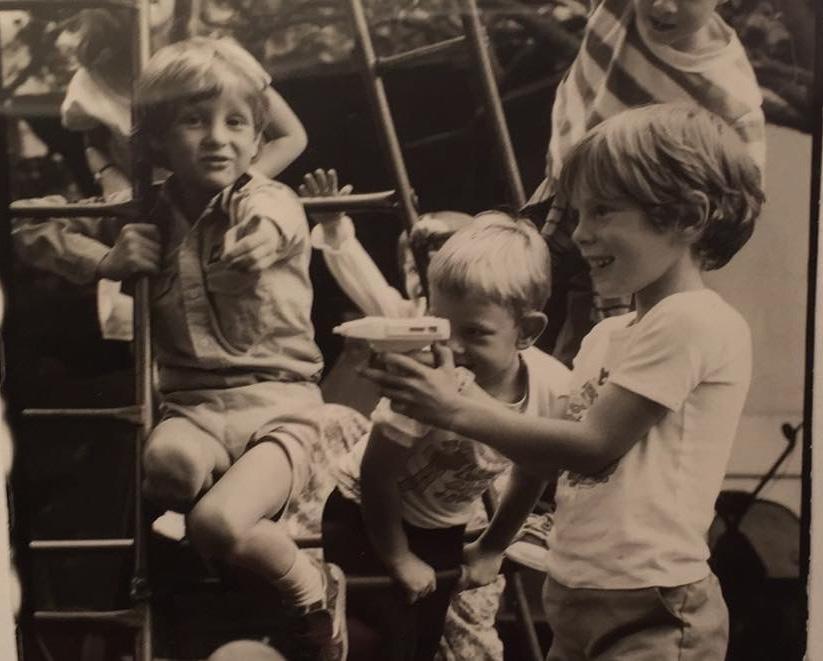 So you mean to say that I've inherited a dying body on a dying planet, over-populated by dying coffin-dodgers who are squatting in all the big houses and hoarding all the money? So you mean to say that all those times I didn't get to eat jelly and ice-cream; all those times when I had to stop playing with my toys and go to bed even though I wasn't tired; all those times I couldn't see my friends because I was being dragged around the place by grown-ups... you mean there's no payoff for all of that?
What's so infantile about acting like a spoiled child? What can we learn from children?
It strikes me that even though we went to school and ate our vegetables and had lots of tears and tantrums as children, everything went to Hell in a handcart anyway. When the survivors of the nuclear apocalypse crawl out from under the rubble, aren't they going to wish that their kids weren't raised by strangers in institutions? Aren't you going to wish that you didn't act more childishly when we're all going to die anyway?
How precisely has all of our discipline and self-denial benefitted us? Half the planet lives in dire poverty; those in the middle live in conflict zones, afflicted by war and refugee crises; the top couple of per cent have wealth, technology and education, which they use to write angst-filled books, share suicide memes and otherwise complain about the agony of existence.
Even tiny tots get given homework. Exhausted looking parents complete after-school projects for their kids, the night before the deadline. Extracurricular activities demand every spare second of time - every waking hour of the day is seen as an educational opportunity.
Pinching our noses and shovelling in disgusting-tasting food, because it's good for us, is something that we have become habituated into doing as adults. What can children tell us about the madness afflicting the planet? Why do I want to be healthy and live a long miserable life?
"Are you smarter than a five-year-old?" is the title of a gameshow. A chess grandmaster is not smart per se - they are probably a thoroughly impractical person if they've dedicated so much of their life to playing a board game. Better chess players are simply better at spotting patterns they've seen before, as opposed to brute-force reasoning - to become good at chess requires a lot of experience. To be an adult is simply to have gained more experience of how to play the game of life - I often think that children are the smarter ones.
Stood in the supermarket today, I wondered why I didn't just take a doughnut off the shelf and eat it; I wondered why I didn't lie on the floor and kick and scream that I wanted something until it was brought to me; I wondered why I was walking when I could be carried or wheeled around in a trolley or pushchair; I wondered, in fact, why I would adhere to any of society's expectations at all - none of us are getting out of this alive, so why shouldn't we put down our tools and just run around like a bunch of kids?
Of course, when we get cold and hungry, we're immensely grateful to have a fire and some food, but those things don't require me to sit in a classroom, lecture theatre or an office. I don't need to wear a suit and take a crowded commuter train to put food on the table and keep my house warm - the work of the service industries is not farming, fishing, producing energy or building homes. I wonder if our advanced society should feel as smug as it does, given the vast numbers of us who are stressed, anxious and depressed. When our bright, energetic and enthusiastic young people are faced with such grim prospects, have we led them astray?
For those "I'm alright, Jack" few, who are content to mortgage their grandchildren for the sake of their desire to be idle in opulent luxury, they will mock socialist movements as immature and naïve. Conceited media commentators deride supporters of the Labour party & left-wing as being mainly students and bleeding-heart liberals.
Literature is littered with examples of the youth being to blame for everything. Parents are afraid of their own children. It seems acceptable to laugh at the angst-ridden teenagers, as if us adults have got things all figured out. It seems OK that millennials won't get to buy a house and have a job that pays enough for them to raise a family, because they've got smartphones and social media - as if that's some kind of fair trade.
I find myself somewhat sandwiched in-between a generation who feel entitled to do nothing, as their reward for fucking up the whole world, and a generation who get no reward for giving up their childhood, despite eating their vegetables and doing their homework. Why?
For every 'good' reason I can come up with for why it's better to act in an adult way, I have to admit that I can fully empathise with the childish stance. Furthermore I can see that inside even the most po-faced and responsible adult, there's still a part of them that would like to have a big tantrum and not do any of their chores. Under the veneer of maturity, we are still children. It struck me that the only difference between me and a child is that I look like a grown-up, and my play-acting has gotten a lot better - I can keep a straight face.
If we're not careful, then childish ideas will take hold. The us-versus-them mentality that has brought Donald Trump to power and threatens the unity of Europe, is lifted straight from the playground. If we wish to be po-faced about the behaviour of children, shouldn't we discipline ourselves first? What kind of world have we created for our children to inherit, that makes us so damn smart and justifies feeling so smug with ourselves?
Personally, I'm turning to children to remind me not to be so dazzled by the brilliance of my own mind. Whatever I've read; whatever I've learned - it's clearly becoming less & less relevant in the modern world. There were 4.3 billion people crawling around like ants on the planet, when I was born, and now there are 7.6 billion humans alive today. In a little over a decade, there will be twice as many people competing for the same scarce resources, than when I started my life. What relevance do attitudes of the 1970s - when I was conceived - have in the 2020s and beyond? What could I possibly tell a young person about the world, when it's changed so much in my lifetime?
The old strategy of studying at school, working hard and complying with the rules of the game, seems deeply flawed when we're telling people that no matter how hard they work they won't get a job, get a house and be able to afford the things that seem like a human right: to be able to raise a family of our own. Are we supposed to be happy that at the end of it all, we will be living with our parents, like overgrown adult-sized children? Why not just remain infantile and childish for life?
Although I can see that to spawn my own progeny might change my attitude, I also see that I might begin to impose my own "I know best" attitude onto my children, which perpetuates the cycle. While I do occasionally cringe when I look at myself, talking like an angst-ridden adolescent, I would prefer to be accused of immaturity than associate myself with the sneering po-faced group who got us into this mess - those who refuse to accept that society and civilisation is crumbling all around us; refuse to acknowledge the untold human misery.
To critique parents has become rather boring, so instead, I write this essay in support of anybody who wants to have a tantrum, eat crisps & chocolate instead of vegetables, bunk off school/work and otherwise run around having fun instead of living a life of intolerable suffering.
Tags: #childhood #parents