This is a story about a lack of remorse...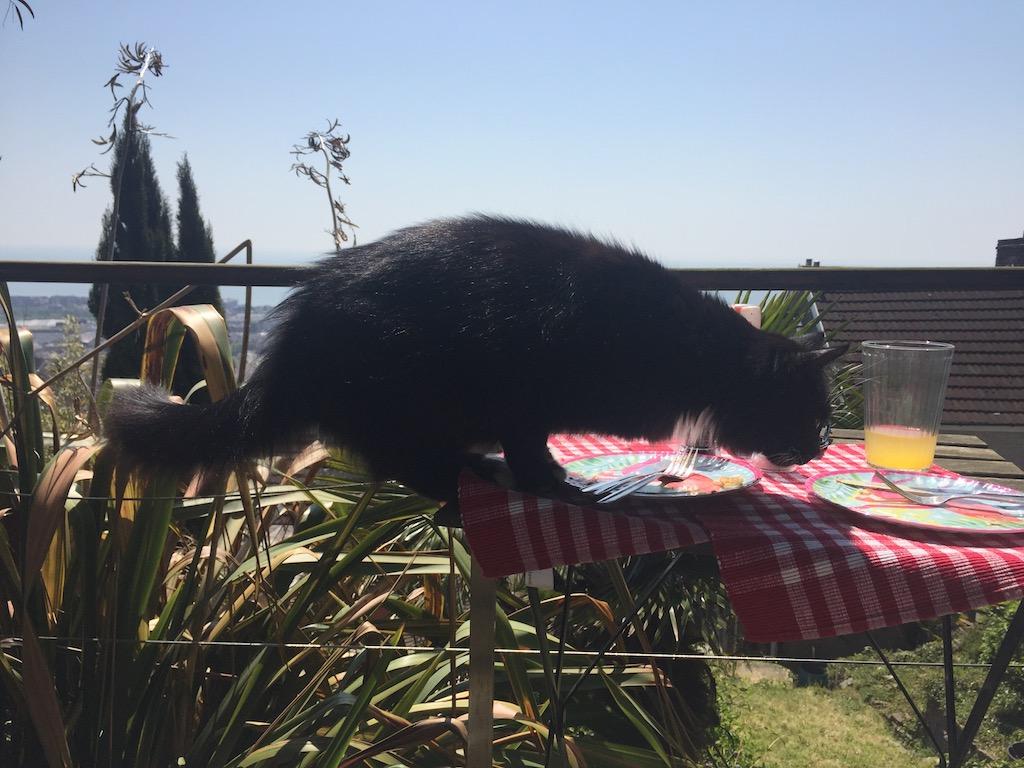 We very often anthropomorphise and we say that our cat or dog has been "naughty" or "misbehaving" which is ridiculous, because a non-human animal's brain lacks the capacity to plan, and the concepts of right & wrong are not something which could ever be taught conceptually. Yes, we can rub a puppy's nose in its own puddle of urine, believing that we are teaching it not to be naughty, but we are actually conditioning the animal to become anxious and hold in its full bladder using fear and revulsion - a kind of 'teaching by terror'.
Human morality can be learned conceptually. We know that it is wrong to murder, for example, even though almost none of us learned that by murdering somebody and being punished.
As complex social animals, we learn an whole range of behaviours purely from others' reactions to our actions. We have an incredible ability to interpret nonverbal communication - like facial expressions - and we will adjust our behaviour accordingly.
In the interests of being able to peacefully cohabit in larger and larger tribes, antisocial individuals have been weeded out of the gene pool. Those who are socially clueless about upsetting and angering others, have mostly died out.
Thus, we arrive at a situation where we know when we've done something wrong and really upset somebody and/or made them really angry. If we keep doing the same thing over and over again, we know we're doing it - we're pushing somebody's button's deliberately.
Personally, if somebody tells me explicitly that I've said or done something to upset them, or even if there are just subtle body language clues, my first instinct is to apologise.
I've had people absolutely raging and ranting at me, when the thing they were angry about wasn't even true but yet I was apologetic.
Apologise first. Apologise first and defuse the situation. The more you apologise, the more the whole of society gets along just fine.
Apologise. It won't kill you.
Apologise. It won't damage your pride.
Apologise. It's what the nice, kind and pleasant members of society do.
Apologise. It helps us all get along.
If you don't apologise, immediately, without heistation, there's probably something wrong with you. There's probably a reason why you're not having long-lasting relationships; why you haven't been married; why you never tried to have kids. Society doesn't want people who don't apologise. Society would prefer arseholes who never say sorry to just die and take their genes with them to the grave.
If "sorry" is a hard word for you to say, and you'd rather put all your effort into avoiding saying sorry, well, maybe that's why nobody wants to be your partner. 
It does surprise me how some people just stubbornly won't apologise for horrible unforgivable disgusting things they've done - they're remorseless - but I guess they're the ones who are excluded from society, by being locked up in prisons, or excluded from the gene pool because they get dumped and spend most of their life single. 
I really can't relate to those people who won't apologise for the things they've done wrong. I really can't understand why they'd waste so much effort not saying sorry. It seems like a lot of wasted effort, and it seems very antisocial to me.
I remember my ex-wife had broken my nose and given me two black eyes, and I asked her if she was going to say sorry. She literally didn't think she'd done anything wrong. "Domestic violence is when a man hits a woman, not the other way round you idiot" she said. She was completely unrepentant; remorseless.
I've got hyper-sensitivity for abusive women now. If I pick up on the fact that you think it's OK to abuse men, because you're a woman, then I'm sorry, but you're dumped.
How much abuse is OK? "I'm only teasing" - yeah, well how many people kill themselves because it's "just a bit of harmless fun" for their abusers? Teasing, yes, maybe... but I'm still a bit cautious. Where does teasing end and systematic routine psychological abuse begin? It's a slippery slope.
So, I err on the side of caution. I dump abusive girlfriends. I apologise, even if I stubbornly think I'm right.
Tags: #relationships