This is a story about descending into insanity...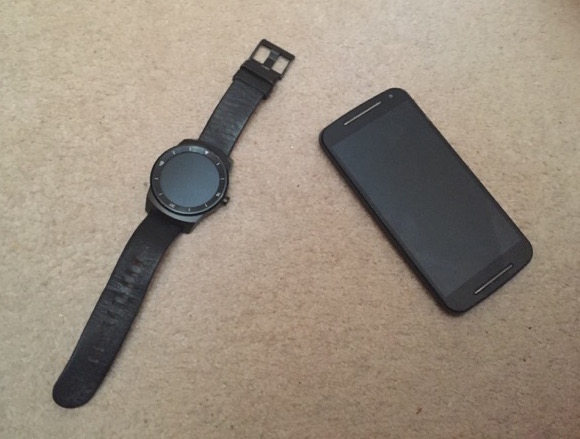 What do we know about technology that is capable of tracking us, capturing images and sound? When does it do this? What data is stored, transmitted, received, without us even knowing?
I'm on extremely dodgy ground, talking about snooping, spying, surveillance and hijacking of the 'smart' devices we have in our possession most of the time. There's a risk that I could swing into out and out paranoia. However, I also need to tell you what happened to me, as I experienced it.
So, we pick up the story where we left part one, yesterday. I'm in my hotel room, it's going dark, there aren't any drugs in my bloodstream anymore, and I can hear an angry family outside my door. The hotel reception has been alerted to my distress, as have the police. This is what happened next.
I heard a sound outside my window, of two people climbing up onto the top of the bay windows, in order to stand on the little balcony and look right into my room through the window. I had the impression that it was a father and son. I turned my back on them, horrified by this intrusion.
Voices now came from behind me, where the father and son stood, peering at me through the glass, with me like a goldfish in a bowl. Voices came from below, where they shouted to somebody relaying messages, to somebody outside my door... an upset female voice, just the other side.
At first, the father and son were critically appraising me: "look at him, look at the way he's cowering from us, what a pathetic little twerp". Being talked about like this made me squirm with self-consciousness, to feel that my privacy, my personal space was being horribly invaded.
This narrative of abuse, where I was talked about as if I wasn't able to perfectly hear what was being said, carried on for some time. I started to get angry that I was being peered at like this, with no escape, trapped on both sides. I slid the flimsy wardrobe in front of the window, so that the father & son couldn't see in.
By now, it was getting pretty dark. The voices carried on as if I could be seen, and I was confused to know how that was possible, when I had covered the window with the wardrobe. The messages that the father and son relayed to the rest of the family seemed to suggest that they were still able to see me. I moved around the room and tried to hide myself from their intrusive gaze, seemingly to no avail.
"Look at him, what a mess. He's a right state. So messed up. Disgusting!" they said. Meanwhile the female voices sounded like they were whipping themselves into a bloodlust, a frenzy. "C'mon Dad let's get him. Let's teach him a lesson he won't forget" the daughter pleaded. You could hear excitement, exhilaration in her voice... she was starting to enjoy this.
Everything up to this point, except for my face-to-face contact with the person who came into my room, could be pretty much put down to temporary insanity. I hadn't really seen anything and it's quite possible that I was hearing things. I've never really had a problem with hearing voices, but I was so tired, malnourished, stressed and strung out that it's quite possible that my brain had simply lost its grip on reality.
Even the father and son, stood on the balcony, were only things that I perceived in the murky gloom of the darkness, and I didn't want them staring at me, so I had turned my back on them and then slid the wardrobe in the way.
The sense that I was being watched, certainly didn't make any rational sense. I had started to get really alarmed, after it seemed like I was still being watched from every angle. I had started to look around the room, to see if I could see holes drilled in the walls or ceiling, to see if I could see any means of spying on me... I saw nothing. This really didn't make any sense to me, and I was kind of still secretly hoping that it could all be put down to the effects of drugs wearing off, even though I knew that they were no longer in my bloodstream.
I was not at all prepared for what happened next.
I heard the mechanical sound of an electric motor, and the next thing I knew, a thin silvery metal tube-like thing was poked under the bedroom door. This tube, ridged like a shower hose, then turned 90 degrees and started to extend upwards at a 45 degree angle away from the floor. When it had extended a few feet upwards, the end then turned to point into the room, and I could see dark glass on the end, which looked like the lens of a tiny camera.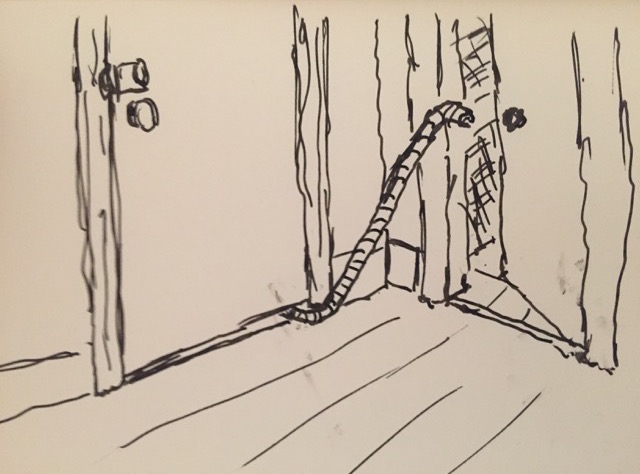 This. Changed. Everything.
Now I had actual confirmation, clear as day, with my eyes that I was being spied on. Up to this point, I had been half considering that everything was just in my mind. It's not unreasonable to hear and perceive things incorrectly when so tired and messed up, but I'd never had a hallucination. When people talk about hallucinations, they aren't actually seeing things. Instead, the brain is misinterpreting things. You can see snakes and spiders in shadows, but when you look directly, you don't see those things... they're just corruptions of things that aren't seen clearly.
This telescopic spy camera was here, it was real. I went from being half-asleep, exhausted by the prolonged stress and the sleepless nights, to being wide awake. Everything was in sharp focus, and it was clear that this was no hallucination.
I yelled: "Hello, police?". My assumption was that this could be the police's way of checking to see if I was OK, if they were worried that I was suicidal, or perhaps had a weapon. "That camera had better belong to the police, or else there's going to be hell to pay" I yelled, aware that this was an invasion of privacy that could never be justified in court, by private citizens.
Then I overhead two people talking "yeah, the guy's name is Nicholas Grant, from Bournemouth". Bournemouth? How the hell would they know that? That's what it says on my driving license, because I never got it changed. It sent shivers down my spine at the time. It certainly stopped me in my tracks, because I was about to grab the camera and try and pull it out from under the door.
I decided that it was probably the police, so I went to my bag and found a letter from my doctor, explaining that I was in a vulnerable situation: struggling with mental health issues, drug addiction, homelessness and dislocation from family and friends. The letter was intended to be given to hospital staff if I ever needed treatment, as it summarised my care needs and primary health risks, but I felt like it would make a starting point with the police, seeing as there were at least 4 angry family members stood outside who wanted to put their own point of view across, painting me in a negative light.
"Oh, ho, what's this trick he's trying to pull. What excuses are these? A letter full of lies, is it?" I overheard. The irate family thought that I was trying to pull a fast one, to get myself out of trouble by hiding behind medical diagnosis, perhaps. They certainly weren't happy that I was preparing myself for a knock at the door from the police. They seemed to feel like justice wasn't going to be served.
I didn't feel like the police would permit any such situation to occur. I was now convinced that this camera had perhaps been purchased or rented by one of the family, and was part of their continued persecution of me. I phoned the police myself. I explained where I was, what was happening. They said they'd see what they could do, but they were strangely unconvincing.
I then heard a flurry of activity outside the door. "Get that call cancelled off" I heard somebody say. Then "have they called it off". A little later, I heard "we've got it called off" and a little cheer went up. This was really confusing. Were these people the police, were they working with the police, or were they just really good at blagging the police in order to keep their quarry trapped in his hotel room, in order to serve up their own form of vigilante justice?
I was struck with an idea. What if I could communicate with these bullies, this mob? I decided to write messages on my mobile phone and point it at the camera so they could read it. I got out my mobile phone and launched Google Apps, which has a word processor. I then made the font really big, so the text could be read.
The fact I'd got my phone out again and what I was doing caused considerable interest, particularly with the excitable female, who seemed to be the main injured party in the whole fiasco, but now seemed to be revelling in her position as centre of attention. "What's he doing? Oh, he's going to write us a message is he? Oh this is going to be good" she said.
I wrote "I'm sorry". With reference to the original offence I seemed to have somehow caused.
My oppressors seemed to react before I'd even shown it to the camera. They laughed derisively and mockingly, and then reacted angrily. There was an explosion of anger, seemingly incredulous that I could be remorseful that I had caused such offence that I would be attacked by an entire family.
It was strange that my messages could be read, without me even having to show them to the camera. I then decided that my phone had probably been hacked... hence how I could be overheard so easily. However, I still felt bad about what I'd said, and I was still clearly trapped by an angry mob, so I started to make pleas.
"I'm scared" I said next. This had a somewhat de-escalating effect, but now I seemed to enter into a direct dialogue with the female who had sustained the most offence, and was the vocal ringleader for the rest of the family. We were getting somewhere, it seemed.
"I didn't mean what I said" I pleaded. This didn't go down very well.
"I was born in Wales, my parents are from the North" I wrote, trying to undo the whole us vs. them thing that I'd started, when I had made my flippant remarks about uncultured out of town people, under my breath, muttering in a bad German accent, assuming that nobody could hear me.
I can't remember the details of the conversation, but there was little dissuading the offended party that I hadn't meant anything malicious in my comments. I had then moved on to reasoning with them, that violence wasn't the answer. I wrote that beating me up would be a vicious and cowardly attack, completely out of proportion with whatever I had done.
Things dragged on and on, until we eventually reached the point where the main woman made it clear that I had to do something to demonstrate my remorse. It was fairly clear that if we just continued, eventually they'd have to go away, and then they'd feel like justice hadn't been done. The last thing I wrote was "if I wasn't sorry, I'd just keep this conversation going, wouldn't I?".
The penny seemed to drop with me, that I was supposed to do something brave, to demonstrate that I was sorry, instead of just hiding behind my door, hiding behind the police, hiding behind the letter from my doctor. I was struck by the certainty that I had to do something very clear to demonstrate how sorry I was.
I put my phone into my pocket, moved the wardrobe back against the wall, opened the window - the father and son had gone - and climbed out. I was stood, on the 3rd floor, on top of a bay window, without railings or other safety guard around me, on the outside of this building, perilously high above the ground.
I raised my arms to the air, and yelled to the street below "I fucked up!!". As I did this, a police helicopter that was hovering about quarter of a mile away shone its light onto me. I clambered back in the window, with adrenalin coursing through my bloodstream. "What do I do now?" I asked aloud to the room. "Come and find me" the girl said. "Climb out of the window and climb down. We've been doing it all day" she said.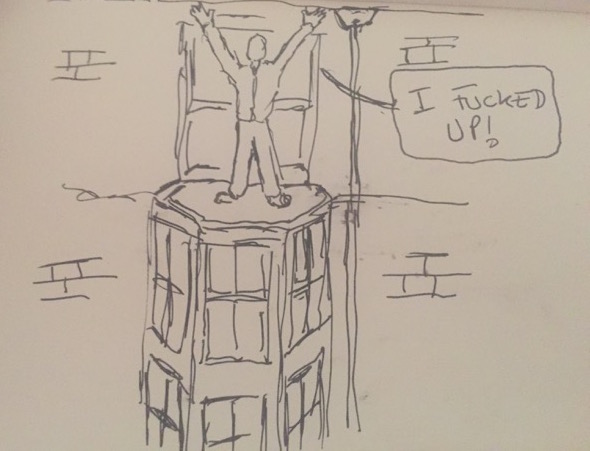 Obviously, I was aware that the police helicopter was there. The light was now shining in the window very brightly. I decided that climbing down from the top floor of a building in full view of a police helicopter was not the smartest idea, so instead I opened the bedroom door and legged it down the back staircase of the hotel, full of the excitement and glee of a child. The most exciting game of hide & seek ever, had just begun.
Things were just hotting up.
The next part of the story does actually contain the fun run bit. I did interact with lots more people face-to-face in the final chapter, which makes the whole silly episode that much harder to explain. I also have some digital evidence of what went down during those crazy couple of days. However, I do kind of wonder if I didn't dream the whole thing sometimes.
The finalé really is almost impossible to explain away as mental illness or drug side-effects, but I still need to tell the story and 'ask the audience' what they think could possibly have happened. As I continue to tell the tale, you'll see that it's harder and harder to explain away as a bout of temporary insanity.
I want it to be temporary insanity, because it means that I wasn't the victim of a rather harrowing incident. It's rather unsettling to think that I could have been so insane that I thought I was making phonecalls to hotel receptionists, the police, speaking face to face with people and seeing things as clear as day, like the spy camera. It makes no sense, which is why I'm finally telling the tale, after a year of trying to wrap my head around it.
I suspect that Islington holds more secrets than it's letting on, but we shall see.
Tune in tomorrow for the final instalment.