This is a story about changing habits...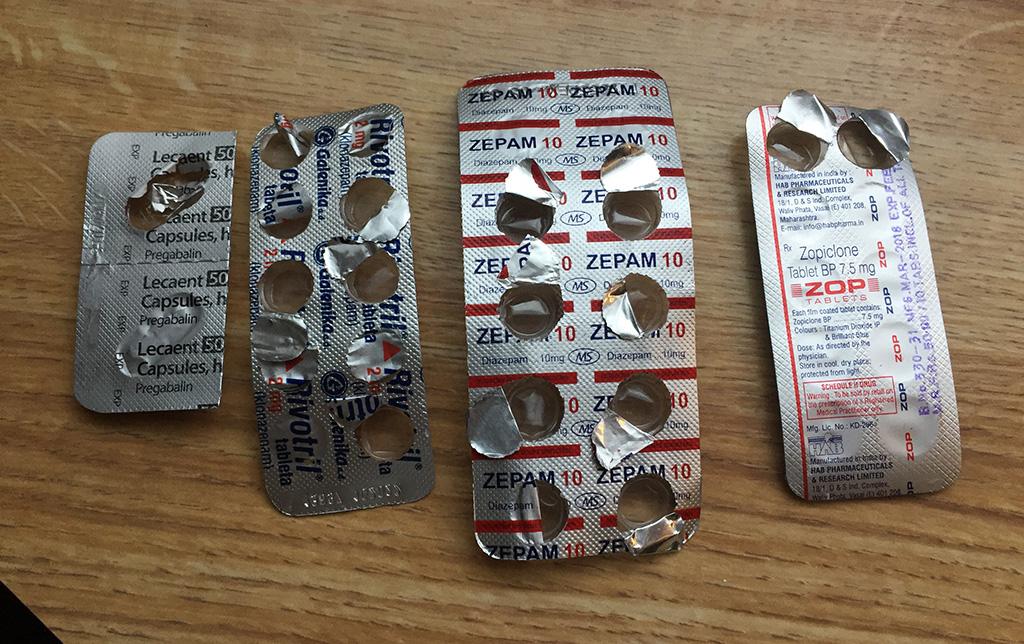 A couple of months ago, I'd gotten myself to the point where I was off all the medications and I was even having some periods where I wasn't drinking. It's quite a remarkable achievement considering that a year ago I was physically addicted to a nasty cocktail of Xanax, Valium, zopiclone, zolpidem and pregabalin, all washed down with copious quantities of alcohol. Last year I had started drinking caffeinated drinks again in an effort to allow me to function at work, when I was so heavily medicated. It was a mess.
Last week, I had a little bit of pregabalin and a little bit of diazepam to help me get over the new job nerves, and to help my body re-adjust its sleeping pattern to office hours.
This week, I've had a little bit of zopiclone to continue to help my body re-adjust to getting up early in the morning.
My coping mechanism; my crutch is alcohol. My portion control with alcohol is fairly hard to adjust. If I open a bottle of wine I'm definitely going to finish it. If alcohol is easily available I'm definitely going to drink. Eliminating all the medications which would tranquillise me, sedate me and ease me gently to sleep, and not replacing any of them with anything has meant that I've consciously or unconsciously sought to salve my anxiety; soothe my nerves. I've reached for the bottle.
Ideally, I'd swap unhealthy habits for healthy ones. I'd love it if my job was absorbing and I could become a workaholic. I'd love it if my lifestyle permitted fitness-related leisure pursuits, but it doesn't: I'm in an office job which bores the shit out of me, stuck at a desk all day long, then I'm in a hotel room near a motorway, and the thought of doing anything beyond simply surviving tips me into an outright panic attack.
In time, my debts will be repaid and my savings replenished. In time, I'll have re-established my working routine and proven my value at my workplace with my new colleagues. In time, my brain will have adjusted to life without all the medications.
My fear is that I'm going to get fat, unfit and develop a heavy dependence on alcohol.
I know that my personality is fixed a certain way, which means I can very easily become obsessive about work and leisure pursuits making me fit, fulfilled and rich, but things just aren't going my way at the moment. I'm struggling along with pretty intolerable living arrangements, working arrangements and paying a very high price for lengthy periods where I was using powerful psychoactive medications.
I have a deep longing for some tablets to make the next few months a bit more bearable. I'd consider almost any antidepressant at the moment, if it promised to reduce my anxiety, take away the dread I feel the night before a working day and soften the blow when my alarm goes off in the morning and it's time to go to work; if it could reduce the acute feelings of misery and hopelessness.
I've felt a lot less suicidal the past couple of weeks, but depression has manifested itself as feeling tired all the time and an incredible struggle to get up in the mornings. My energy, enthusiasm and motivation levels are all at rock bottom. My brain feels pretty sluggish and slow, and I'm disappointed with myself that I haven't been able to feel useful or productive in my new job yet.
All of these things place a huge amount of stress and strain on me. You'd be surprised how hard it is to make medication changes, let alone stop taking a whole host of powerful medications all at once, plus the other stressors in my life, such as an unsettled work and home life; lack of support network.
My bank balance steadily creeps in a positive direction, which is pretty much my main objective, but my responsibilities seem to mount while my enjoyment of life is at rock bottom. I need to go to the supermarket to buy cakes for my work colleagues because tomorrow is my birthday, but it's going to be one of the worst birthdays I've had for a long time, although it might be OK if I can meet a local friend for a beer, which would improve things immeasurably.
Perhaps I'm being a martyr; perhaps I'm not. I've gotten into the habit of going cold turkey with addictive drugs and medications, and white-knuckling through the dreadful withdrawal symptoms. I've desperately tried to avoid becoming dependent on anything new and muddying the psychiatric picture by pickling my brain in more chemicals.
I'd like to make things as easy as possible on myself for the next few months, but I don't think the answer lies in addictive tranquillisers, sedatives, sleeping pills and painkillers. Perhaps my mind has been too closed off to the idea of antidepressants. I desperately need this job and the money. I desperately need the next few months to go smoothly and without incident, so I can escape the shackles of my debt.
I'm sad that I'm so sad on the eve of my birthday. I'm sad that I'm so sad in the middle of summer. I'm sad that I'm so sad when I've worked so hard to do the right things: work hard and quit all the addictive drugs and medications. Isn't there supposed to be some reward for hard work?
I wonder when I'm going to feel the benefits from all the good choices I'm making?
Tags: #medication #mentalhealth #depression #anxiety #addiction #alcohol