This is a story about hurting myself...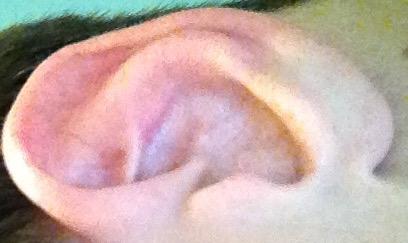 There's an insufferable noise inside my head. It's a bit like a hissing, whining, wailing, screaming roar. I can't actually hear anything per se, but there's something that's far noisier than everything else that I can perceive. The world seems very loud and invasive to me - every tiny sound is amplified to neve-jolting volume - but the noise inside my head is louder, even though it's silent.
I know this doesn't make any sense.
At its most basic, the noise is like the shrill notes of a horror movie, which indicate that something bad is about to happen. The noise is deeply unsettling; disturbing. I feel on edge.
Then, after a while, because the noise doesn't go away, it seems to become more urgent: Pain, injury and death feel as if they're about to happen. I'm in a constant state of 'flinching' from the anticipated blows to my body.
The feared pain never seems to quite arrive, but instead there's a dread that this feeling will never go away. This is my life now: Living in a constant state of anxiety; living with perpetual sustained threat.
How can I go on living like this?
How can I live with this noise?
There is no noise.
My rational brain knows that there isn't any noise. My rational brain knows there isn't any threat. My rational brain knows there isn't anything to be anxious about.
Further, I know why this anxiety is so bad: Because I've been through an incredibly stressful life event, and I'm not using my usual coping mechanisms, such as drinking alcohol.
In fact, I'm effectively putting myself through alcohol detox, tranquilliser withdrawal and sleeping tablet comedown, whilst simultaneously doing one of the most stressful things that ever happens in our lives - moving house.
If I don't learn to cope without alcohol then it will destroy my health and send me to an early grave. If I don't learn to cope without tablets, then I will be forever trapped by addiction.
The unfortunate short-term consequence is very unpleasant to live through.
In fact, it's so unpleasant I've started to think I would very much like to not be alive.
That's the noise.
The noise continuously tells me to hurt myself; to end the pain.
If there was a sound that existed which told you you're better off dead, then it rings at full volume in my ears. Its sustained pitch and relentlessness tells my brain it's never going to go away, things are never going to get better, and this unbearableness is a permanent state of affairs... and the only escape is death.
I've been through enough anxiety and depression to know that things don't get any worse than this, and eventually things do get better. I have unfortunately experienced enough prolonged panic attacks to know that this is just another one, and although seemingly interminable, it will eventually pass.
Given a little more freedom - a few more options - I would stay at home in bed, and sleep. To make matters worse, however, I feel compelled to be in the office, which is just about the worst place in the world, because I have to pretend like everything's OK when it's not. I have to sit in my office chair for 7 or 8 hours, when every single bit of my body and mind screams to be doing something distracting or relaxing.
Driving in heavy traffic is a mild improvement over sitting at my desk. In fact, sticking sharp objects into myself would be a mild improvement over sitting at my desk. Jumping out of my office window and falling to my death seems like a vast improvement over sitting at my desk.
It's a pretty disturbing state of affairs and I'd be yelling for help, except that I know there's no comfort that anyone's going to offer me. Nobody's going to pay for me to be sick in bed. Nobody has anything they can say or do to ease the situation. I'm just going to have to suck it up.
It's not like I've run out of pills or the shops have run out of alcohol. It's not like I couldn't go into debt while I get better. There are temporary solutions, but they all delay the inevitable.
I suppose I'm ripping off the sticking plaster, as opposed to peeling it off gently little by little. This is a short sharp shock. This is the fastest route between two points, but also the rockiest road, with thorny bushes, biting insects, choking dust and a whole host of other things that don't mean it's necessarily the easiest path.
Now... I need to go and find distractions until it's time for bed. Today has been an incredibly long day, and I wish I hadn't woken up.